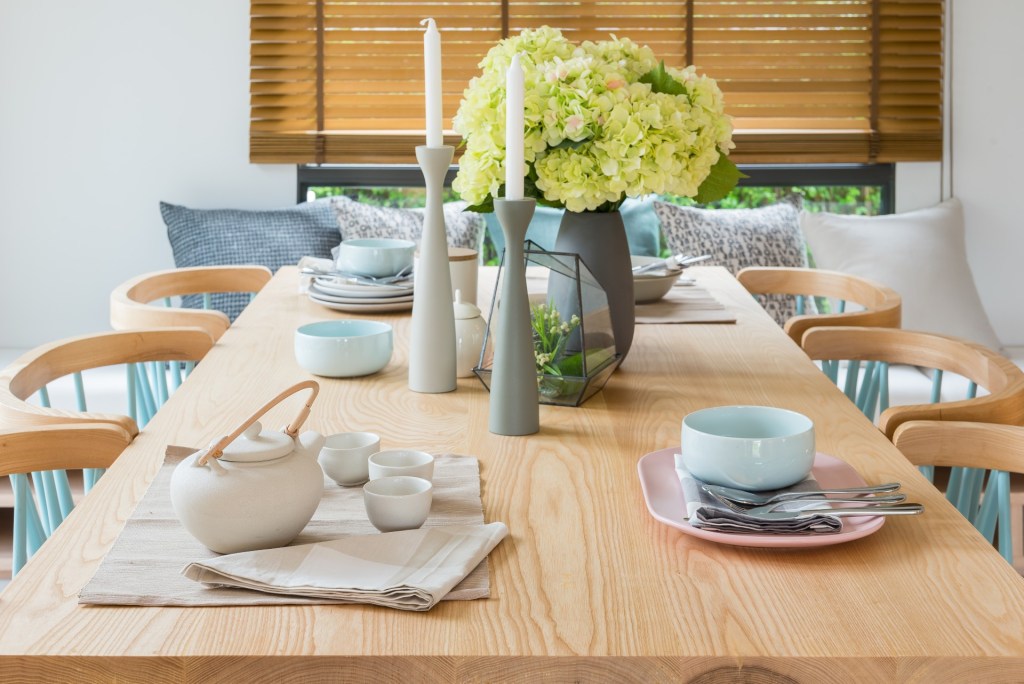 What makes a dining room outdated? Unlike other spaces in your home where swapping out a few accent pieces and adding some new pillows can give you a fresh look, dining rooms tend to be done once and forgotten. You buy a table, chairs, and a buffet—maybe even add a fresh centerpiece each season—and call it a day. We say it is time to change all that and give it the same respect as the rest of your home. With a few simple changes, your dining room can have a new look.
Declutter
Here is a change you can make without spending a dime. Has your buffet become a landing spot for paperwork? Is the table cluttered with a pile of mail that needs to be sorted? A dining room should be a place for coming together to share food and conversation, not a catchall space. By ridding it of reminders of tedious daily tasks, it will make it feel lighter and make you want to use it more for its intended purpose.
Out with the old
Do you still have an old set of dishes even though you got new ones a few years back? What about the crystal vase your great aunt gave you that you never really wanted to begin with? Take stock of everything in the room and keep only what speaks to you. After all, this is your space, and it should reflect your own unique style.
Color
One of the quickest design fixes you can make in a space is to change the color. Take a look at your room. Has it been the same shade for years? A fresh coat of paint can completely change the way a room feels. Warm colors such as reds, yellows, creams, and beiges create an inviting atmosphere and work well in spaces you entertain in. Cool shades like blues, greys, and whites will make a room feel fresh and airy.
Lighting
The good news is dining rooms tend to have only one prominent lighting source, so switching it out is easy. The bad news is that the dated, shiny brass chandelier with the flower print shades may need to go. By changing it for a modern fixture, it will give your space an entirely different ambiance. If replacing the fixture is not possible, consider refinishing the one you have with a coat of spray paint or buying updated shades.
Windows treatment
Windows are an important element in a dining room and should be dressed properly. Leaving them bare can make a room feel unfinished, and having tired, old shades won't do much to warm up the atmosphere. A look that never goes out of style is simple white or patterned panels. Hang them two inches above the window frame to make the room feel taller. To layer on more depth and interest, add inexpensive Roman shades to the windows.
Artwork
You have heard the saying less is more. Artwork and wall decor are great examples of this. Too much can be overwhelming. Instead, choose one or two larger pieces that will give the eyes clear places to rest. If you want to display family photos, rather than scattering them throughout the space, buy frames that are all the same and make a grouping. This will have a greater visual impact and give a more modern look.
Rug
Having a rug under the table in a dining room is a great way to ground the space and bring in color. The problem—if the rug is the wrong size, you would be better off without one. When selecting a rug, measure the area around the table. You should allow for approximately 24″ on all sides to accommodate chairs. For shape, follow the same lines as the table—rectangular, circular, or square. This will ensure it looks balanced in the design.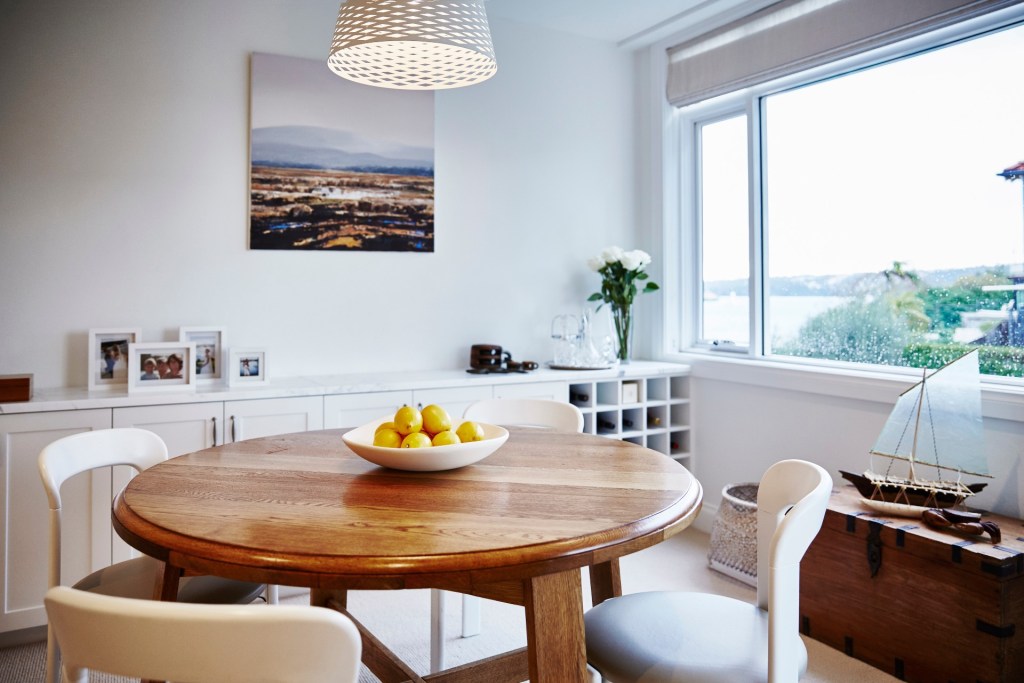 Furniture
One of the biggest mistakes people make in design is not getting the scale of the furniture right. If you have a petite dining room, oversize, clunky pieces will make it appear even smaller. Likewise, if you have an expansive space, you will want to have pieces that don't get lost in it. This is a place where it pays to buy pieces specifically for the dimensions you have. The key in a dining room is creating a space that feels intimate and has a good flow.
Patterns and print
Bringing in fabric on chair cushions, curtains, placemats, and table runners is a great way to infuse some personality into your design. Just make sure you don't overdo it. If one element has a strong graphic pattern, use solids for the rest or another print that complements the main one.
Fake flowers
We get it; they last. Forever. It may take a bit more effort but tossing those old silk flowers and replacing them with fresh ones is worth every penny. If buying them each week is out of the question, try a bowl of fruit or a plant instead.
Taking outdated dining rooms from sleepy to sensational can be done with just a few simple changes. With our tips, you can say goodbye to the old and hello to a fresh, new space that is always ready for company.
Editors' Recommendations