You might need a garage floor mat to absorb mechanical spills, prevent slips, and make garage work more comfortable. Garage floor mats can be removed and cleaned easily, unlike fixed rugs or tiles. To help you choose the best option for your home, here is a list of the best garage floor mats you can buy.
Garage floor mats are 1.5 inches thick on average. If you need a more heavy-duty mat that you can park on, consider a thicker mat. Also, consider the mat's grooves and ridges and how easy it is to clean. This is important if you use your garage often and heavily. Before finalizing your purchase, make sure you have the right size for your garage floor. Now, let's take a look at our top picks.
AutoFloorGuard Containment Mat
Best garage floor mat overall
AutoFloorGuard offers a nonslip, heavy-duty mat made of polyester scrim. The product comes with a free squeegee and telescoping pole for cleaning up liquids. This mat also comes with AutoFloorGuard's trademark Stay-put corners to secure the mat onto your garage floor with easy-to-use adhesives. The mat measures 7' 9" x 18'.
Maxsa Innovations Park Right Parking Mat
Best garage mat for parking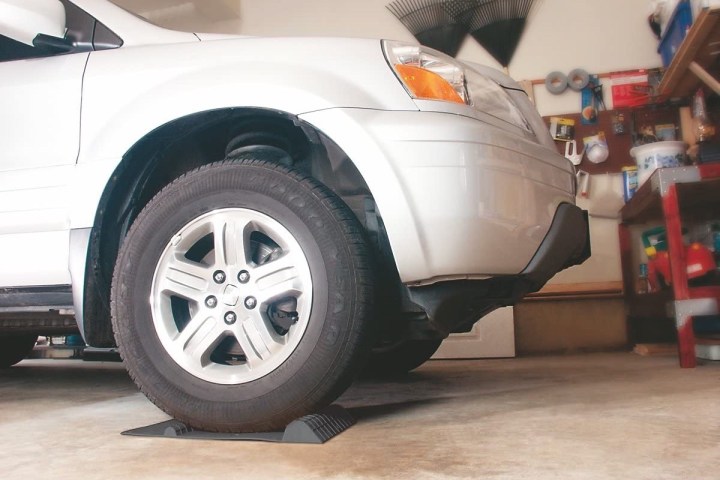 Maxsa Innovations' mat is a specialized parking mat to make parking easier and safer. Two different-sized bumps indicate when you've reached the mat and the center, respectively. To install, place the adhesive side down on a designated spot where one of your front/back wheels park. The mat measures 2" x 11" and is 2" at its tallest.
Drymate Armor All Garage Floor Mat
Best absorbent garage mat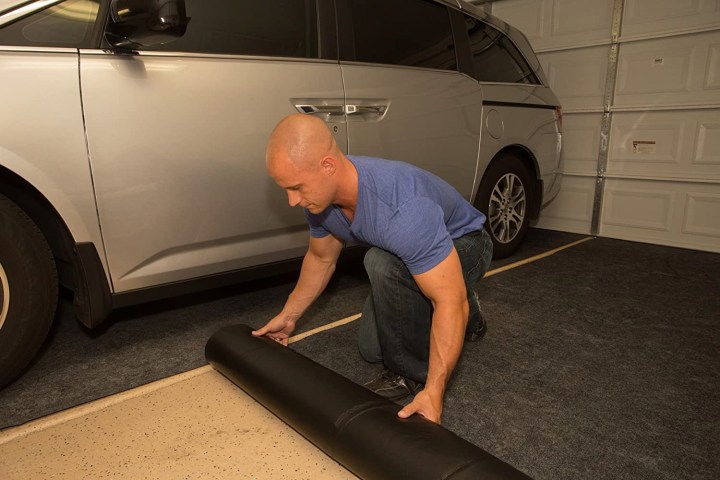 If you have a problem with rain water, snow, or other liquids ruining your garage floor, consider Drymate's Armor All floor mat. Its specialized Drymate top layer material absorbs liquid, while the waterproof backside offers additional protection for your floor. The mat measures 17' x 7.4', but you can easily trim edges to fit the room.
Garage floor mats prevent spills and stains in your garage floor. Rain water, snow, and mechanical oil spills may cause lasting or permanent damage. Try AutoFloorGuard's mat if you need a long-lasting solution. If you're looking for a smaller, specialized garage parking mat, consider Maxsa Innovations' parking mat. On the other hand, consider Drymate's absorbent mat if you want to prevent spills and stains.
Editors' Recommendations