Adding a kitchen to your basement can be the perfect way to revamp your home. However, knowing where to start and what to include in your remodel can leave you scratching your head. If you're interested in revamping or adding a basement kitchen to your home, we have seven genius ideas that are sure to inspire your next renovation.
Why should you put a kitchen in a basement?
Many homeowners wonder if they should add a kitchen to their basement. And really, the decision is ultimately up to your preference. Basement kitchens can add additional space for entertaining while also serving as a functional space for families. Depending on how you use your basement, adding a kitchen can give you plenty of unique opportunities.
For example, add a kitchen to your basement alongside an at-home bar for better entertainment during parties. Or, maybe you have a fully finished basement perfect for renting out as an apartment or allowing elderly family members a place to stay that is close to you. Alternatively, basement kitchens are great for large homes where an up-and-down situation can be inconvenient. Whatever your situation, basement kitchens can serve plenty of purposes.
Does it add value?
One of the main questions homeowners have regarding a basement kitchen is whether or not they add value to their home. Kitchen renovations of any type are costly and, according to Zillow, you might not gain a return on your investment, even if you plan to sell within a few years. Zillow concludes, "It's usually advised to finish a basement for your own enjoyment."
However, Zillow also states that depending on the housing market in your area, having a finished basement with a kitchen or kitchenette could increase the value of your home and add a unique quality that buyers might be interested in. So ultimately, the choice is up to you and an increase in value is dependent on your area.
What is a kitchenette in a basement?
Often, when homeowners look to add a kitchen to their basement, they opt for a kitchenette. A kitchenette is like a small kitchen, typically with a fridge or mini-fridge, a sink, a microwave, and some counter space. Kitchenettes don't usually come with stovetops or ovens, but it is possible to use a portable stovetop or install one if you feel it's necessary. A kitchenette is the most practical option for the majority of people looking to add a kitchen to their basements. Homeowners can save money by limiting the number of appliances or using smaller appliances to suit their needs. A small kitchenette works wonders for family rooms, at-home movie theaters, or even simple recreation spaces.
How much does it cost to put a small kitchen in the basement?
The cost of adding a small kitchen or kitchenette to your basement might surprise you. According to HomeLight, a small kitchenette could cost anywhere from $3,000 to upwards of $45,000, depending on the project's scope. The size of your kitchenette, the types of appliances you want to use, and any additional plumbing or electrical work can raise or lower your costs based on your current situation. It's essential to keep in mind your necessities and what your space allows before planning a significant overhaul or renovation.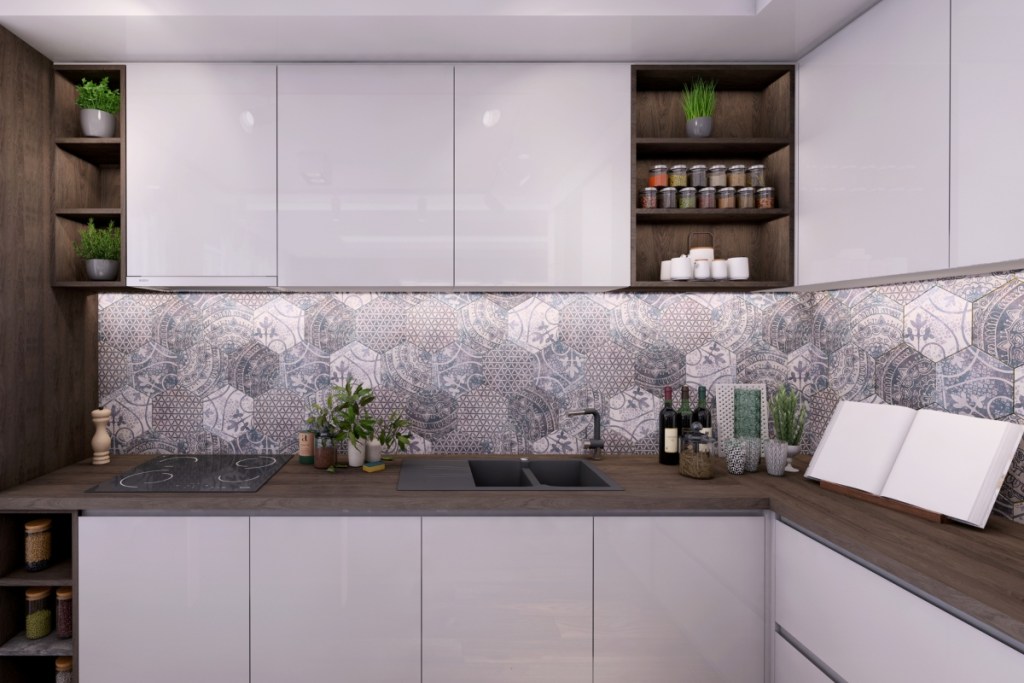 Tips for adding a kitchen to your basement
Once you've determined what sort of kitchen you want to add to your basement and have spoken to a licensed professional regarding budgeting, structural work, and any other important renovation factors, you can begin designing your dream space. Here are some of our tips for nailing a successful basement kitchen.
Less is more
Always begin with the less is more approach. Kitchenettes are small, so it's best to lean toward fewer appliances and clutter in your space if possible. Opt for only a few cups and dishes to satisfy your needs, and stock up on snacks and drinks you intend to use sooner rather than later. If your kitchenette is likely to be used for entertainment purposes, there's no need to fill your limited storage space with non-essentials.
Focus on the must-haves
Before you begin purchasing any appliances or countertops, it's vital that you focus on your must-haves. For an entertaining space, do you need adequate counter space to hold punch bowls, charcuterie boards, and other foods and beverages? If you prefer a kitchenette for an in-law or as a guest space during the holidays, would a portable stovetop and microwave be essential? Or maybe your kitchenette is solely used as a bar space. Would you need plenty of storage or a mini-fridge? Figure out what your non-negotiables are before you begin renovating.
Be sure to have plenty of storage
From bar carts to open shelving, storage space for your kitchenette is a must. You want to ensure that you have all the space you need to store food, drinks, dishware, and cleaning supplies for your needs. In addition, you don't want to have to excuse yourself from family gatherings every five minutes to retrieve an item from your main kitchen. So, try to include enough space to store everything you'll need for your kitchenette space.
Basement kitchens are a great way to use empty or ignored spaces in your home. They make the perfect addition for entertainment or ease for those who love to party or use their basement for recreation. Depending on your needs, this renovation could be costly. However, there is potential for it to raise the value of your home down the road. So, figure out what works best for you and enjoy your new space!
Editors' Recommendations