If you want to bring a whole new look to your closet, picking up a few sets of these wooden hangers will not only help you organize them neatly, but also complement your interior decor. With a natural feel, wooden hangers add an element of nature and make your closet feel more spacious.
The first thing you want to do is think about the garments that you own. Depending on that, you can decide on the type of wooden hanger that you need. And let's be honest, most likely you will need more than one type. Wooden hangers with grooves to hang straps and keep clothes in place are ideal for everyday tops and bottoms. Hangers with shaped shoulders work best to accommodate jackets, suits, and blazers. We curated the options with the best materials, solid construction, and understated aesthetics.
JS Hanger Wooden Suit Hangers
Best overall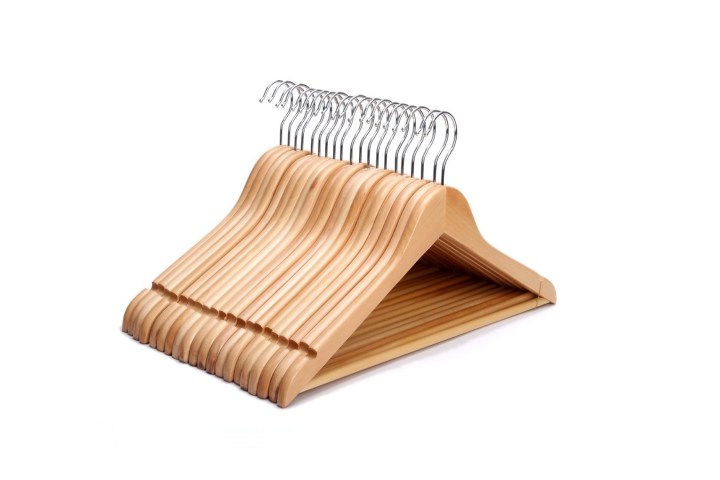 Our top choice for most everyone, the JS Hanger Wooden Suit Hangers offer stylish convenience. A 20-pack of premium-quality hangers with a slim profile are an excellent solution to maximize space without sacrificing elegant design. These hangers include cut notches to prevent straps from slipping and garments from falling on the floor. A 360-degree rotating hook makes it easy to hang your clothes in any orientation.
Zober Wooden Suit Hangers
Best looking wood hangers
For those who are looking for premium elegance and ultimate functionality, the Zober Wooden Suit Hangers are the definition of convenient luxury. Handmade in natural splinter-free timber with a lacquer coating to bring out the beauty of the woodgrain, these space-saving wooden hangers have the perfect contours to help clothes retain their original shape. They also include a pant bar for versatility and best use of space.
Zober Wide Shoulder Wooden Hangers
Best for heavy clothing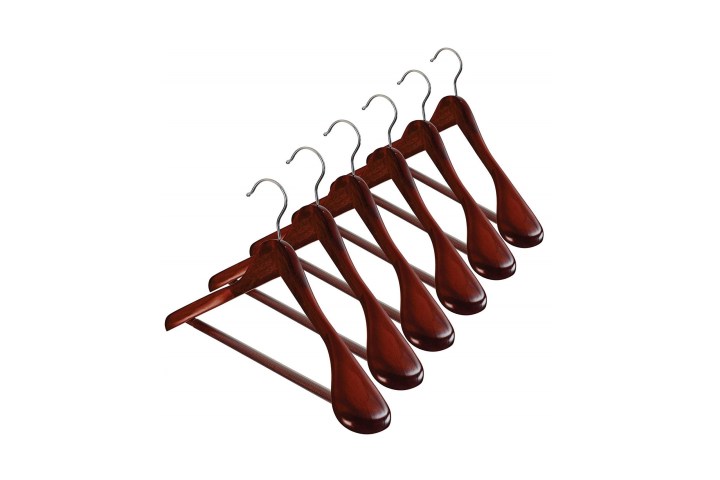 Heavy coats and luxury gowns deserve a special type of hanger in your closet. Keep them in place with the Zober High-Grade Wide Shoulder Wooden Hangers. These attractive storage solutions are perfect for any oversized garment or special-occasion clothing.
If you want to give your closet a face-lift and provide your clothes with the best home, wooden hangers are the solution for you. They look amazing and contour your clothes better than any other hanger, to maintain their natural shape and ensure that they look fantastic when you put them on. With the items on our list, your closet will look better than ever and will inspire you to make the most of your fantastic wardrobe.
Editors' Recommendations