Coffee is enjoyed in all settings, at all times of the day, and with family and friends. The way the average person consumes coffee has come a long way over the years with home brewers that can make espresso, foam milk, brew different sized pots, and more. Coffee is a pleasure drink for some people and an absolute necessity for others. One of the best ways to enjoy a delicious cup of coffee is at home, without having to wait in line at your local shop and shell out over $5 a cup. The best way to accomplish this is with an excellent 4-cup coffee maker. 4-cup coffee makers are compact, make coffee quickly, and make the ideal amount of coffee. Some 4-cup coffee makers also hold the temperature of the coffee, so your brew never gets cold. Obviously, there are hundreds of different 4-cup coffee makers out there to choose from, but we've done the homework for you and found the best ones available.
Mr. Coffee 4-Cup Small Coffee Maker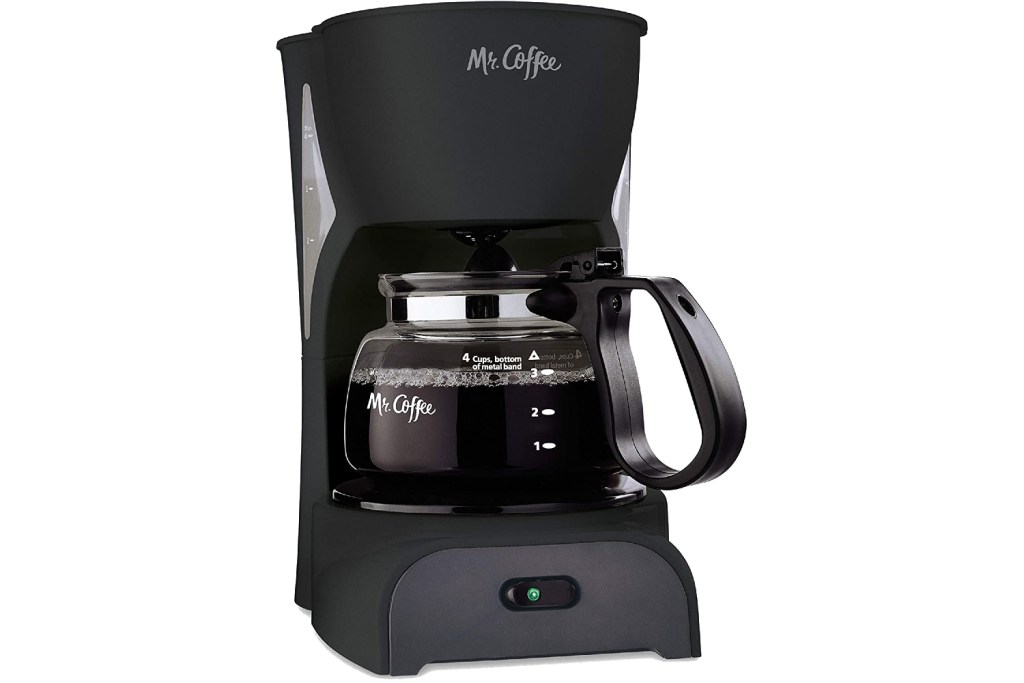 This 4-cup coffee maker from Mr. Coffee is perfect for brewing morning coffee solo or a cup for you and a friend. The device features an auto-pause feature that stops the brewing cycle if you need a cup before it is finished. The coffee maker also has a dual water window, which keeps you from accidentally overfilling the machine.
This compact coffee maker is great for people with limited counter space and saves you money on disposable filters due to its reusable, plastic filter. You can still use a paper filter if you want, but you don't have to, which is an excellent option. The water reservoir, filter basket, and warming plate are easy to clean. The on/off light indicator lets you know when the coffee maker is on and serves as a reminder to turn it off when you are finished. The downside is that there is no auto-shut-off function on this pot, so you need to remember to turn it off. This coffee maker is also a bit noisier than some others on the list, and the cord is relatively short.
Zojirushi EC-DAC50 Zutto 5-Cup Drip Coffeemaker
Technically, this is a 5-cup coffee maker, but everyone measures a "cup" differently, and this one is small enough to put in our 4-cup category. Plus, this coffee maker from Zojirushi has so many features it would be a shame to leave it off this list. The small-scale design makes it perfect for a kitchen with limited counter space or office, and the unique cone basket design aids in the compact design. The coffee maker has 650 watts of power, which means it heats up and brews quickly. It also features a keep-warm function, which is helpful if you drink coffee throughout the day. The water tank is strategically positioned to make the process of removing and filling it a simple task.
The charcoal filter included with this coffee maker makes your coffee taste great for months at a time because the filter removes impurities from the water you use to make your coffee. The main downside to this coffee maker is that it does not feature an auto shut-off. Because of this and the keep-warm feature, if you leave the coffee maker on for too long, your coffee will eventually burn and taste bitter. There are minimal programming options with this coffee maker, but that is the case with most compact designs.
Cuisinart DCC-450BK 4-Cup Coffeemaker
This compact coffee maker from Cuisinart has a stainless steel urn with a dripless pour spout that eliminates spills and drips on your countertops. The stainless steel urn is durable and easy to clean. This model also features a brew-pause setting that lets you get your first cup while the brew cycle is still going. One of the best features of this 4-cup coffee maker is that it has an automatic shut-off feature that activates after 30 minutes. This coffee maker is also faster than many others on this list, which means less waiting for that first cup of the day.
The downside to the stainless steel carafe is that you can't see the coffee while it's brewing, so you will have to learn how long it takes to finish or get to that first cup level. Also, this coffee maker doesn't come with a filter, which means you will have to buy them separately.
Elite Cuisine EHC-2022 Maxi-Matic 4 Cup Coffee Maker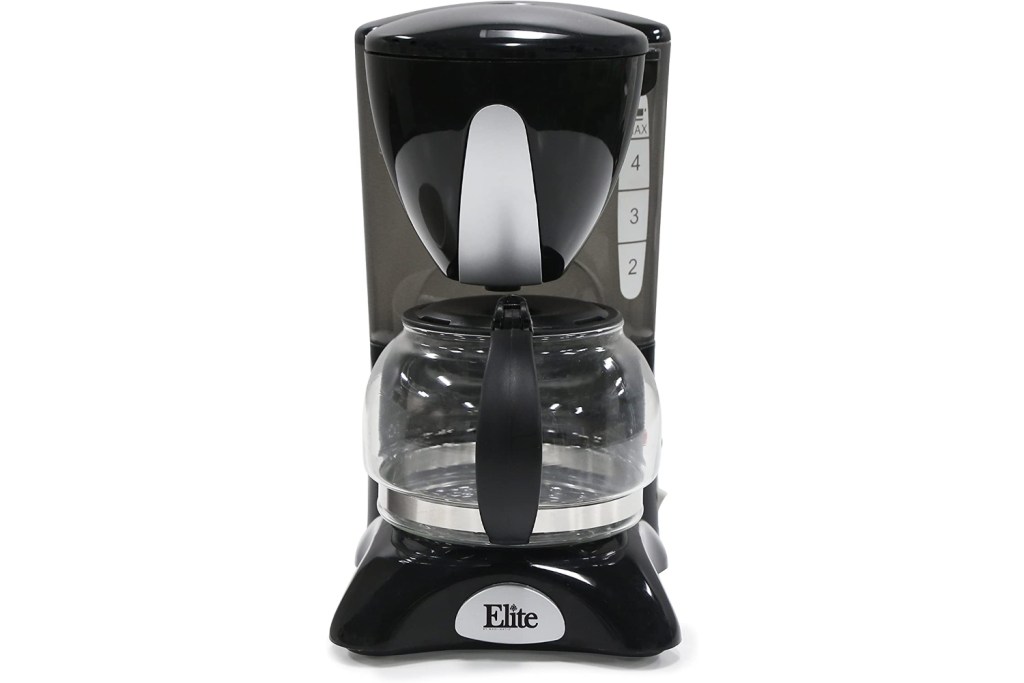 The Elite Cuisine 4-Cup coffee maker is the closest you can get to coffee house specialty coffees from the comfort of your own home. You can add unique ingredients such as flavored syrups to your coffee as it brews with this coffee maker. The coffee maker is relatively fast, so there is no waiting for your own special brew in the morning. The device also features a pause and serve option in case you can't wait for the cycle to finish to get at your first cup. The maker also has a hot plate to keep your coffee warm throughout the morning; just don't forget about it, or the coffee will eventually burn due to the lack of an auto shut-off feature. The filter basket is removable and dishwasher safe, so cleaning is a breeze, which is nice since the filter is reusable mesh. If you want a larger device with all of the same features, this coffee maker also comes in a 5-cup variety .
BLACK+DECKER DCM600B 5-Cup Coffee Maker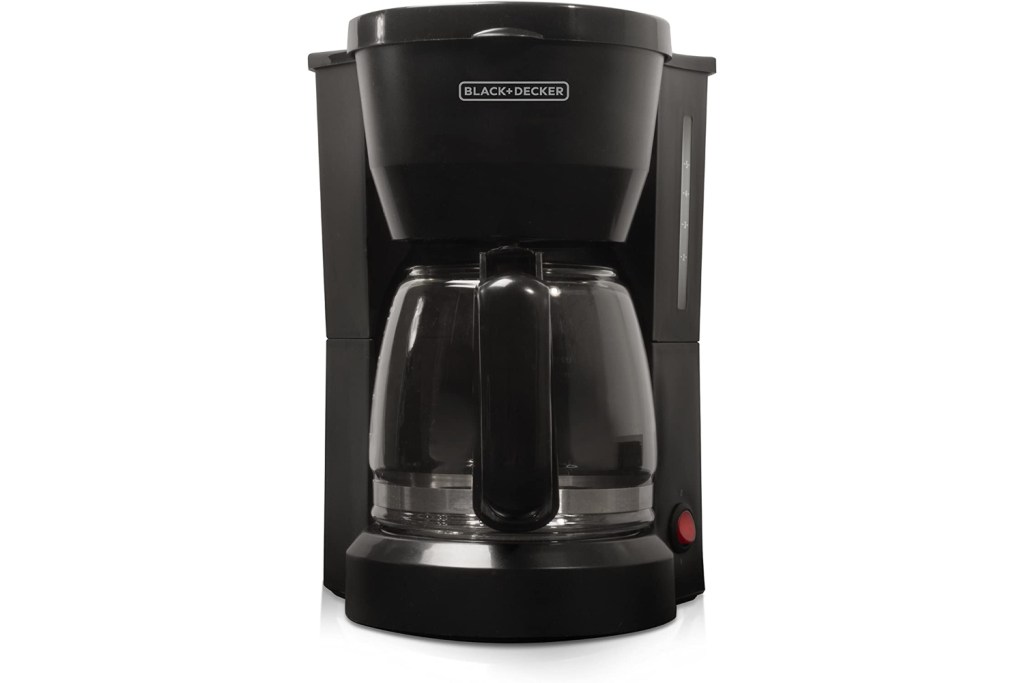 This coffee maker from Black+Decker is a 5-cup device, but again, who's really counting when it comes to cups of coffee? This compact coffee maker features a hot plate to keep your coffee warm. The water reservoir is see-through, so you can eventually perfect your brewing. The push-start button makes getting started simple and effective. This coffee maker brews delicious coffee quicker than most models on this list. It is also made of BPA-free materials so you can feel good about what you are consuming. The removable filter basket is dishwasher-safe, but there is no permanent filter, so you will have to buy disposable ones. It should also be noted that there is no pre-set timer or digital clock on this coffee maker, but if you can live without those features, this is a great choice.
Editors' Recommendations