Prime Day deals are in full swing and that means plenty of discounts on some highly sought-after devices. In particular, we've spotted a great Instant Pot Solo Prime Day deal. Normally priced at $120, it's down to just $70 at Amazon, saving you a chunky $50 off the usual price. With the same touch of class you would expect from anything Instant Pot makes, it's a great way of making an excellent cup of joe. Here's why you need to buy it.
3 stellar reasons to buy the Instant Pot Solo Coffee Maker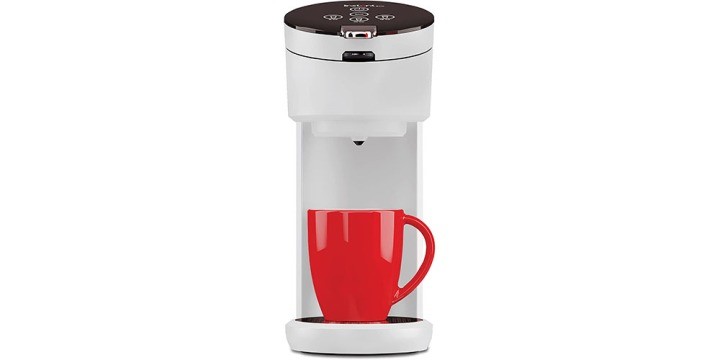 Trusted Instant Pot quality in a coffee maker
Prime Day's Instant Pot deals aren't just highlighting faster and easier cooking anymore. Instant Pot's Solo Coffee Maker is stealing the show. With the high-quality Instant Pot name behind the single-cup coffee device, you can trust that you'll get a high-quality product. With this Instant Pot Solo Prime Day deal, you'll get a coffee maker with a reusable pod and a unique brew that pulls out more aroma, body, and flavor in every single cup.
Customization for all your coffee needs
Instant Pot has incorporated a ton of features, many of which are seen on the best single-cup coffee makers on the market, to meet a variety of morning coffee needs. First of all, you can use either the provided reusable pod or your favorite K-Cup with this device. The Instant Pot Solo Coffee Maker has a variety of cup sizes, including 12, ten, and eight ounces, and the 40-ounce water reservoir means you can brew several cups before needing to refill it.
A pre-infused cycle is also a feature, which means your grounds can go through a gentle pre-brew soak for bolder flavor. The brew strength on the Instant Pot Coffee Maker is adjustable, so on those tough mornings when you need a cup that's a little stronger for a real pick-me-up, you've got the perfect cup of joe at your fingertips. On mornings when you're running late, you can brew a quick, 90-second cup of coffee and be out the door in a flash.
Compact and stylish design
Since we don't always have a ton of room on our countertops, the Instant Pot Coffee Maker is built to be a compact addition that fits in a small space. Even though it's small, it can still fit a 16-ounce travel mug if the drip tray is removed. The sleek, stylish appearance includes flat-touch sensor buttons and an interface that's easy to use for all your coffee needs.
If you're looking for a simple but delicious cup of coffee rather than one of the best espresso machines, this Instant Pot Solo Prime Day deal will scratch that itch. It'll soon fit into your daily routine.
Editors' Recommendations