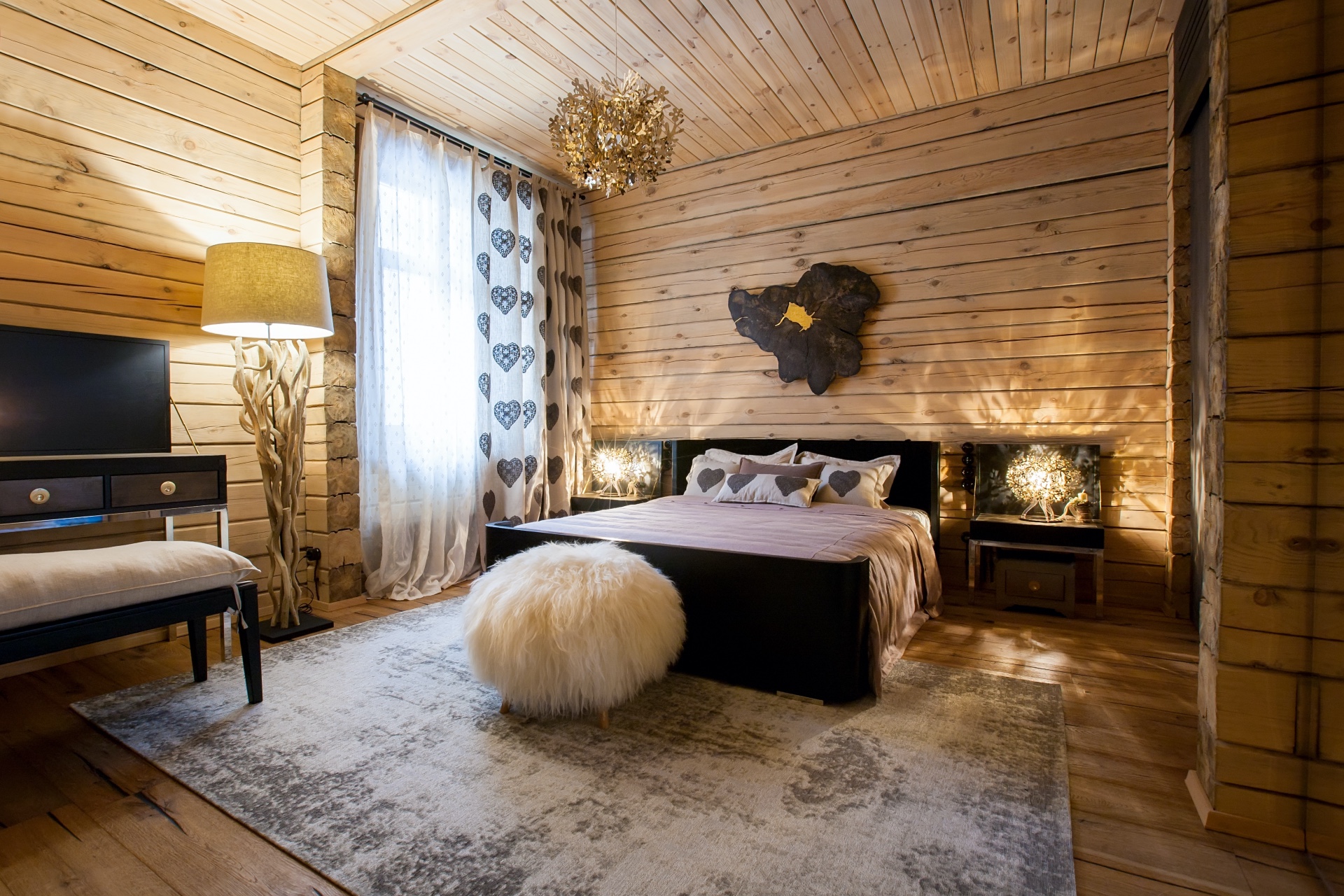 If you are planning to apply rustic decorating ideas to your bedroom, there are a few key elements you want to think about: texture, color, natural feel, and casual ruggedness. The bedroom should be a peaceful oasis, decorated with a rustic feel in mind evoking casual and aged comfort.
Rustic color palette
The color scheme should be deep, warm colors like the red bricks of colonial Williamsburg, the green of pine trees, and the earth tones of rich, clay soil. You will want the colors of driftwood, weathered stone, and aged wood.
One wall can be done in shiplap, while the other walls pull a color from the shiplap to keep your color scheme together. If you happen to have a fireplace in your bedroom, consider a stone exterior and, if you can, continue the stone up the wall.
Imagine the mantel with a rough-hewn wood rather than turned or polished wood.
Texture is important to a rustic feel, so you will want your ceiling beams to be a darker, natural wood—even if you have to wrap polished beams to get the look.
Paint your ceiling crisp white—a textured white is even better and look for dark hardwood flooring. Wooden plank flooring would be great, and even darker ceramic plank flooring would work.
Furniture with an impact
Furniture should be large enough to make an impact. A curvy, upholstered chair is not rustic. A dark upholstered chair with wooden arms and a back would fit better in the theme. You won't see any shiny, glossy elements in a room decorated in a rustic theme.
One exception to rustic furniture should be your bed's headboard—these days rustic is all about comfort. Back in the day when rustic was just the way things were done, headboards were hand-carved and made a statement.
A rocker with a dark, heavy wicker would work, but keep in mind, everything should have a sort of worn, casual feel.
Side tables should be a little "used" and rough around the edges, and think craftsman style when you are looking at lamps for the side tables. You want simple, straight-up wooden bases or lamps with rope or even burlap on the base.
Be creative with your lighting. How about an electric lantern or even barn lighting (bare bulbs in a metal cage)?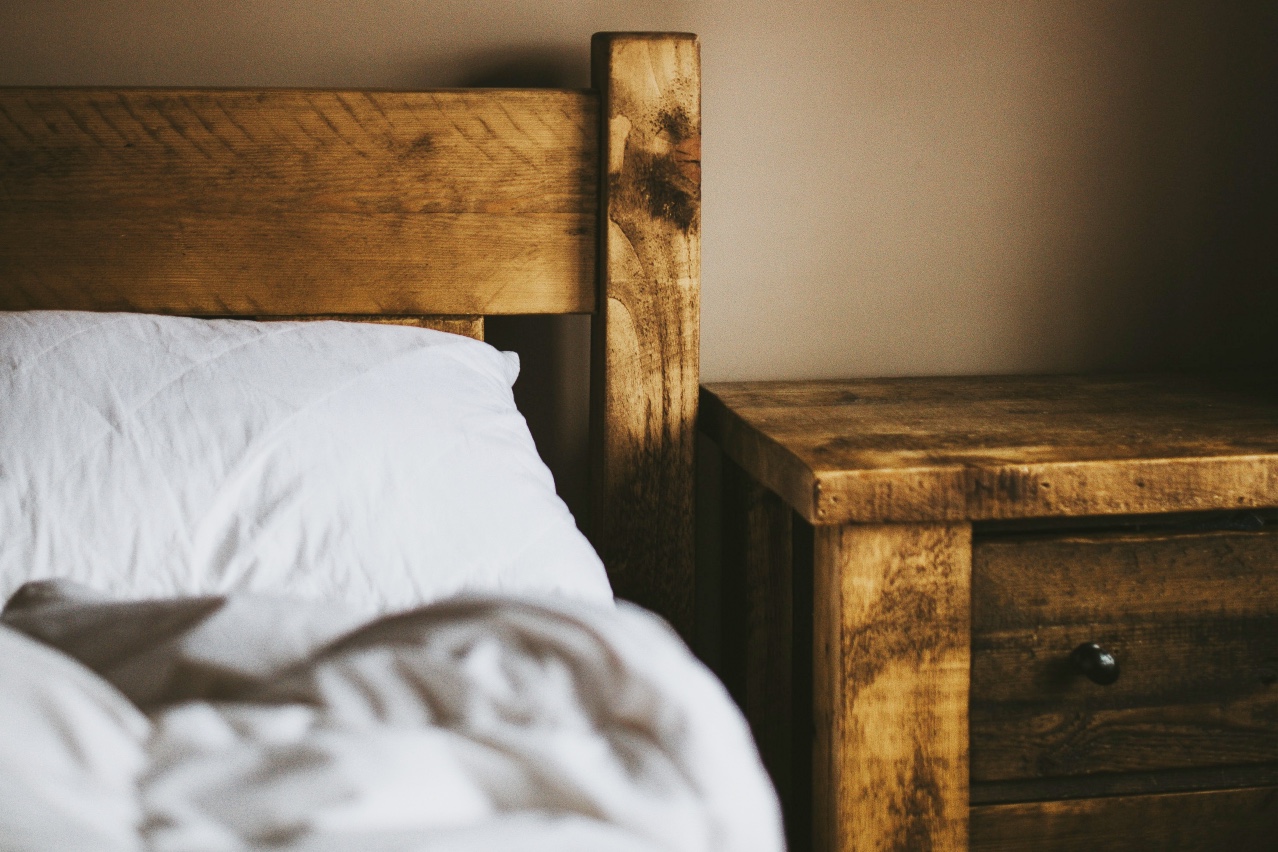 Chairs and tables should look raw and hand-made. Visible storage options should be heavy wicker baskets or containers, and bookshelves should be made out of reclaimed wood.
Texture and textiles
An area rug or several should be in a heavier material like jute or a woven texture. You are decorating with casual warmth in mind so, if the rug is fringed and a little rough around the edges, all the better.
Cover the bed with crisp white linens with several textured throws, perhaps even a faux fur throw, and accent pillows in several different shades of beige with lots of texture, fringe, and tassels. A quilt casually placed across the bottom of the bed would be in keeping with the rustic theme, as would quilts draped on chairs. Cover a bench at the foot of the bed in a textured throw and get a distressed storage trunk to store extra bed linens.
Accessories and accents
Frame family photos in rustic wood frames and frame windows inside with distressed shutters for an interesting rustic twist. Consider artwork with rural themes stretched on canvas (rather than framed) and mounted animal heads if you want to go truly rustic.
Use plaid throw pillows to add a dash of color to the bed, chairs, and bench. Put fresh flowers in a tall white milk pitcher for a great accent. Sliding barn doors with rustic hardware for the closets would be a nice touch, or even a barn door as an entrance to the master bath can be an excellent addition.
No tiny dresser hardware—go for chunky matte black and use that for the barn doors (or go with leather pulls).
Remember, you don't want anything bright or glossy when going for the rustic look. You want casual and comfortable; your rustic-style bedroom should have a lived-in look, like a place where you can hunker down with a book and a mug of tea in a big, cushioned comfortable chair.
In the meantime, check out our inspiring bedroom ideas that won't break the bank.
Editors' Recommendations