Purple is one of the most underused colors in interior design. It's often thought of as too childish or too wild for bedroom wall paint. But with the right accent colors, a purple room can be an ultra-stylish space. Because the shade has both warm and cool undertones, it can work with almost any color, and pairing it with the right shade can completely alter the feel of your bedroom. From soft and light lavender to rich and moody eggplant, there are options for every type of purple lover! Ready to start experimenting? Keep reading to discover some of our favorite purple two-color combinations for bedroom walls.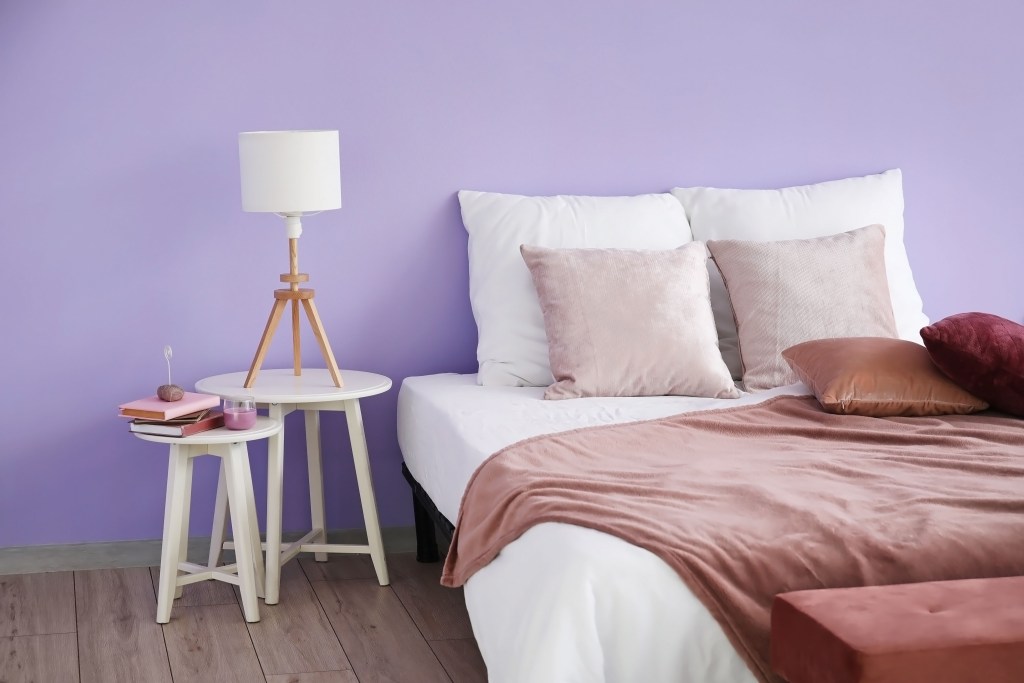 What colors go with purple in a bedroom?
Though it may seem like an "out-there" choice at first, there are actually a lot of colors that pair well with purple. It all depends on the shades and tones of each color in your palette. Neutral hues like white, black, and gray are always safe choices. You can even go monochromatic, using multiple shades of purple to fill your space. However, if you want to get creative with your bedroom, check out our four favorite unexpected colors that will look amazing with purple walls.
Pink
We absolutely love the combination of pink and purple. While the two colors may elicit memories of childhood, they can still be used to create an upscale adult space — as long as you're using the right shades. Pair dusty pink with light lilac or lavender. This color combo can transform your bedroom into an understated, glamorous space.
For an ultra-feminine look, match a barely-there blush pink with reddish-purple, close to a burgundy or boysenberry shade. These two colors can create contrast and add visual interest to your room. You can also add contrast by pairing dark plum with light powder pink. This playful combination can be striking, especially when accented with metallic features and bold graphic patterns.
Orange
At first, orange and purple can seem like an outrageous color combo, but when you see it in practice, it can feel engaging, warm, and energizing. One of our favorite purple and orange palettes uses soft peach and rich eggplant. The unexpected combination creates a uniquely inviting environment, perfect for a guest room.
Embrace the retro 70s aesthetic and decorate your violet-purple room with splashes of orange. Be mindful of the amount of orange you use; a little goes a long way. Another fun combo is light purple and bright, poppy orange. The unusual mix of soft, modern hues and colorful, vintage shades makes for a super fun and whimsical bedroom.
Yellow
Since purple and yellow are complementary colors, they are often an excellent and versatile choice for interior design. To add a pop of cheer to your space, pair lavender walls with a bright lemon yellow. The winning combination creates a sunny atmosphere that looks both sweet and fresh. If you want to tone down the hues and give your space more room to breathe, decorate with cream or white accents. You can also match pastel shades of purple and yellow for a soft, dreamy look.
Another gorgeous combo to consider is gold or mustard yellow with purple. A rich eggplant shade is perfect if you want to play up the regality of the two colors. Try a metallic gold, which adds an instant touch of sophistication and luxury to any space.
Green
Purple and green together can be another divisive color combination, but it can be an impactful choice with the right hues. For a simple and trendy look, match the dusty sage with rich indigo. The unusual pairing creates a contradictory feel that is both casual and upscale, traditional and modern.
If your bedroom has more of a traditional design, consider using a dark shade of green for an accent color. Pair emerald green with a barely-there lilac for a classic and ultra-stylish look. Use forest green with a bright purple hue to add a bit of nature to your space. Or, match jewel-tone jade with bold eggplant for a vibrant but still formal vibe.
Which color is the best combination with purple? You can pair almost any hue with purple if you choose the right shades. Though you may be tempted to play it safe with neutral colors, you can have a lot of fun with these unexpected color pairings. Different color combos can evoke different emotions, so think wisely before choosing one for your bedroom. Soft purple and bright yellow are a warm and energizing match, while sage green and indigo can create a modern and relaxed vibe. Consider how you want to feel in your room, and then find a color palette that can help you achieve it. Experiment with different shades and unexpected colors so you can transform your purple bedroom into the perfect personal space.
Editors' Recommendations