The summer season can be unbearably hot some days, and you'd do almost anything for a bit of shade. The heat can sometimes make barbecues, outdoor get-togethers, or backyard celebrations less fun. Unless you have the proper coverage, there will always be overheated people wanting to crowd into the house for some air-conditioning. Luckily, pergolas and awnings can be the perfect solution to your hot summer discomfort. Pergolas and awnings are affordable additions to your backyard that will help provide privacy, protection from the heat, and look great.
Types of pergolas
The pergola has been a rising trend in backyard design. It can be the structural feature that your backyard needs to provide privacy and coverage from the hot sun. Pergolas are typically made from wood, vinyl, or metal. This outdoor garden feature is designed to form a shaded walkway, passageway, or sitting area. It has vertical posts or pillars that support cross beams on the top and sides. There are also some lattice designs for siding to allow for vines to grow up.
Pergolas are meant to be open. They have thick beams on the top that provide a little bit of shade, mixed with a little sun. You can have fun, elegant summer parties under pergolas by adding fabric drapes for a bit more privacy. The different types of pergola materials include:
Wood – Wooden pergolas provide a more rustic, natural feel to your outdoor space. The more affordable pergola types are ones made of pressure-treated wood that are stained or painted. The natural beauty of a wooden pergola makes it well worth the price. Cedar and redwood pergolas are a bit pricey, but you can keep it affordable with treated pine or other well-priced woods. Pressure-treated wood pergolas are great for humid climates. They tend to be slightly green in color when wet but will dry into a brown color. Wooden pergolas offer a lot of privacy to your backyard and can encase chairs and other seating to create a fun, private space.
Vinyl – These pergolas offer a classy, elegant, and clean look to your backyard. Vinyl is a maintenance-free material that will make it very easy to care for. Vinyl pergolas are affordable and provide as much privacy as a wooden one. They are great for people who want to add a little color to their backyard, since vinyl comes in many colors to choose from.
Metal – This type can be made from aluminum or steel. They are typically lightweight and never rust, which makes them ideal for beach homes. After proper anchoring, they will be a perfect feature piece for your backyard because they are designed to add more privacy and shade to your backyard space.
After you determine what material you want your pergola to be, it is also important to consider accessories. Some of the most popular and useful pergola accessories are:
Retractable shades and roof
Curtains
Planters
Privacy walls
These accessories allow you to create removable and customizable privacy. You can use privacy walls to block off certain areas if you are close to neighbors or use curtains to create a sealed-in space from the summer heat. Regardless of what accessories you use, these choices will help ensure a unique, fun, and private space with your pergola.
Types of awnings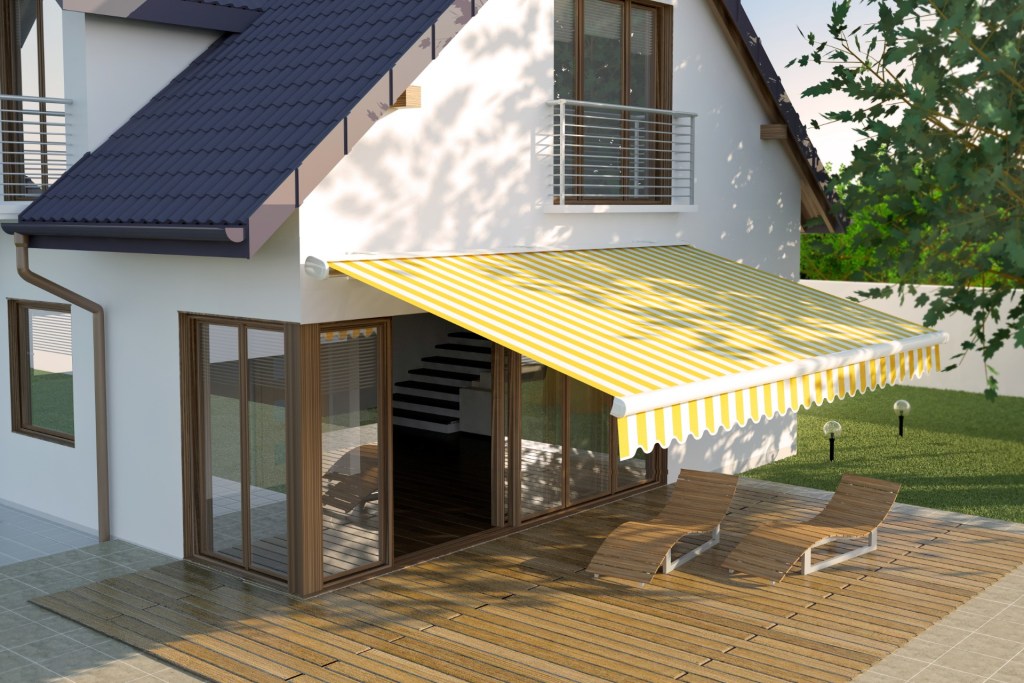 Awnings are a fabric overhang and are typically attached to the home on one side. They are usually made of acrylic, cotton or polyester. Awnings are an excellent solution for improving privacy and shade. They can be the perfect addition to your backyard and come in many styles:
Retractable awning. These awnings can be extended to provide shade and privacy or brought in to enjoy the sun. Retractable awnings are great because they provide you with privacy when needed and an open area when it isn't needed.
Wall-mounted awning. A wall-mounted awning attaches to a wall or roof on one end and is supported by posts on the other end. This type of awning is convenient because it allows for privacy flaps to come down and provide adjustable walls on either side. Some wall-mounted awnings have flaps that can come down on all three sides to ensure maximum privacy and protection from the side. These awnings are a handy and affordable option for your backyard.
Freestanding. Freestanding awnings are basically giant umbrellas supported by two posts on either end. They can extend over tables or patios to provide extra shade. Some freestanding awnings come with retractable flaps, so you can create a fun, private space for you and your guests to enjoy. These awnings are affordable and easy to use, too.
Pergolas and awnings are two very different types of structures. Each one has fantastic benefits that will make your backyard more private and protected from the sun. Typically, awnings tend to be a bit more affordable than pergolas and can offer more protection from above. Pergolas require some extra accessories to improve privacy, but they will be a beautiful, long-lasting, and elegant structure in your backyard. There is no wrong decision with these two great options. They will both bring you the privacy you desire in your backyard at a price you will love.
Editors' Recommendations