Modern coastal interior design is a refreshing way to invite light colors, a beach aesthetic, and simple textiles to your home to create a chic space perfect for relaxation. For homeowners who adore cool tones and woven decor pieces, the modern coastal design style can be a great way to bring what you love into your home. If you're looking for some inspiration on how to achieve this fresh and exciting design aesthetic in your space, or you're looking for some unique ideas to spruce up your existing decor, then we have a few tips you don't want to miss!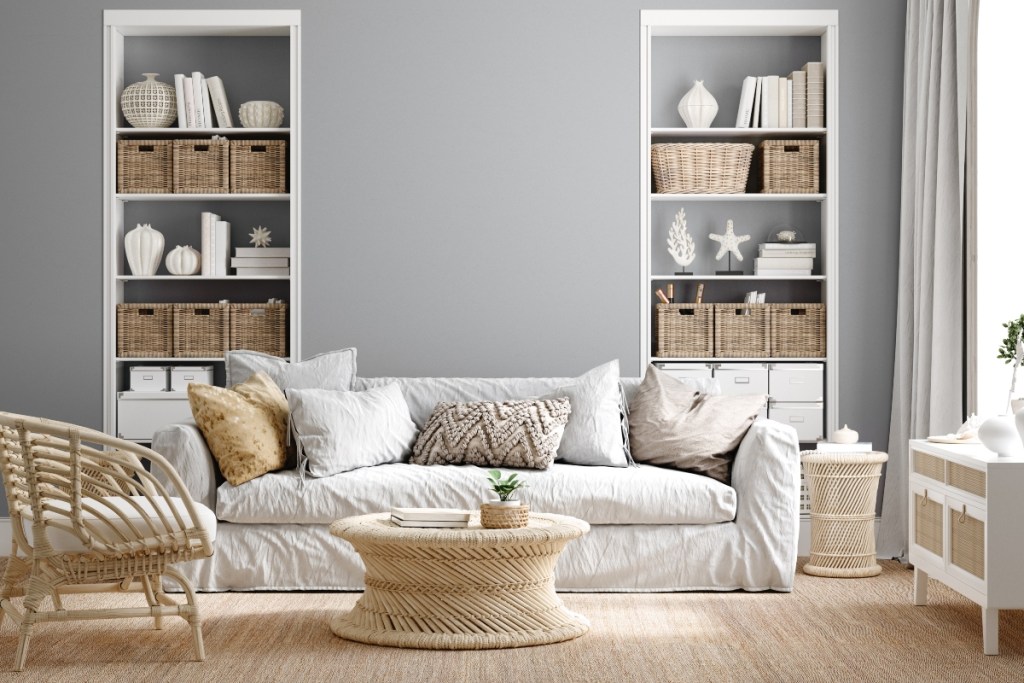 What is modern coastal style?
Modern coastal design blends the minimalistic and simple appeal of modern design with the beachy, cool-toned aesthetic of coastal styles. This blend of styles emphasizes whites and creams in the color palette while also inviting a sense of simplicity and serenity through minimal yet intentional decor pieces. Modern coastal interior design also highlights certain elements of each parent design style. For example, you might find modern light fixtures and glass tables alongside driftwood decor or cool blue tones in a modern coastal design.
Is coastal decor out of style?
A common misconception about coastal decor is that it has gone out of style. However, coastal decor flourishes in many interior design styles, like modernism, Mediterranean, and rustic. Many homeowners view coastal and nautical decor as the same. However, coastal decor is more about soft beach-inspired color palettes, washed-out wood tones, and hints of beachy elements. In contrast, nautical decor takes a more fish-inspired and colorful approach, sometimes making it feel kitsch.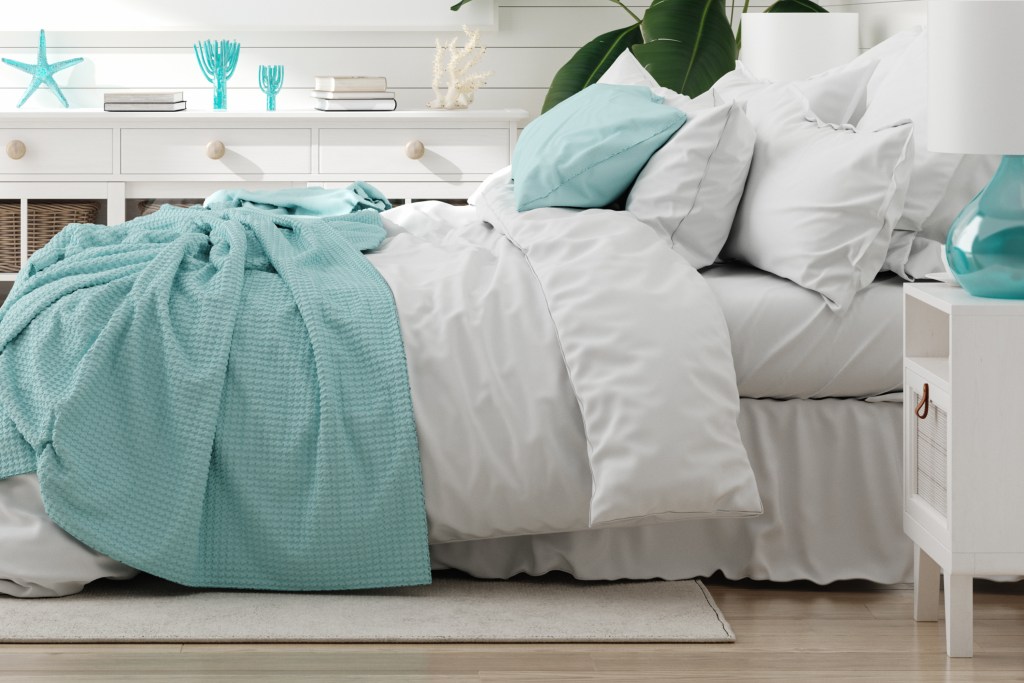 How to bring modern coastal design to your home
If you're interested in the relaxing simplicity of modern coastal design, we have a few tips and ideas to help you successfully bring this aesthetic into your home.
Bring in the wicker
Wicker is a prominent texture in modern coastal decor. Wicker baskets, bags, and furniture pieces are a must-have with this interior design style. Try to bring some wicker pieces like lampshades, table decor, or chairs into your space to help add a subtle, neutral tone to the room while also balancing out the minimalist textures of your modern decor.
Try a three-blade ceiling fan
Three-blade ceiling fans, particularly those with large, leaf-inspired blades, are a fantastic addition to a modern coastal design. We recommend adding a three-blade ceiling fan to your living room or dining space in place of a traditional chandelier or hanging light fixture. This will add to the airy and natural feel of the coastal part of your design.
Use blue and white in your color palette
Because blue is a big part of the coastal aesthetic, we encourage you to incorporate it into your design. Balance cool blue with neutrals like white and light brown to add a more modern flair. When looking to bring these colors into your home, try adding blue to your kitchen cabinets or paint the lower half of your walls in this pale and cool tone. Be sure to keep things light and bright throughout the home for a cohesive design!
Try a fun patterned tile in your bathroom or kitchen
Patterned tile is a great way to make a statement in your modern coastal home. Add a black-and-white patterned tile to your bathroom or kitchen for a fun pop. In the kitchen, pair a blue-and-white patterned tile with blue cabinetry to create a bold look. Or, keep things simple with a classic white backsplash and patterned tile floor.
Keep wall art minimal
Modernism favors minimalist decor, so it's best to keep your wall art simple and minimal. For example, opt for abstract paintings or prints that remind you of the coast, or choose photographs with a muted or minimal color palette. When hanging your decor, keep things symmetrical to appeal to the modern aesthetic, and opt for classic wood frames for a subtle look.
Don't forget the black accents
Black hardware, table legs, and decorative pieces are a great way to add an accent to your space. Black pieces help accentuate the light look of your design while also bringing in a modern element. Opt for light fixtures with black metal accents or drawer handles that add a simple and sophisticated touch without detracting from the coastal elements within your design.
Opt for glass decor
Glass decor is the perfect way to blend the modern and coastal aspects of your design. Opt for glass light fixtures wrapped in netting to blend these two styles. Or use glass vases filled with palms or other beachy plants to create a stunning union between these two aesthetics.
Keep details fresh and simple
Keep your details fresh and simple when adding the finishing touches to your modern coastal-designed space. For example, add a few lush plants to invite more life into the space. Or add neutral-toned pillows and blankets to sofas and chairs for a cozy look. Try not to go overboard; instead, focus on a minimal and modern approach to your decor. Too much clutter will leave your space feeling kitsch or poorly designed.
Designing a modern coastal space involves using light, cool colors paired with key features of both parent design styles to create a cohesive space that feels light, bright, and refreshing. Keep your decor minimal and focus on statement pieces like a unique ceiling fan, fun lighting, or a patterned tile.
Editors' Recommendations