The midcentury modern resurgence in home design has inspired many homeowners to get creative with how they style their spaces. Whether you claim to be a traditional designer or a minimal enthusiast, midcentury modern lighting can enhance your home decor by inviting in a fun spin on antiquary. We'll show you some of our favorite methods for designing with midcentury modern lighting anywhere in the home.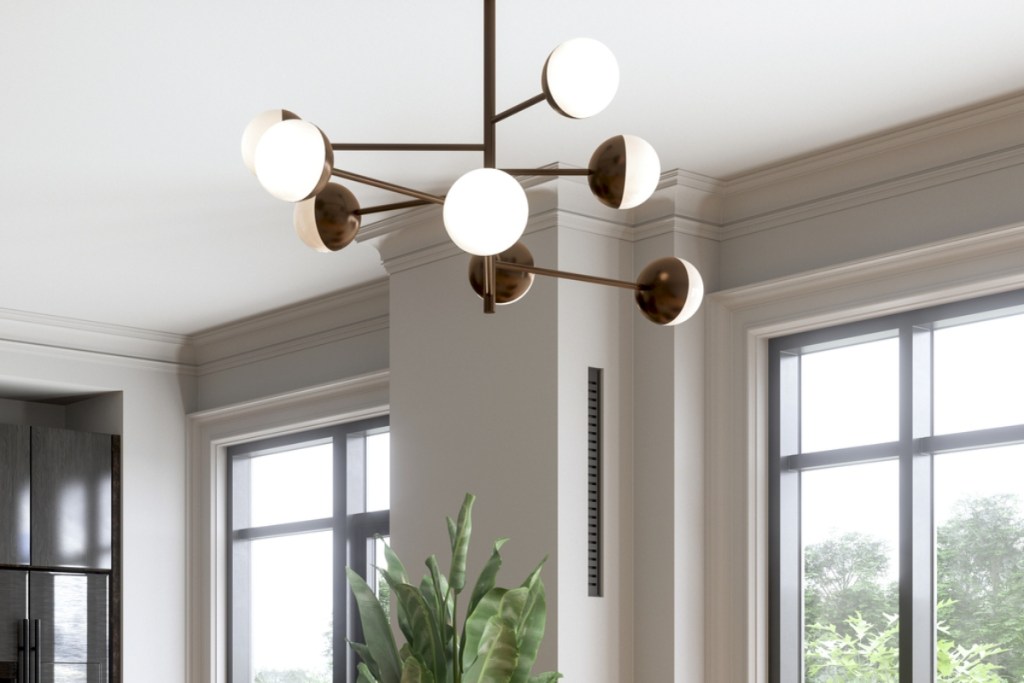 Opt for some classic midcentury modern light fixtures in your living room
When adding midcentury modern light fixtures to your living room, you'll want to opt for something classic and timeless. You can do this by using a single cone pendant light. Pendant lights are simple but add an air of elegance to your space. In the living room, they allow more notable features like your sofa or fireplace to become the focal points while also providing plenty of light and sophistication to the room.
If a cone light doesn't suit your needs, you could try out a single globe pendant light. Both pendants can be wonderful lighting solutions for your space. Try to mix and match shapes to prevent your design from looking two-dimensional, and pick a pendant light that creates a sense of fluidity.
For something more elegant, opt for a spunky midcentury modern chandelier. If you prefer that your light fixture takes precedence in your design, choose an awe-inspiring midcentury modern chandelier to add a bit of grandeur to your space.
Try some midcentury modern outdoor lighting
Midcentury modern lighting is sleek, functional, and unique. With a focus on shape and simplicity, midcentury modern styles can add a lot of character to your design. However, when it comes to outdoor lighting, don't shy away from obscure pieces that create an edge of excitement in your space.
Wall sconces to frame doorways are a fantastic way to light up porches and patios. Try using a midcentury modern wall sconce in a sleek matte black finish to create a sophisticated appeal. If you want something minimal, opt for simple, cylindrical wall sconces to create symmetry. For more pizzazz, try out an arched feature light or geometric lighting solution.
If your patio allows it, a simple Edison bulb pendant light or a small cone pendant light can be a fantastic addition to your space. Of course, you'll need to have an overhang to incorporate a hanging light fixture in your space. But if you can do it, rest assured that you'll have a stunning centerpiece to spark many conversations during family gatherings.
Your bathroom may need a midcentury modern lighting facelift
In the bathroom, there's no denying that a midcentury modern wall sconce is what will best suit the space. Try a double-globed wall sconce to create horizontal or vertical appeal. For example, a horizontally styled fixture is a perfect addition above a bathroom mirror. At the same time, a vertically styled solution would be perfect for framing the sides of the sink or vanity cabinet. You could also opt for a multi-globed wall fixture for additional lighting. Opaque glass globes are perfect for bathrooms because they won't become noticeably streaky due to moisture.
Depending on your existing color palette, we recommend trying a matte black metal finish or a stunning gold to create the perfect accent.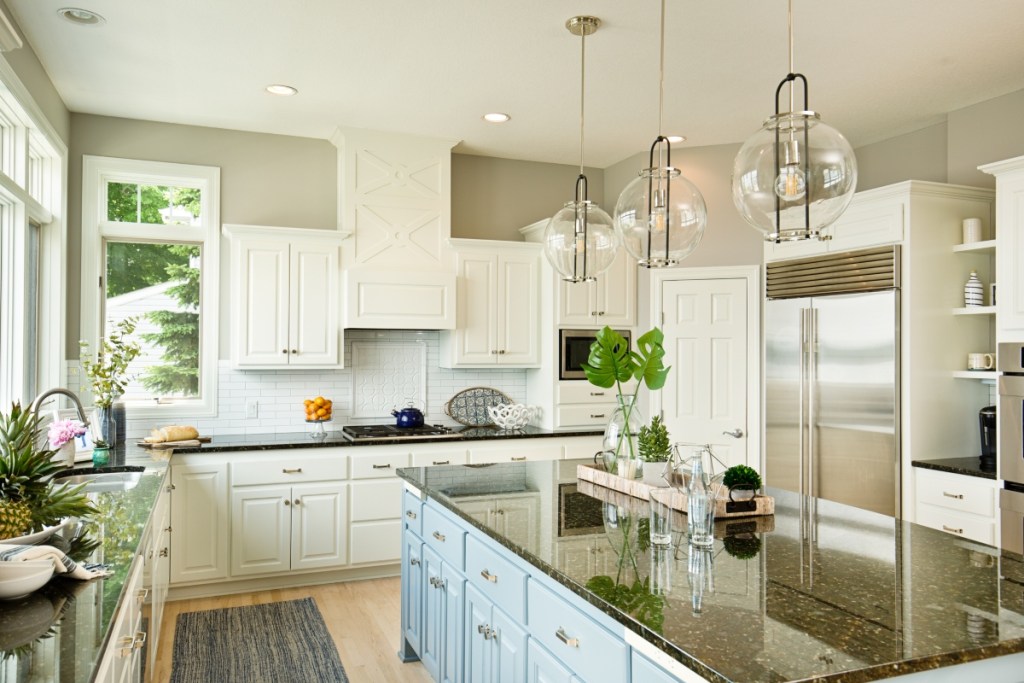 Don't neglect midcentury modern lighting in your kitchen
When using midcentury modern lighting in your kitchen, it's best to opt for statement pieces. The kitchen is often the central hub of the home, and it's filled with pots, pans, appliances, decor, and plenty of cabinet space. With so much going on, your lighting can easily blend into the background. To liven up your space, we recommend opting for something a bit more unique.
Try a glass globe chandelier above your island to create lighting that makes a statement. Glass globes look stunning on their own as a pendant light or in a group as a chandelier. You can go as minimal or as extravagant as you like. We love the gentle glow of a classic Edison bulb inside an orb.
Alternatively, you could opt for some symmetrical wall sconces for a more subtle approach. For smaller kitchens, this is the perfect solution for adding adequate lighting without detracting from the original design of your space. Symmetrical wall sconces come in various shapes and sizes, so you can find something that suits your needs.
Midcentury modern lighting is perfect for adding a curated touch to your design that is both fun and minimal. Play around with different shapes to create the perfect look, and don't shy away from transparent glass or gold accents on your light fixtures. Create a statement piece in your design, and wow your family and friends with elegant touches.
Editors' Recommendations