A total kitchen renovation can seriously increase the value of your property, especially when it includes upgrading appliances and updating flooring. Understandably, designing your dream kitchen can be expensive, and you'll likely run into hidden costs you didn't budget for.
We spoke to the experts to learn more about what to expect when it comes to the not-so-obvious costs of remodeling your kitchen. With a little forward-thinking, you can have a beautiful kitchen at a beautiful price.
Structural issues
Structural issues like worn beams, poor drywall, interior wall damage, lack of supports, and insufficient plumbing are unfortunately common.
Home improvement expert Gregg Hicks, VP of Modernize Home Services, shared, "Structural issues with the walls, floors, windows, or even the ceiling will need to be repaired before the contractor can sign off on the job. At Modernize, we recommend adding an extra 20 percent to your kitchen remodel budget to cover and better plan for unexpected expenses."
Most kitchen remodels can cost around $20,000 to $40,000, depending on the project's scope. When setting your budget, be sure to account for possible structural issues and be prepared for these expenses. And, if your project goes off without a hitch, you'll come in under budget, which is always a good feeling.
Unexpected pests or mold
Many homeowners aren't aware of pest and mold damage until renovations begin. Bailey Carson, a home care expert at Angi, shared, "If your home is more than 25 years old, you may run into wood rot or water damage, both of which can add to the cost of your project." If these issues aren't superficial or cosmetic, you'll have to pay a pretty penny to make sure your home's structure is in good shape.
As we discussed above, adding 20 percent to your budget can likely cover most of these costs. However, if you have an older home, you might want to save a little extra cash just in case the damage is far more extensive than anticipated.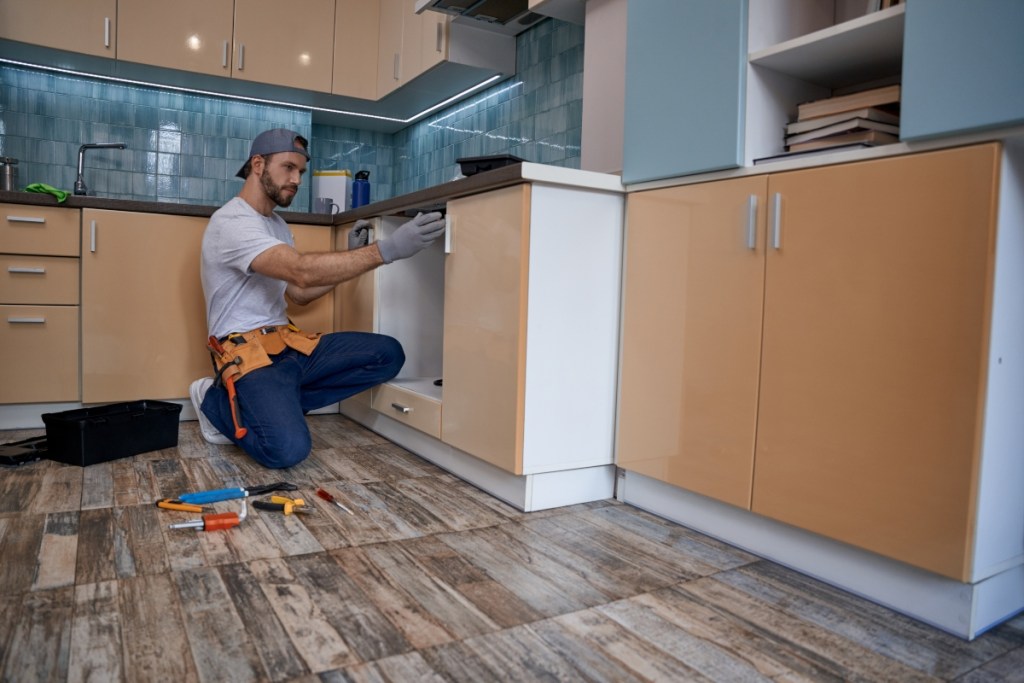 Following code and local laws
Hiring a contractor is an integral part of large-scale kitchen remodels. Each state and municipality have specific codes and laws regarding electrical outlets, plumbing, and structural changes, and a professional contractor will have experience navigating these.
Paul Macero, Managing Partner at MBA Builders and residential construction and renovations expert for more than 15 years, provided insight on how small changes, like the relocation of a large appliance or sink, can increase your budget.
Macero said, "When you move a sink, even just a few inches, it may extend the waste arm from the vent pipe further than what's allowed by code, which could require additional plumbing work." This additional work will also result in increased fees for labor and equipment.
Homes older than twenty-five years are the most susceptible to increased fees since the complex codes may have changed since their construction.
Relocating large appliances
Similar to code-related costs, relocating appliances can rack up your remodel fees. Carson added, "If you do not have enough power for your new equipment, you can expect a major expense."
Hiring a professional is the best way to ensure that the new power source will be safe and reliable. Additionally, relocating can also require drilling holes in the wall, rewiring, replumbing, covering up the previous holes, and removing old cords. It's best to leave it up to the renovation experts who have the know-how to complete the project efficiently and safely.

Changing your mind during the renovation
Experts agree: One of the most common mistakes homeowners make during large-scale kitchen remodels is failing to plan enough. Paying to relocate your appliances again or rehiring contractors and electricians for last-minute changes can significantly increase your project's cost. Additionally, missing key tools and materials can extend the time of your remodel.
To steer clear of this issue, ensure you plan, plan, and plan again. Joe Fava, CEO and Founder at Fava Design Group, said, "If plumbing [for example] is not selected and purchased in advance… [you may] have to wait for parts to come in because orders were not placed on time."
However, this issue goes beyond plumbing alone. Electrical components, renovation equipment, and hired services all need to be scheduled in advance. Don't wait to make these calls or order your parts. Make sure you have a plan (and a backup plan) in place before breaking ground.
Kitchen remodels can become costly — that's a given. However, the stress of such a big purchase can compound greatly when surprises arise, forcing you to spend more money than expected. To keep yourself on time and on budget, approach your renovation with a flexible plan you can adjust as needed, and be prepared for all the hidden costs that may come your way.
Editors' Recommendations