Now that summer is coming to an end, it's finally time to bring out all that beloved fall decor! Redecorating your home to reflect the changing of the seasons is a fun way to bring the outside in and prepare your space for the upcoming holidays.
Before you start swapping out your summer decor in favor of autumnal adornments, take a look at these few tips that will ensure your decorations are as stunning as possible.
Declutter and clean
Redecorating is certainly a challenge if the house is a mess! Before pulling out the pumpkins and flannels, declutter and clean the home. Pack away your summer decor and wash both indoor and outdoor blankets and rugs before placing them in storage. Declutter any old papers, fabrics, and decorative pieces that won't be a part of your fall design.
Preparing your space in this way will let you begin with a blank canvas and better visualize what spaces are in need of a little sprucing up.
Change up the color palette
Pare down on the light, bright, and airy colors of summer to make room for autumn's rich and luxurious tones. Fall colors typically include reds, oranges, yellows, and golds, an array of warm and vibrant colors that reference the beautiful hues of the falling leaves. As you decorate, don't forget to incorporate neutrals like creams, grays, and whites to prevent the space from looking too busy or overwhelmed with color.
To scatter these colors around the house, start with your pillows and blankets. Opt for warm-colored fabrics to bring some life to your couches, cushions, and bedspreads. To make it more visually interesting, try to mix up the materials, textures, and patterns.
Elsewhere, incorporate these hues into your interior decor by:
Investing in colored vases
Placing seasonal flowers in decorative pots or baskets
Replacing the placemats on the dining room table
Laying a colorful runner across the kitchen table
Swapping out rugs, bath mats, and floor mats
Changing the curtains
Utilizing festive kitchenware
Get cozy
Fall conjures images of fluffy blankets, cable-knit sweaters, and pumpkin spice lattes on the porch. Bring this energy into your home by incorporating all the little elements that make your home feel as cozy as possible.
Use warm lights
Swap out harsh white lightbulbs for a soft, orange glow. This will create a warm and inviting atmosphere, bringing in relaxing illumination for when the days get shorter and the nights get colder.
Grab some candles
To bring in soft light as well as an autumnal aroma, place candles on the mantel, coffee table, dining room table, and anywhere else that needs a soft glow. The best design schemes engage as many senses as possible, so incorporate your favorite scent into the home. Aromas like cinnamon, apple, pumpkin spice, and sandalwood create sweet smells around your home, whether you've started your holiday baking already or not.
The more blankets, the better
Blankets are decorative, but they're also functional, giving your guests something to cuddle up with on chillier evenings. Try to mix up the textures, bringing in faux fir, flannel, and cashmere to create a look that's cohesive but not boring and uniform.
A big design trend this year is pairing soft blankets on dark woods. Chunky, hand-knit blankets atop wooden benches and tables can create a rustic and welcoming vibe, encouraging your guests to pick a spot and get comfortable.
Who said board games weren't good decor?
Instead of coffee table books, have you thought about coffee table board games? Placing your favorite board games on nearby tables or benches brings in a little bit of your family's personality, giving your guests a glimpse into family game nights spent by the fireplace. They also provide easy-to-access entertainment for everyone as they cozy up indoors.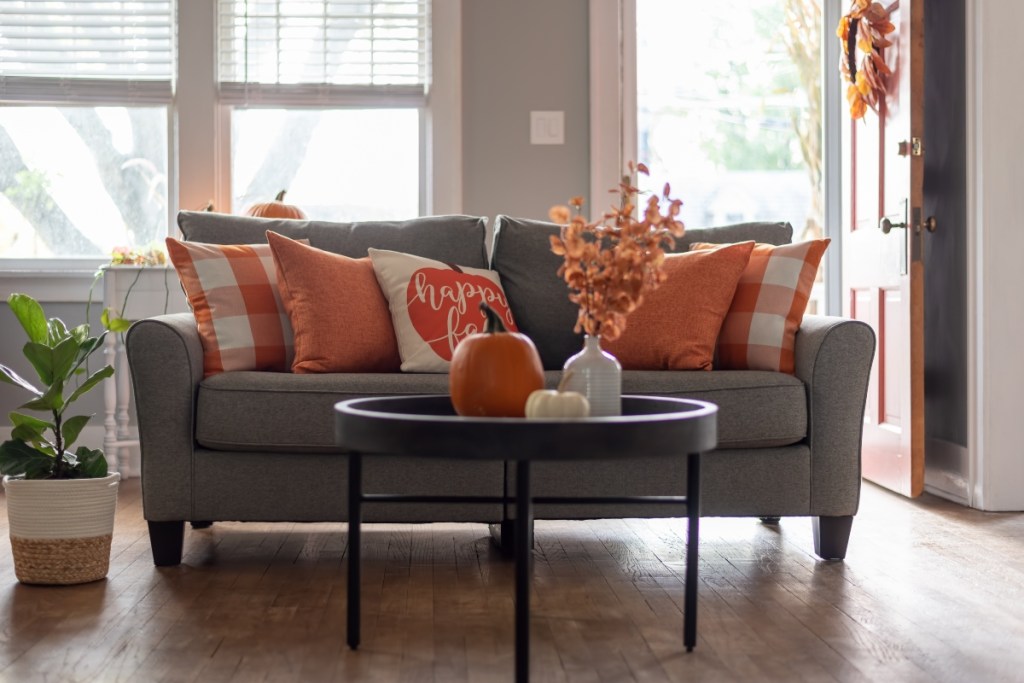 Use natural elements to reflect the season
Bringing the outdoors into your home doesn't stop with the color palette. Bring in natural elements like pumpkins, leaves, twigs, and gourds to celebrate the harvest season. Place autumn flowers in a sleek vase or place a cornucopia of seasonal produce near the fireplace. Wreaths are also fantastic additions to your home during this time of year. They're also highly customizable so you can include your favorite colors, flowers, and textures.
Your home's decor should reflect not only the season but your personal design style as well. Engage your creativity this fall and don't be afraid to include a few personal touches or experiment with different colors, lighting, and textures. With these few changes, you can transform your home into an autumnal oasis you'll never want to leave.
Editors' Recommendations