Perfect for indoor and outdoor use, yoga blankets have beautiful textures and unique designs that are as trendy as they are functional. They are thick enough to help you relax, but lightweight at the same time so you never feel too hot.
Yoga blankets are not just comfortable, they are also stylish. Celebrate artisan traditions and decorate your home with a versatile blanket that will keep you warm but can also go anywhere with you. Take your yoga blanket to music festivals, set it as a picnic table cover or lay in it at the beach for a year-round wrap that keeps you comfortable everywhere. Let's take a look at our favorites.
Benevolence LA Yoga Blanket
Best yoga blanket overall
Hand crafted by artisans in Mexico, the Benevolence LA Yoga Blanket stands for fashion with a purpose. These top-of-the-line blankets are made from 100% recycled materials to keep you warm and comfortable, while caring for the environment and helping fight poverty in Mexico. Take a step in the right direction with these socially conscious and environmentally responsible blankets that offer maximum softness, perfect warmth and ultimate versatility.
El Paso Designs Yoga Blanket 
Best budget yoga blanket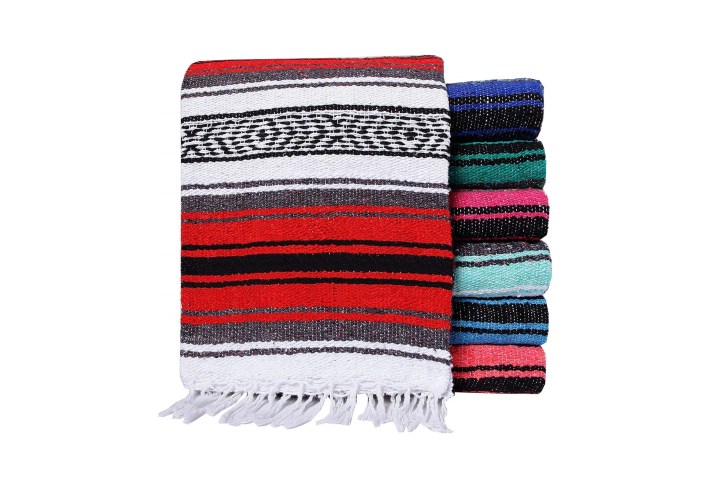 Add a splash of color to your practice with a beautiful yoga blanket from El Paso Designs. Perfect for use at home or at the studio, these imported Mexican blankets are also ideal for outdoor activities. You will love their colorful textures and traditional patterns at an affordable price.
YogaAccessories Traditional Mexican Yoga Blanket
Most comfortable yoga blanket
Made from a blend of acrylic, polyester and cotton, the YogaAccessories Traditional Mexican Yoga Blanket is the softest of its kind. Use it to achieve the perfect yoga pose and then take to the beach for a relaxing afternoon. Machine washable and easy to clean, this super comfortable blanket will go everywhere with you and will last you a lifetime.
With traditional fringed ends and colorful weaving, Mexican blankets make the perfect prop for your yoga practice. The versatility, softness and warmth of the blankets on our list are also great to keep you comfortable anywhere you go. Enjoy and share them with friends at the studio, your home or the outdoors.
Editors' Recommendations