A home gym is no longer a luxury that only the superrich can pull off. After being forced to stay away from the gym during the pandemic lockdown, many people have set out to create a home gym that satisfies their gym needs. Part of building the gym of your dreams is finding the right home gym flooring. If you've been researching the best flooring for your home gym, you've come to the right place. Several different types of flooring will work in a home gym, but which material is best for your exercise room flooring? We've done the homework for you, from gym floor mats to EVA foam. Learn about the different flooring material options for your home gym below.
The flooring in your home gym can go through a lot, depending on what types of workouts you regularly do. From heavy equipment to jumping repeatedly, the flooring can take a beating, and having the correct type of flooring can also benefit your workout. You may want a floor that is easy to clean or one that absorbs shock well; either way, the proper gym flooring will change your home workout game.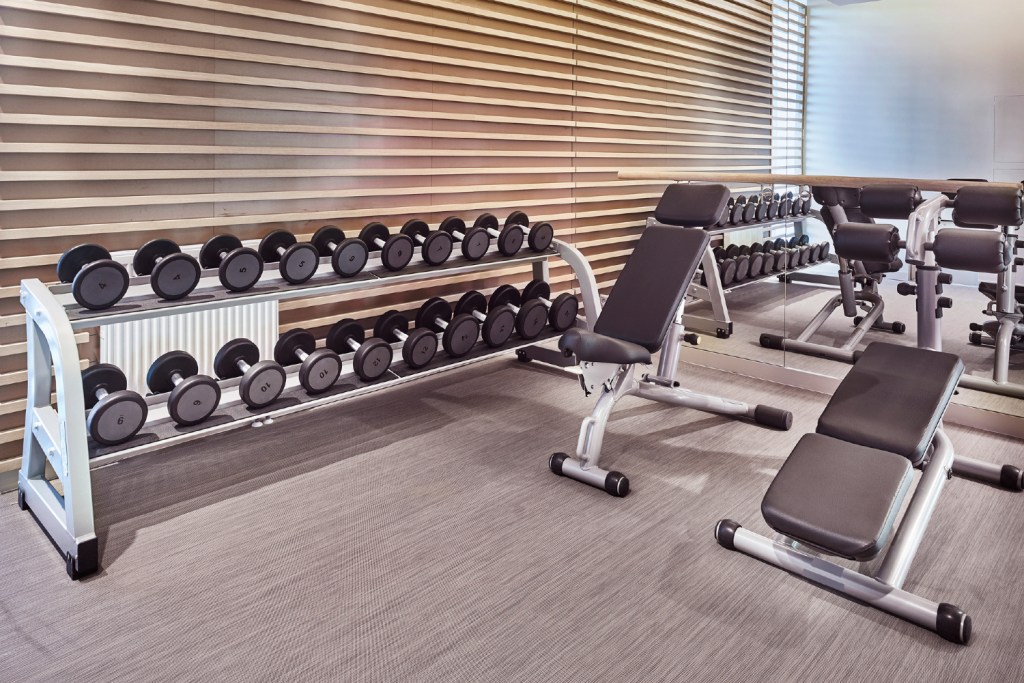 Carpet
Carpet is one of the most popular choices for home gym flooring because it's not only reasonably cheap but soft on your joints, easy to maintain, and often already in your home. However, not just any carpet will do if you want the best option for a home gym. You want to choose a low, commercial-grade carpet rather than a plush shag that you would put in a bedroom. Low-grade carpet will hold up against the abuse of weight training and provide good traction for cardio. Remember that cleaning the carpet regularly is wise to prevent odor and bacteria buildup.
Vinyl
Vinyl flooring is a practical choice for your home gym because it is relatively comfortable, can stand up to the abuse of a home gym, and looks stylish. There are tons of different types and styles of vinyl flooring, so you'll be able to find one that you love for any kind of decor. Vinyl flooring is moisture-resistant, so it's mold- and mildew-resistant, too, making it perfect for sweaty workouts or basements. Vinyl flooring can also handle harsh cleaning products, so you can wipe away all the byproducts of your gym sessions without doing damage.
EVA foam
EVA foam, or ethylene-vinyl acetate, is a high-density foam that is softer than standard polyethylene foams commonly used in items like yoga mats and boat equipment. EVA foam is an excellent choice for home gym flooring because it is the most comfortable of all the options — great for workouts like pilates and yoga. The foam is also highly shock resistant, making it perfect for HIIT workouts. EVA foam is extremely easy to install, and you can remove and reassemble it any time you'd like, so if you need to change from home gym to playroom, it's not a huge deal. However, it lacks the support for heavy equipment and weights, as it will dent over time.
Rubber
Rubber flooring is used in most commercial gyms for a good reason — it's sturdy, resilient, strong, and versatile. But these days, rubber flooring is available to home gym owners, too, since it comes in tiles or mats and different thickness options to suit your gym space and pricing needs. One of the best parts about rubber flooring is that you can install it right on top of carpet or many other surfaces. Rubber flooring is also soundproof and will stand up to any workout or equipment you throw at it. This type of flooring is heavy and can be on the expensive side, though, so be sure this is what you want before you buy.
No matter what type of workouts you like to do at home, there is flooring to suit your needs. Depending on how much money you want to spend and what you plan to do in the room, your choices are pretty extensive. Not only do fitness-friendly floors complete the look of your home gym, but they can also increase safety and reduce impact. Certain types of floors will also protect against any damage your weights or equipment may be causing, too. If you feel like your home gym is missing something, take our advice and choose some new flooring — we promise you won't regret it.
Editors' Recommendations