It's hard to believe 2023 is almost upon us. Often, the new year brings with it inspiration to update your home. The winter months after the holidays are long, after all, so why not use the time to breathe new life into your favorite spaces?
One of the biggest 2023 interior design trends our experts are seeing is the time and attention paid to functionality. 2022 design was all about coziness; 2023 will be about making spaces more useful (and who doesn't love that?) This manifests itself in several ways — the types of furniture we choose, the way we set up our spaces, and even a focus on service-driven spaces themselves. This can include laundry/mudrooms, kitchens, home offices, and any other room that you service the home (and the people in it).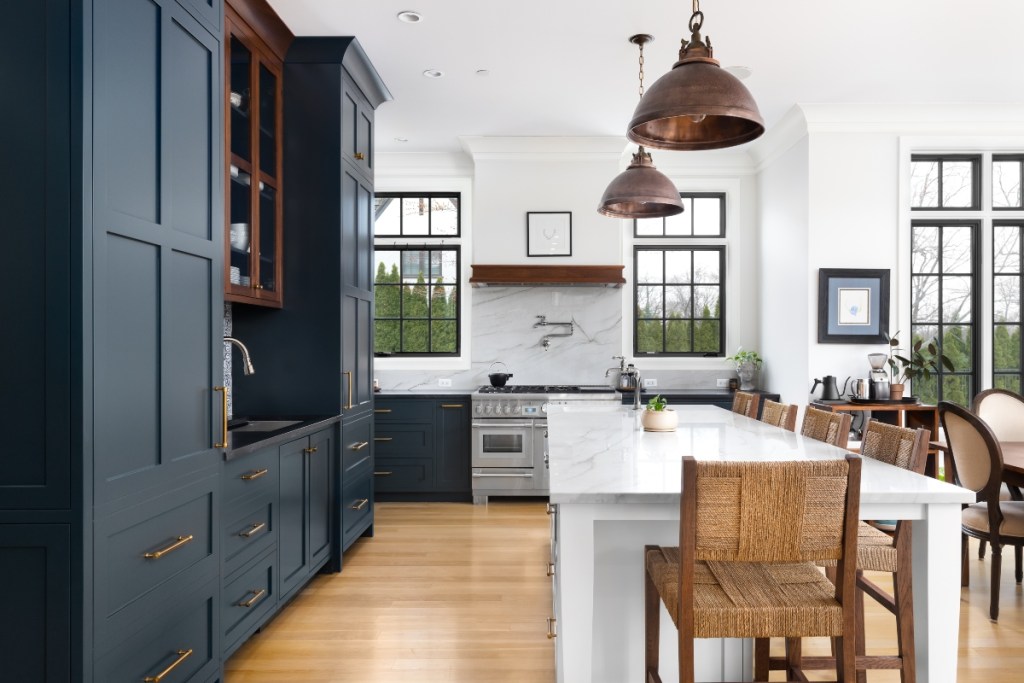 Gideon Mendelson, founder and creative director of Mendelson Group, believes good design should "extend to all areas of the home, including mudrooms, laundry rooms, and more.
"In 2023, I expect to see more attention on these spaces to be well-designed, thoughtful, and beautiful," he said.
Marina Yu, senior designer at Whitehall Interiors, pointed out that well-designed spaces will absolutely be a focus. What that means, said Yu, is threefold.
The first is a return to well-tailored interiors, "with elegant shapes and carefully thought-out proportions. Functionality is coming back and sculptural furniture, like curved armless sofas, are on their way out. While they are sculptural and look beautiful, they are not practical because they are very hard to get in and out of, and a sofa is meant to sit in, after all."
Yu is also seeing a return to tailored, angular, and cubic proportions, especially in chairs. "A well-proportioned chair with a right back pitch makes all the difference. I do love a chair you can spend hours reading in," she noted, and "curved, armless chairs are losing their popularity." This could be incorporated into a home office space or in a kitchen where you can relax before cooking.
A third trend for these spaces focuses on lighting. "Ambient, comfortable lighting is in," Yu said. "We should see more indirect lighting coming from coves and eye-level fixtures, with wall sconces doubling down on form and function. More so, sconces are becoming sculptural as a statement piece or artwork."
Yu also believes we are seeing an end to recessed lighting. "I know this one is hard to lose, but in truth, it is only needed in the kitchen where good light is essential for cooking," she explained. Sconces in a home office or mudroom deliver on functionality but offer much more design than traditional recessed lighting.
It's time to pay attention to how our homes are designed and whether or not they can function well. (After all, a home can look beautiful, but if the space doesn't work well for our needs, it will only become a source of frustration.) By concentrating on seating, lighting, and functionality of items in each space, you can make the most of the room and enjoy the experience while you're there.
Editors' Recommendations