Your roof is an investment in your home. Often an expensive undertaking to repair or replace, protecting your roof by performing routine maintenance is essential. Most roofs only need cleaning once a year, typically in the summer when the weather is warm and great for an outdoor project. However, depending on the weather conditions in your area, you may have to clean your roof more often, perhaps even twice a year.
Regular roof cleaning ensures your roof stays in good shape and protects it from damage due to harsh weather or other environmental factors. But how can you keep your roof clean? Today, we're answering some of the most common questions about roof cleaning as well as offering a simple how-to guide on cleaning three different types of roofs so you can protect your investment.
Why do roofs need to be cleaned?
For most homeowners, roof cleaning is an important part of maintaining a home. This is because a dirty roof can wear down and ruin existing shingles or tiles, creating a costly problem down the road.
Snow, ice, hail, heavy rain, sun exposure, algae buildup, high winds, and plant buildup are all environmental factors that can ruin your roof over time. Without proper maintenance on your roof, you risk damage to it that could cause leaks, mold buildup, and other issues.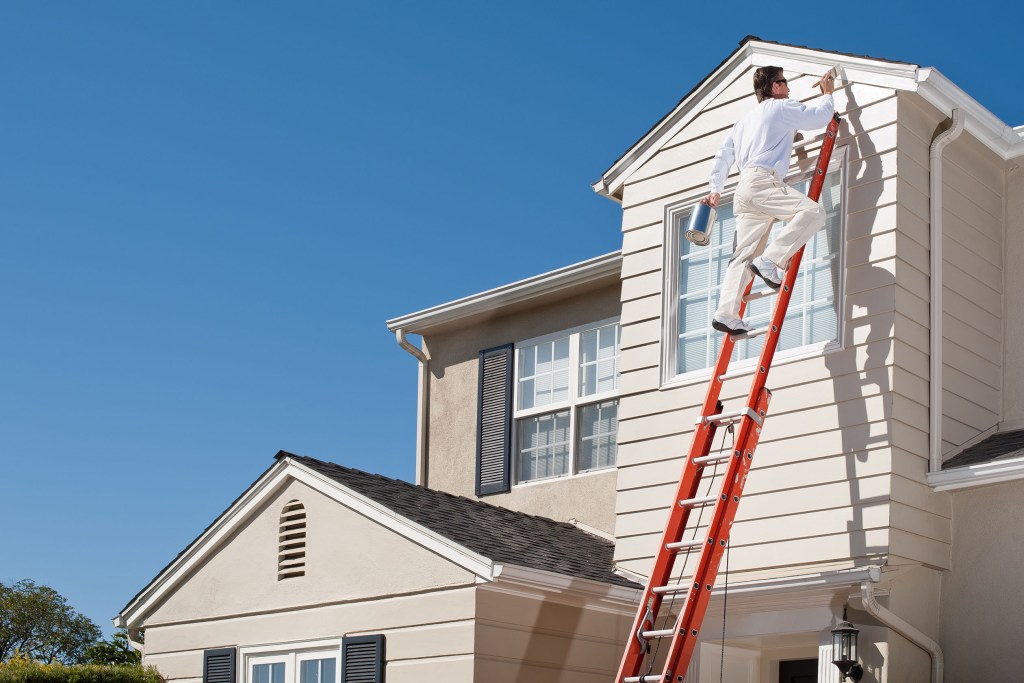 How often does a roof need cleaning?
Typically, a roof needs to be cleaned once a year. Depending on the weather conditions in your area and the type of roof you have, you may need to perform two cleanings per year. Though, for most homeowners, a yearly roof cleaning is enough to ensure the roof stays in good shape and allows homeowners to inspect for any damages.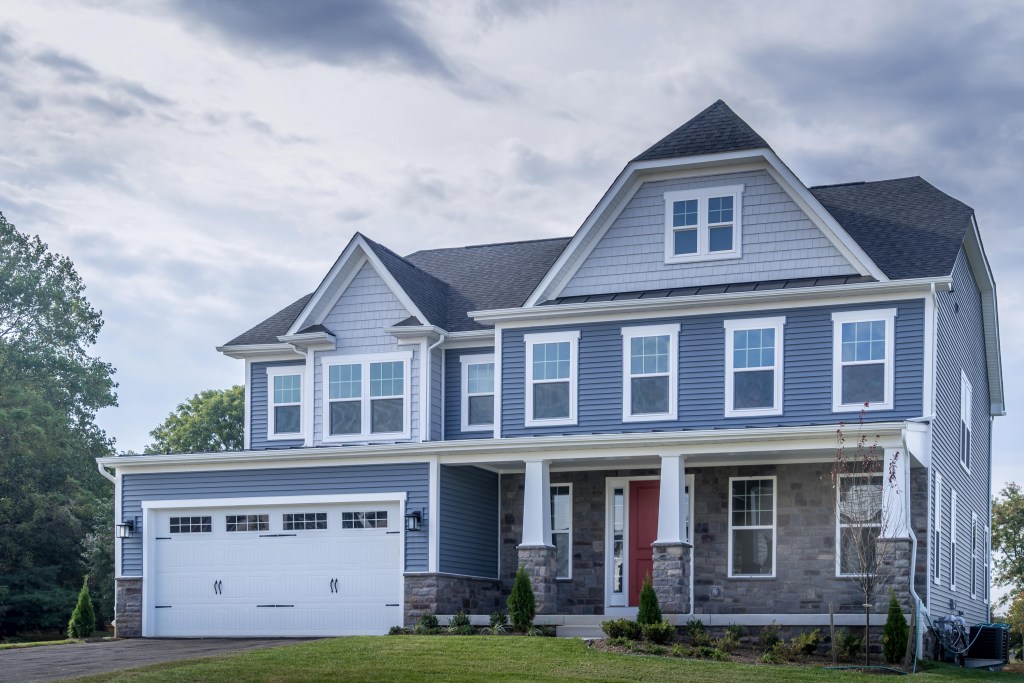 When is the best time to clean a roof?
The best time to clean your roof is late spring and early summer. This is because the weather is nice, and it's a great time for outdoor projects. Additionally, the harsher winter weather is long gone, meaning you'll be able to inspect your roof without sifting through snow. This is also a great time to inspect your roof because many properties experience more damage over the winter months. So, performing a routine check and cleaning your roof at this time will alert you to any issues caused by harsh winter weather.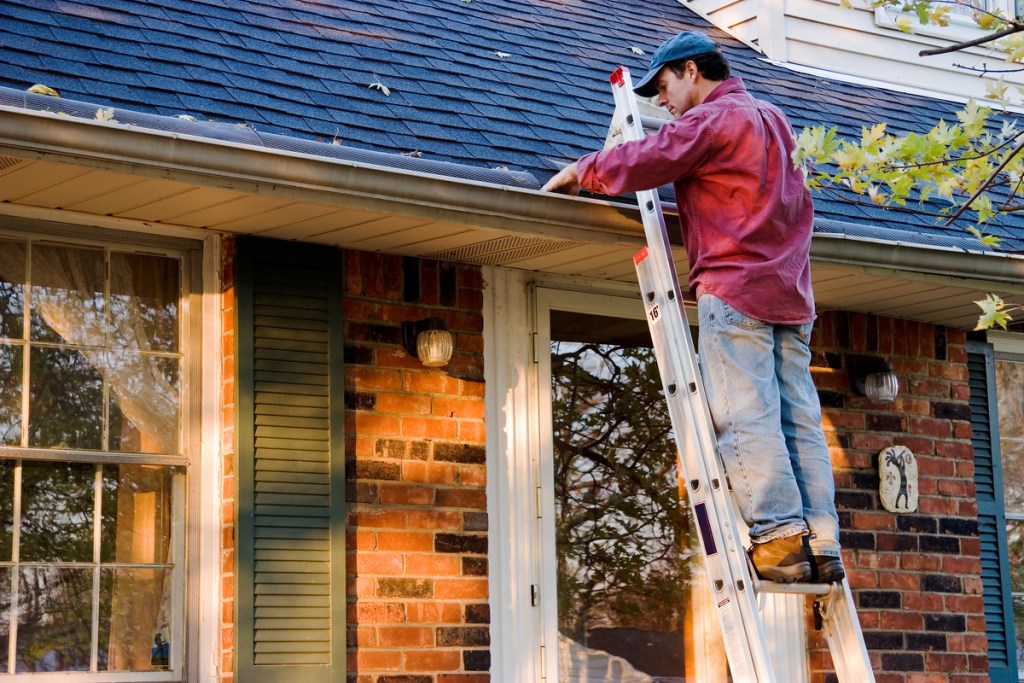 How to clean your roof
There are two ways you can clean your roof. Depending on your needs, both are great options.
Hire a professional
The easiest way to clean your roof is to hire a professional. They'll know how to clean your roof safely and will save you a lot of time and energy.
Go the DIY route
Alternatively, you can clean your roof yourself. This DIY route is great for those wanting to save money and who have the tools to perform the yearly roof cleaning on their own.
How to clean an asphalt-shingled roof
If you want to go the DIY route and clean your asphalt-shingled roof, here's how.
Step 1: Clear away any debris on or nearby the roof.
Step 2: Attach a sprayer to a garden hose.
Step 3: You should never power wash asphalt roof shingles, as this could damage them. Instead, use a garden hose for a gentler wash.
Step 4: Wet down your roof with the water to clear away any other debris.
Step 5: Add 1:1 bleach and water mixture to the sprayer.
Step 6: Spray the roof shingles with the water/bleach mixture to clear away algae and moss buildup.
Step 7: Once finished, rinse the roof with plain water and allow it to dry.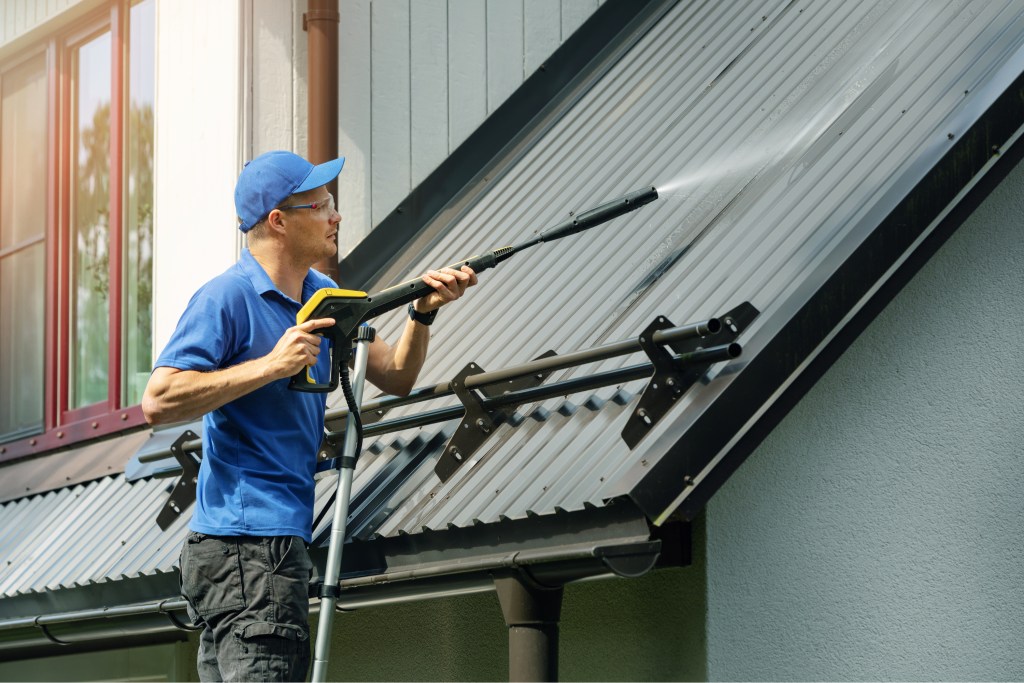 How to clean a metal roof
If you have a metal roof, here's how to DIY roof cleaning on your home.
Step 1: Using a garden hose, low-pressure wash the roof with plain water.
Step 2: For tougher stains, add a few drops of mild detergent to a sprayer and attach it to the hose. Spray the areas with the tough stains and scrub with a sponge if necessary.
Step 3: For mold and algae stains, dilute a mixture of bleach and water (about 1% bleach to water) and spray the affected areas. The bleach will kill off any algae or mold.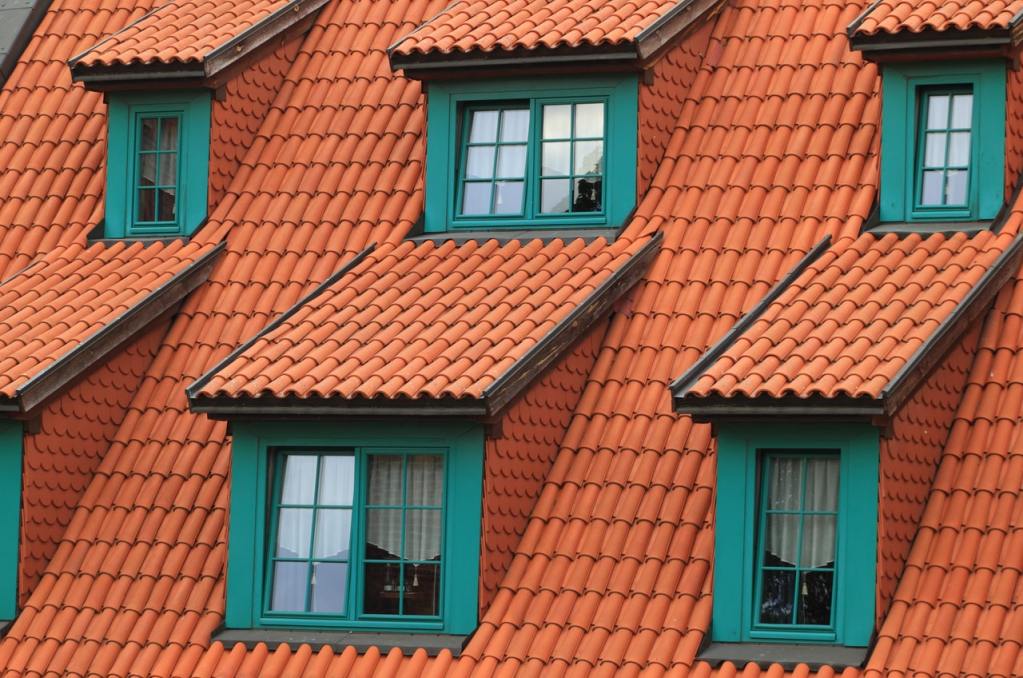 How to clean terracotta-tiled roof
If you have a terracotta-tiled roof, here is how to DIY your roof cleaning.
Step 1: Use a power washer on a low setting and spray down the tiles.
Step 2: For lichen, moss, or algae buildup, use a bleach and water mixture.
Step 3: Add a 1% bleach-to-water ratio in a sprayer and attach it to a garden house. This creates a low-pressure wash for the terracotta tiles, and the bleach kills any algae or moss.
Step 4: If using bleach, rinse down the tiles with plain water when finished.
Whether you choose the DIY route or hire a professional to clean your roof, doing so will help protect your investment and prevent costly repairs. Be sure to inspect your roof routinely, and always clear away any buildup or debris before cleaning to ensure your roof remains in good condition.
Editors' Recommendations