Easter will be here before you know it, and while some may be attending socially distanced events to celebrate, others will be finding the Easter bunny's eggs at home this year. Even though Easter may still look different, there are fun ways to celebrate with friends and family near and far.
One fun idea that will get everyone in the Easter spirit is hosting a virtual Easter egg hunt. It's actually easier than you might think; it just takes a little bit of prep work, and the smiles on your kid's faces will be all the thanks you need.
Get everyone on the same page (or screen)
A few weeks before the big day, send out a message to everyone who will be participating in your Easter egg hunt online with the time, date, any supplies needed, and some hiding spots for the eggs. Be sure to include the videoconferencing app you use—be it FaceTime, Zoom, or Skype. If there's anyone on the list who hasn't used your platform of choice before, send your message along with instructions so they can test it out in advance.
It's probably not a bad idea to do a test run a few days before with the entire group in case there are issues. The last thing you want is for the eggs to be hidden and your kids to be excited only to be left out because you can't log in. Zoom allows 100 guests to chat for 40 minutes with a free account subscription (though someone in your group will likely have a work account you can use to stay on longer). Skype allows 100 guests on a four-hour call for free, so if you have a lot of families joining, it's your best bet.
Check your supplies
If there are a lot of kids involved, speak with the other adults and agree on the number of eggs you'll be hiding, if they will contain candy or not, and other fun surprises you'll have hidden around the house. You don't want anyone feeling left out or disappointed on the big day.
You can also talk about any games you may want to play. For instance, each family could hide a golden egg with a special surprise inside or an egg with their child's name on it. Once they find the special egg, have them answer a question before receiving what's inside. Make sure your participants hide the eggs in the same spots around each house so the adults on Zoom or Skype can offer clues to all the kids if they get stuck.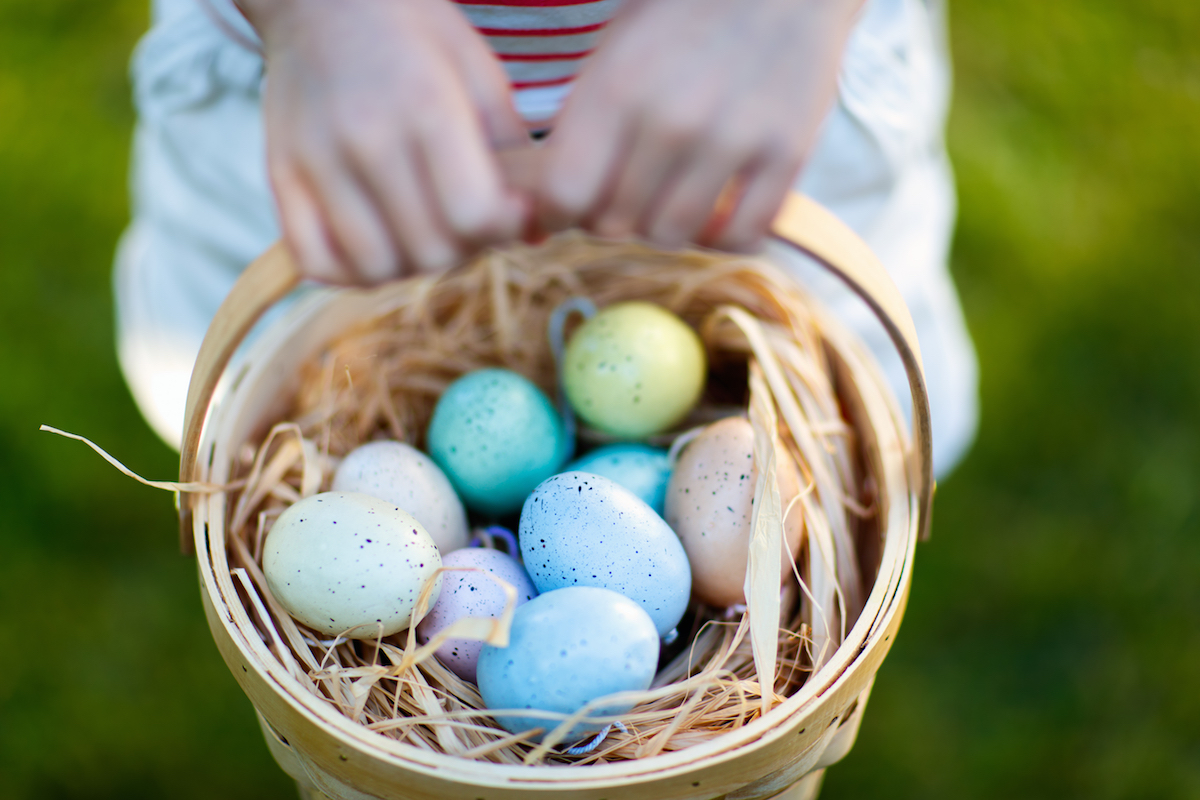 Time to get hoppin'
Once everyone is logged in, the Easter egg hunt can officially begin! Make sure all the kids are ready with their baskets and do a countdown so everyone starts at the same time. If you have any grandparents participating, make sure they can see the kids finding the eggs (that's the best part). If there are any party rules you established in advance (like whoever finds the blue egg has to come back to the camera and tell a joke), make sure they have an audience.
Once everyone has found all the eggs, you can have the kids get on with each other to show off what they found in their eggs. If there were any special prizes to be awarded, like for the golden egg or named eggs, you could show those off at the end.
It may seem like a lot of upfront planning, but so is hosting an Easter egg hunt at your house. This time, it's just more technical than it has been previously, but the kids will appreciate the effort and have fun connecting with their friends. If everyone is in the same general area and it looks like good weather, you could also hide some eggs outside or have some games for the kids to play while the adults get caught up.
Easter is about spending time with loved ones and celebrating the day. Even though you may still not be able to gather together, it doesn't mean there can't be loads of fun had by all. Just make sure you count all the eggs so you don't find any surprises lying around the house later (especially if they are real eggs). Happy hunting!
Editors' Recommendations