It boasts "premium air cleansing" and an advanced eight-stage HEPA air purification system that captures 99.98 percent of airborne particles 0.1 microns in size or smaller. It has a humidifier, a remote control, and a touch panel on its top rail. Turonic claims the PH950 air purifier can clean air in the average home in about an hour.
The Turonic PH950 is everything you could want in an air purifier, at least on paper. It's also just shy of $500. For smaller homes, it may be overkill – as if overkill on clean air was a bad thing – but for larger homes and offices, it may be a no-brainer purchase to make.
We put the Turonic PH950 through the ultimate at-home test: a whole-home remodel. In an attempt to break the PH950, we ultimately succumbed to its power. You will, too.
Pros:
Powerful
Quiet for its size
Fairly compact for all it offers
Filters are easy to change
Cons:
Loud when it kicks into high gear
The water trough is too small
Remote is not necessary
Design is more techy than we'd like for the home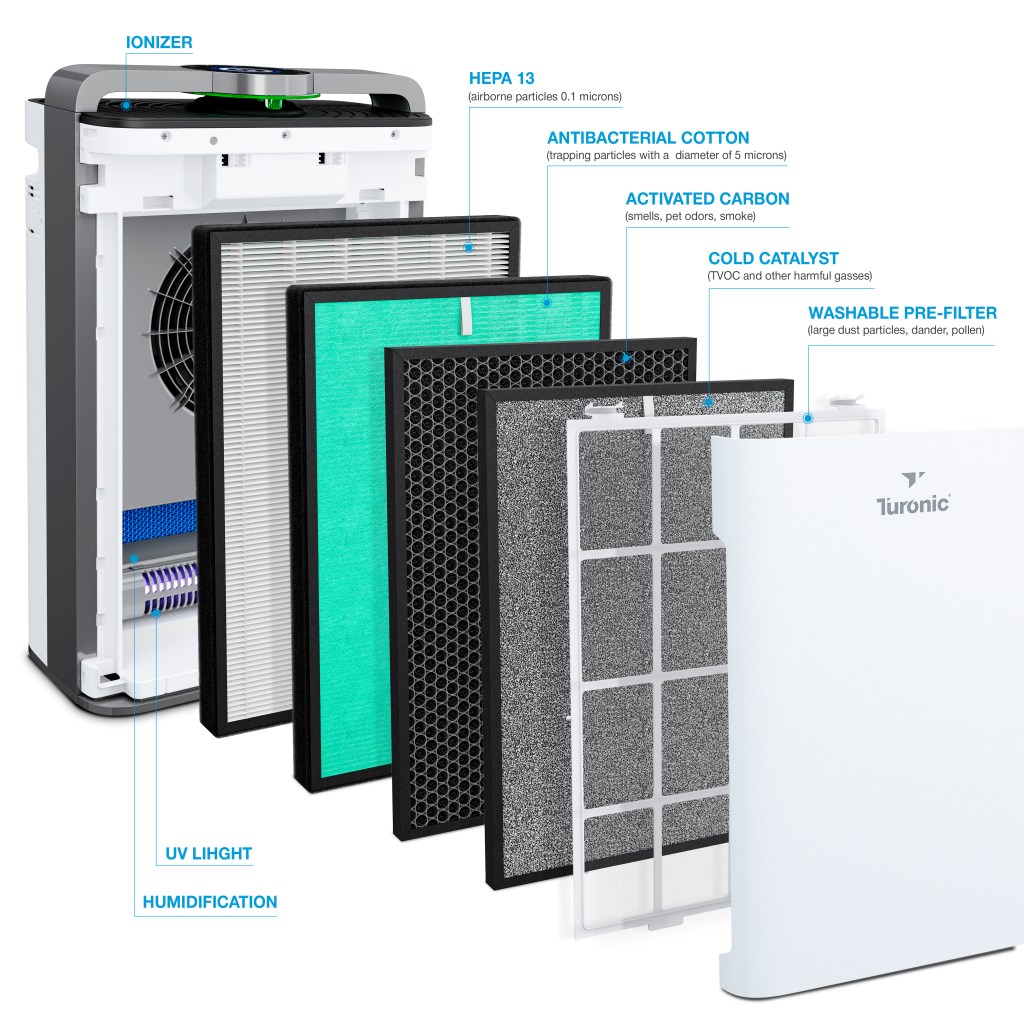 Our review of the Turonic PH950
The Turonic PH950 is likely the best air purifier you can buy. There, we said it.
At 24 pounds and measuring 16x9x25 inches, the Turonic PH950 is no slouch. It's big, bold, powerful – and meant to be. The air purifier has 4.5 stars on Amazon; its poor reviews are odd and not relevant to its performance or build quality, and just about all owners seem happy.
Air purifiers are often bigger than seems necessary, almost as if manufacturers artificially increase the size to command more space in the home. Turonic didn't do that with the PH950. It's big, sure, but heavy, densely assembled and thoughtfully designed.
The lone quibble we have about its design is the bar jutting out over the top. We'd rather see that integrated into the housing. This is subjective, but it's the bit that screams "I am a piece of tech" when we'd rather an air purifier be more like a piece of furniture. The air purifiers that grab attention (Dyson, Blueair, etc.) are all gorgeous. People want something nice in the home, and Turonic doesn't have anything quite than nice in its lineup.
Turonic outperforms all of them with its PH950, which is ultimately why we'd prefer better aesthetics. Whether you put it in the office or at home, something a bit more elegant would have us swooning.
The Turonic PH950 is easily the best air purifier we've ever tested, though. We plugged it in and let it do its thing, and though the water trough for its humidifier feature is a bit too small and requires filling a touch too often for our liking, you could opt out of that feature and just use it as an air purifier if you wanted. That said, the humidifier feature is also really good – surprisingly good for a unit that isn't a dedicated humidifier.
We put the Turonic PH950 to work just before a whole-home remodel, which happened in stages. Cabinet refacing, kitchen countertops, new floors – the works. This all kicked up a ton of dust, debris, outside air coming into the home, and paint fumes. All this contributes to a less-than-desirable living situation anyway, and poor air quality only adds to the frustration of a remodel. (Anyone who has been in that situation knows what we're talking about.)
The Turonic PH950 made the home livable. Save for paint fumes from the cabinets lingering (which an air purifier can't solve) there was no discernable difference in the air quality of the home during the heavy stages of the remodel. The Turonic PH950 kicked into high gear often (which was a touch loud but also comforting in its way) and its filter showed it was doing its job when we changed it out.
Day to day, the Turonic PH950 may be overkill, but we'd rather that than impure air. Though it's a touch large and has a techy design, the Turonic PH950 air purifier is easily the best we have ever tested.
Editors' Recommendations