One of the best things about fall and winter is all of the great comfort foods like apple pie, pot roast, and pear salad. At the very top of the list, at least in our opinion, is certainly soup. Nothing takes the chill out of a cold day better than a big bowl of homemade soup, be it chicken noodle, gazpacho, french onion, broccoli and cheddar, or any of your favorite varieties.
When it comes to mastering the basics, however, we recommend starting with vegetable soups. These are super simple to make, and all you need are some fresh vegetables from the refrigerator and a can of broth from the pantry. With these simple ingredients, you can mix and match to create whatever medley you desire.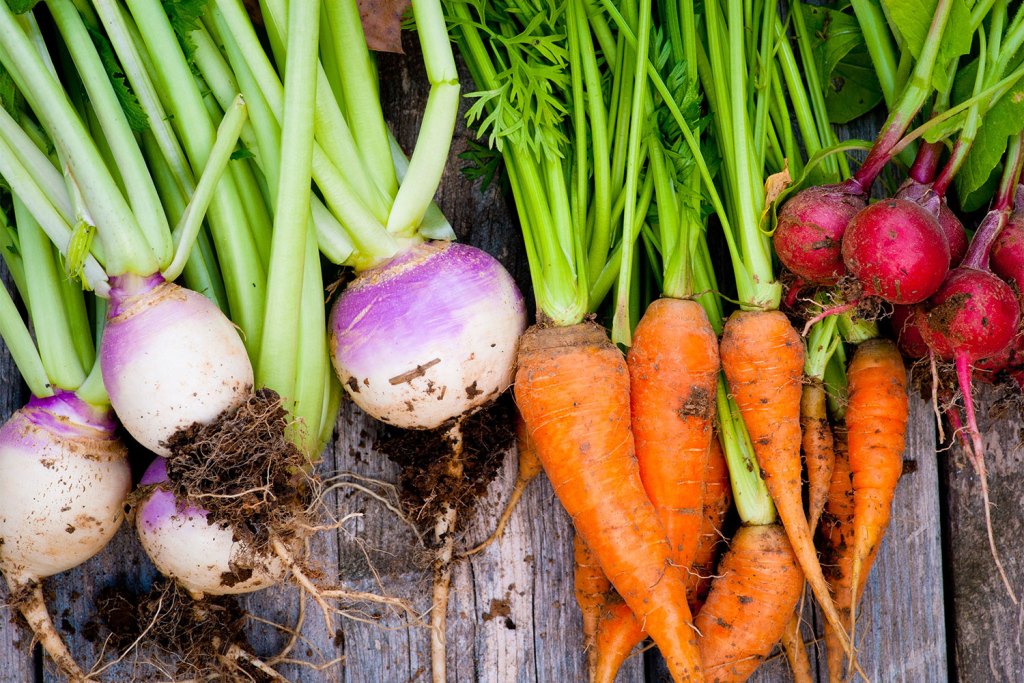 What kind of vegetables make great soups?
From asparagus to zucchini and every other letter in the vegetable alphabet, any of your favorites can star in a very tasty soup. Provided you like its flavor, just about any vegetable can contribute to a hearty, delicious soup. Although there are methods to tone down the pungent aroma of cabbage (add a touch of lemon juice) or tame the bitterness of turnips (add cream or yogurt), there is not much you can do to disguise the basic taste of the vegetable itself.
When mixing different types of veggies, be mindful of cooking times so you don't end with a soup that's half undercooked and half mushy. Harder vegetables like potatoes, carrots, or butternut squash will take considerably more time than spinach, mushroom, or kale.
What does every pot of vegetable soup need?
Vegetables
Stock or water
Olive oil or butter
Salt & pepper
After the essentials, everything else is optional and dependent on your taste. The addition of aromatics, such as onion, garlic, or leeks, and some fresh herbs like thyme, parsley, chives, etc. will add a more complex flavor to your soup. As you experiment, feel free to add your favorite spices, a touch of milk or cream, or even a splash of wine.
Once the soup is done, toss in a can of beans or diced tomatoes, homemade croutons, freshly grated Parmesan cheese, or a dollop of sour cream or yogurt as a finishing touch.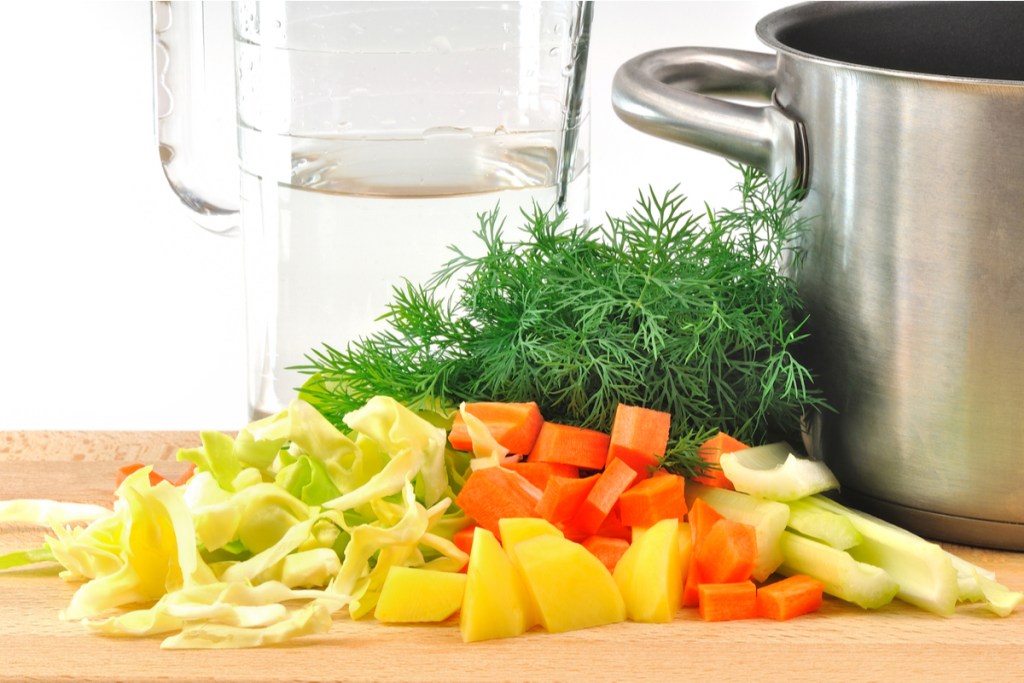 6 Steps for making great vegetable soup
Chop: Chop about a pound of vegetables into 1-inch cubes. For hard, dense vegetables that take longer to cook, cut them into smaller pieces.

Cook: Add a little butter or olive oil to the pot and sauté the chopped veggies

over low heat until they soften and become fragrant. Add about 4 cups of stock or water (see below for an easy homemade vegetable stock recipe) and simmer.
Season: Add salt and pepper, spices, or dried herbs to taste.
Simmer: Simmer for an hour or more, until the vegetables are tender.
Finish: Serve the soup as is with the chunks of vegetables or use an immersion blender to puree it into a thicker, heartier, creamier soup — no dairy required.

Serve: Add some snippets of fresh herbs, a sprinkling of parmesan, or a handful of homemade croutons, and enjoy!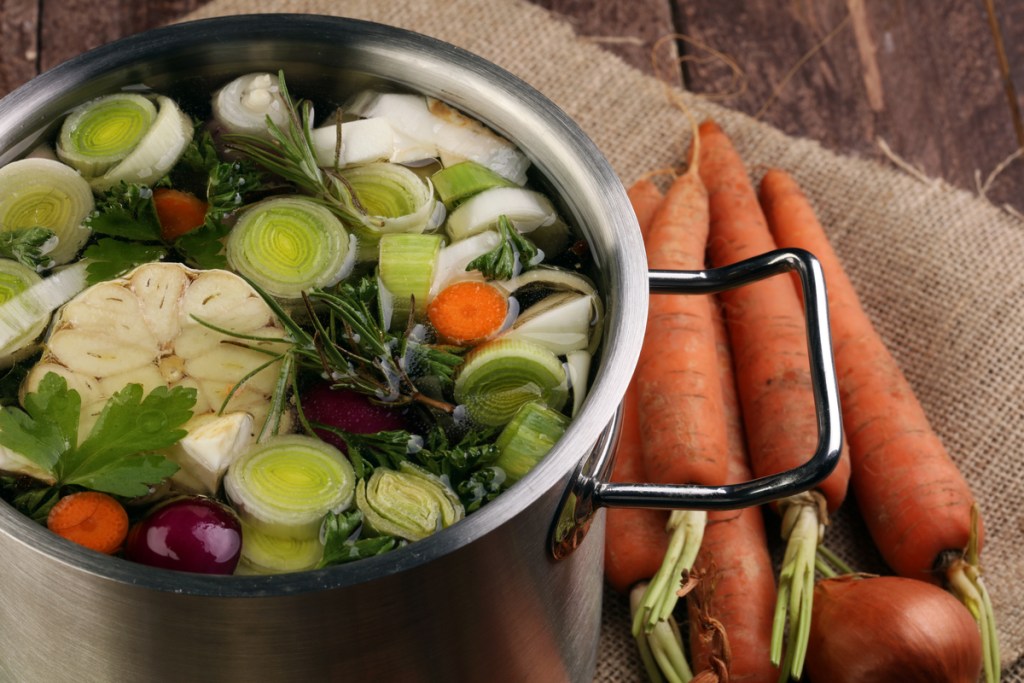 Making homemade vegetable stock
Canned or powdered stocks are usually loaded with sodium. For a more health-conscious option, create your own vegetable stock to use for future homemade soups, sauces, and stews.
When you chop up vegetables, save the ends of the celery, the peels of the carrots, the tips of the zucchini, and the stems of the fresh herbs and refrigerate them in a plastic container. When the container is full, add the vegetable scraps to a pot, cover them with water, and simmer. Keep in mind that the longer you simmer, the stronger the flavor of your stock will be. Add salt and pepper to taste and allow the broth to cool down before straining out and composting the vegetable scraps.
We recommend making plenty of stock at once and saving it in a small container to use later. If you don't intend to use your leftover stock within the next week, freeze it in an ice cube tray and toss the cubes into soups or sauces when needed.
There's no need to reach for a can in your pantry the next time you have a craving for homemade vegetable soup. Experiment with the vegetables you have on hand to create a custom flavor that your family will love. It's easy, tasty, and a great way to celebrate the harvest season.
Editors' Recommendations