This metallic shade of pink will bring an elegant yet fun vibe to any party. And when you combine it with some cool party favors, you have the perfect recipe for an unforgettable party.
Rose gold is a blend of 24k yellow gold, copper, and silver that provides the unique shade that has taken the world by storm since it was available as a color in the most popular smartphone out there. And now, you can find almost every product in that same color scheme. Celebrate with luxurious opulence with our curated selection of the best rose gold party decorations.
B-COOL Rose Gold Sequined Tablecloth
Best rose gold tablecloth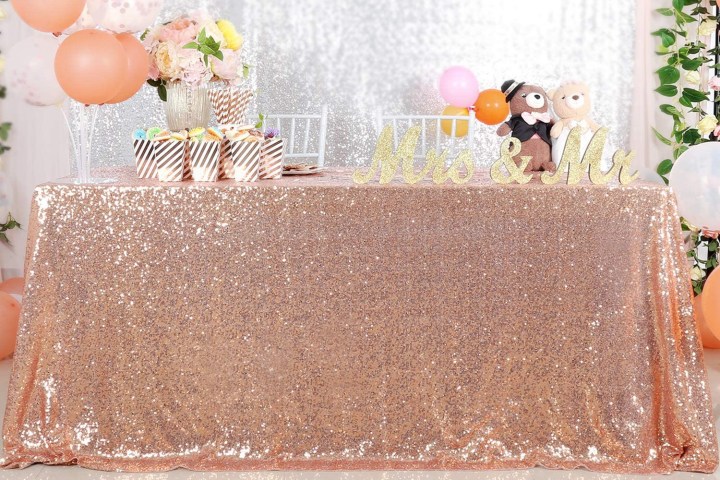 Let your table shine with the B-COOL Rose Gold Sequined Tablecloth. With high-density sequins and mesh fabric backing, this tablecloth provides a smooth and not prickly surface for your guests to enjoy. It is durable and made with the highest workmanship to make your party an elegant event to remember.
Toosci Rose Gold Party Decorations
Best rose gold set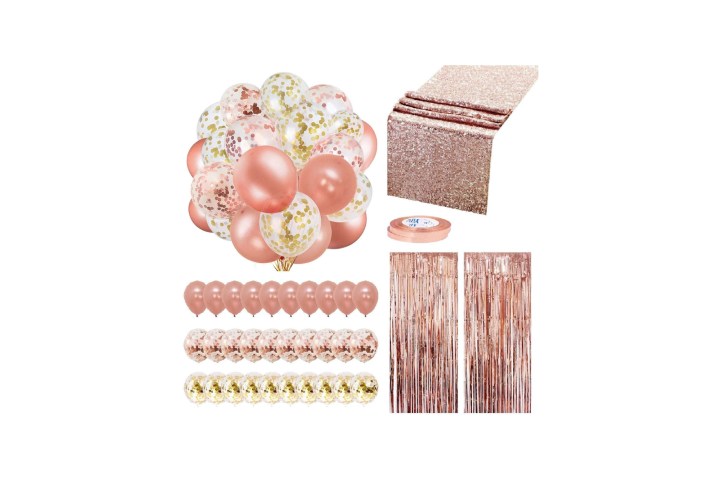 Make rose gold your entire theme and show off your elegance with the Toosci Rose Gold Party Decorations. This set includes 30 balloons, one sequin table runner, two foil fringe curtains, and two rolls of foil ribbon. This is everything you need to set up and enjoy the best party ever.
FECEDY Rose Gold Metallic Tinsel Curtains
Best tinsel curtains
The FECEDY Rose Gold Metallic Tinsel Curtains are a two-piece set of foil curtains that work great as a stunning background for your photo booth. Perfect for birthdays, weddings, and baby showers that create unforgettable memories.
Bedazzle all your guests and create an incredible experience for everyone attending your party by using these amazing rose gold party decorations we have compiled as the absolute best to create a fun and Instagrammable decor for any event.
Editors' Recommendations