Are you ready to start your first garden this spring? If so, there are a few essential things to consider before you head out to the garden center.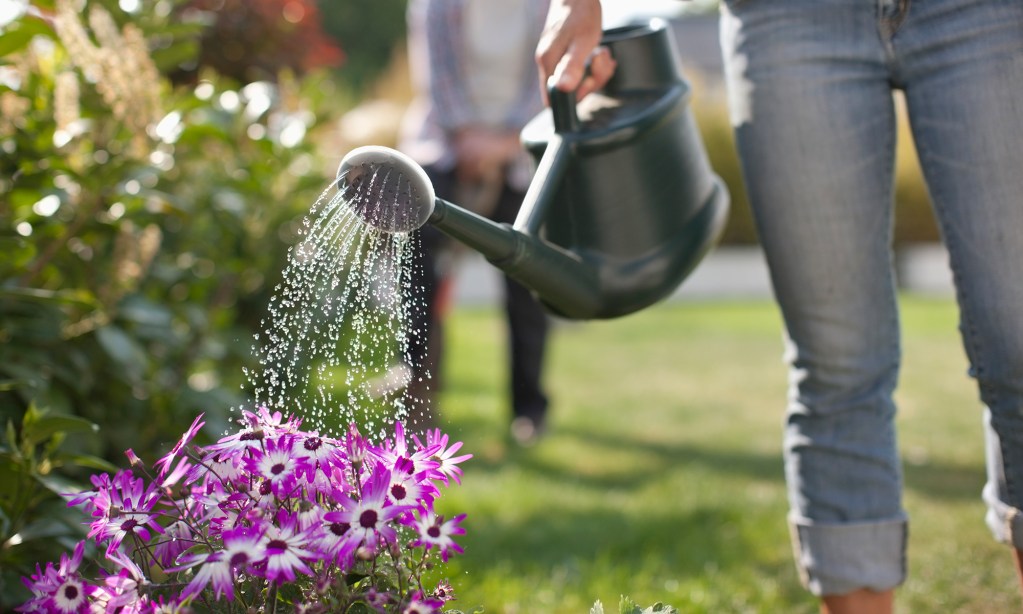 You'll need more than the usual gloves, soil, seeds, and a watering can
Beginner gardeners will want to wait on buying all of your favorite plants until you can confirm they'll thrive in your garden. Different growing conditions, i.e., types of soil, amount of daily sunlight, which direction it's facing, etc., can make or break your garden's success. So how do you know which plants to choose for your garden? We've consulted the experts to find out. Better Homes & Gardens suggests to start small, just to get your feet wet.
First things first, let's measure the garden
How big will your garden be? It pays to get out the tools and measure it out. This way, you can tentatively see where each section will be, how many seeds or plants you can fit into each section, and what kinds of greenery might work best for borders. SFGate suggests, "Mark off the square feet in your square foot garden with sticks every 12 inches and string strung between them in a grid." Also, read the instructions on the back of the packet of seeds you decide to purchase. If you aren't sure which plants you want to try, scroll down for some ideas.
Which direction does your garden face?
Different plants and flowers may work out better depending upon whether your garden faces north, south, east, or west. According to Rachel Crow of Real Homes, north-facing gardens might do best with plants like climbing hydrangeas, while south-facing spots are likely to work out better with lavender and poppies.
She advises that east or west-facing gardens can generally offer suitable environs for most plants, since they "provide enough sunlight without getting as hot as south-facing gardens."
Assess and adjust the soil
There are basically three types of soil: Sand, silt and clay. Other less-common types include peaty, loamy, and chalky. Most soils are a combination of these different types, however. If you'd like to test your soil yourself to assess what kind it is and what it may need added to be healthy, go for it! If you're unsure, however, take some guidance from tests you can purchase, such as these kits from Lowe's or any of the soil tests suggested here. Your type of soil can impact which plants grow easily in your garden and which might need some help.
Read over the plant's label information and follow instructions precisely
When you see some plants you like, go straight for the label. Read the whole thing to decide whether the plant will work in your garden, considering sunlight, shade, temperature, and/or condition of soil, how moist the soil can be kept, etc. It may be sad to pass over a beautiful plant in favor of something more practical, but your pocketbook and eventually thriving plant will thank you.
Include evergreens and others for year-round beauty
Choose from pine, spruce, and cypress trees depending upon your area's climate and what appeals to you. And, based upon your hardiness zone, you may want to check out such winter gems as:
Japanese yew: Native to China, Korea, and Japan, this evergreen shrub makes a gorgeous hedge shrub in the United States, too. These can grow up to 10 feet tall, attract lovely red cardinals year-round, and can survive harsh winters quite well.
Winter gem boxwood: Plant these in rows to form hedges or let them grow into spherical shrubs. Their shiny green leaves turn gold during the winter months, sure to be a head-turner on your snowy landscape. They stay on the small side, as well, perfect for container planting, reaching heights of about 5 feet tall.
Winter jasmine: These grow abundantly throughout hardiness zones 3-21, a pretty spreading shrub that blooms a vibrant yellow in early February. Let it work itself in as a gorgeous ground cover, or plant it in containers, allowing it to fall over the sides.
Choose hardy, easy-to-care-for plants that are low-maintenance
Give some thought to the low-maintenance selection if you're new to gardening. You'll still find plenty of stunning plants to work with. Skip the finicky rose bushes in favor of flowing, fragrant lavender or fast-spreading shamrocks if you're apt to forget a watering or two. Hostas are a rugged choice, as well, in addition to begonias, coneflowers, and mint.
Plan on varying heights
Spend some time imagining a garden of varied heights. This gives depth to your garden and allows visitors the feeling of being cozily surrounded by your plants. Keep the small ones in front, gradually adding height until you reach the tallest in back, unless you're planting on an island, where the tallest should be in the center, getting progressively shorter on their way to the edges.
What about super-sunny and hot spots? Shady ones? The patio?
Sunny: Look for heat-resistant and perhaps drought-resistant plants when filling up sunny spots, such as salvia, geraniums, herbs, hibiscus, and moss roses.
Shady: Provide plenty of shade if you go for the likes of Japanese forest grass, which has either green or variegated leaves that turn red, orange, or violet in the autumn. Alternately, plant foxglove, primrose, or impatiens in the more sunless locales. They should thrive there.
Patio gardens in pots
Sunny and hot patios:
If you're more into potted plants for your sunny patio or balcony, check out plants like:
Tropical milkweed: This is a colorful beauty that attracts the popular Monarch butterfly.
Bamboo: Let this fast-grower spread into a good-looking privacy screen across the back of your patio.
Angel's trumpets: These will look fantastic in hanging baskets, with the large trumpet blooms dangling off the sides. They're known to release a lovely fragrance after dark, as well.
Shady patios:
Some of the most charming plants for shady patio gardens include:
Sweet potato vines: These actually do well in either shade or sun, and work beautifully in containers, on landscapes, or wherever they find themselves planted, says Southern Living. They don't actually grow sweet potatoes, but people love how pretty their green leaves are and keep them around anyway.
Impatiens: These little cuties like shade and moisture, and will easily drop their seeds in fall if touched gently.
Petunias: Available in many rich colors, petunias bloom the whole way from spring to late fall. They spread quickly, are easy to care for, and love to live in containers or free soil.
How many of each plant should I get?
The experts suggest planting in groups of three or five, unless you have a larger space to fill, in which case you should also consider planting in more groups of odd numbers.
In conclusion
Hopefully, this guide is helpful with your choices of plants for your new garden. Remember to check the hardiness zone you're in, compare it to the labels on any plants you like, and consider the rest of the label's advice on sunlight, watering, etc. to confirm it will thrive in your garden.
Don't forget to send us a picture of your garden once it gets growing, thanks for reading, and most of all — happy gardening!
Editors' Recommendations