Working out at home is more popular than ever these days. Home workouts not only save you the cost of a gym membership but keep you safe from potentially catching others' unhealthy germs. You're working out to build your best self, and maybe for you that's best done in the comfort of your home.
You might want to invest in small home gym equipment or create a makeshift gym situation in your living room. It all depends on the amount of space you have and how much money you're willing to spend. Building a home gym can seem cost-prohibitive, but take it from us: There are ways to devise one on a low budget.
The cost of home gyms
Home gyms, while a worthy investment, can get pricey. Just a treadmill can cost you anywhere from $300 to $3,000. Exercise bikes will also run you in the hundreds, if not thousands, of dollars, depending on which high-tech features are included. Let's face it, not everyone has a bank account that can withstand the hit of a Peloton bike, which costs about $2,500, or even the $1,000 it would cost to get one or two pieces of lower-end equipment.
Then you may want to buy exercise mats, free weights, gym towels to keep your equipment clean, and storage or shelving. While these are minor expenses compared to the price of equipment, it all adds up, and you could very well end up spending $1,000 on them at minimum. Here are some tips that will give you a home gym that looks awesome and helps you meet your fitness goals for under $250.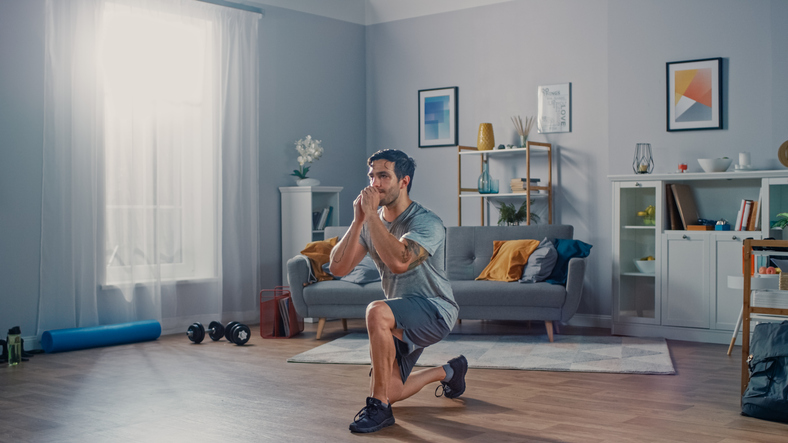 Ditch the treadmill
You don't need a fancy bike or treadmill to get your cardio workout in. There are several inexpensive alternatives you can choose instead. Here's what we suggest:
Exercise Mat, $20: First, you'll want an exercise floor mat. The thick, interlocking tiles are a great option because they're firm and sell for as low as $20 for a set of four. On a mat, you can accomplish many types of cardio workouts — jumping jacks, burpees, you name it.
Jump Rope, $4: There's nothing like jumping rope to get the blood pumping. These can cost as low as $4, and even the cheapest ones do the trick.
Compact Elliptical, $129: If you're just trying to get your legs moving, you'll want an elliptical machine. These can sometimes cost hundreds of dollars, but not if you buy a compact or under-desk elliptical, which you can find for about $129.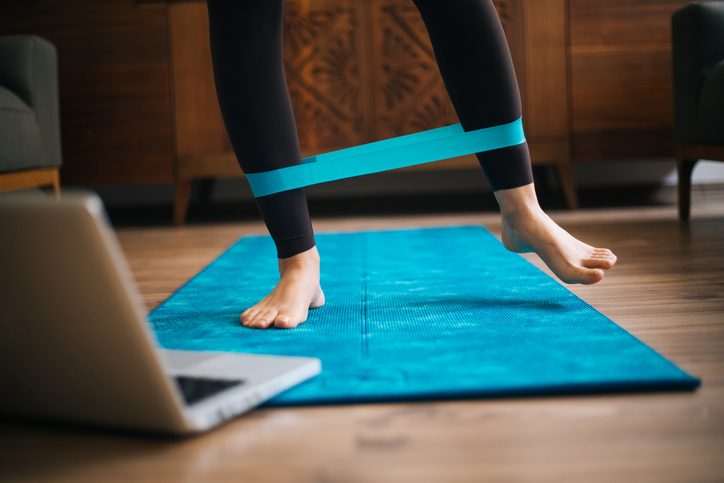 Resistance is key
For muscle training, many people get caught up in buying the right weights, and weights are not always cheap. Resistance bands are an affordable alternative. We recommend:
Set of resistance bands with handles, $25: Resistance bands can open a whole world of arm exercises. A set of five, ranging from 10 to 50 pounds of resistance, only costs around $25.
Resistance bands for legs, $15: For an average of $15, you can get a set of three resistance bands that are great for leg exercises.
Make it your own
The home gym is for working out, of course, but you also want to make it look nice. Maybe you want to buy extra workout mats or a cute chair to sit on while you use your new compact elliptical. Here are some other options:
Storage, $20–$40: Your jump rope and resistance bands will need a place to live when you're not using them. Wall hooks or a fitness accessory mount for those will cost around $40 or less. You can also use a typical shelving unit or table. You even have the liberty to get creative here with whatever you already have in your home.
Microfiber gym towels, $15: Gym towels are cheap, and you can find them in different colors to make the space your own. Not only are they useful but they can add to the ambiance by hanging them on one of your wall hooks or laying one on the floor.
Home gyms are more in style than ever, but you may be wary of creating a home gym because of the price tag. The bottom line is that there are actually many ways to create a home gym without breaking the bank. There are several products out there that are not only cheap but flexible in how you can use them. Whether you're looking for cardio or strength workouts, you can find options that fit into your budget. Plus, your home gym is an opportunity to design another part of your space. For that, there are also inexpensive options, like simple shelving and towels. With less than $250, you'll be exercising from home in no time.
Editors' Recommendations