If ever there was a time to decorate, it would be Valentine's Day. Nestled between the December holidays and the onset of spring, Valentine's Day is a celebration of love, offering an array of opportunities for making your home look warm, cozy, and festive during winter's coldest days.
From kitchen to living room, bedrooms to bathrooms, our DIY Valentine's Day decoration ideas can help give your home a romantic look you—and your Valentine—are going to love!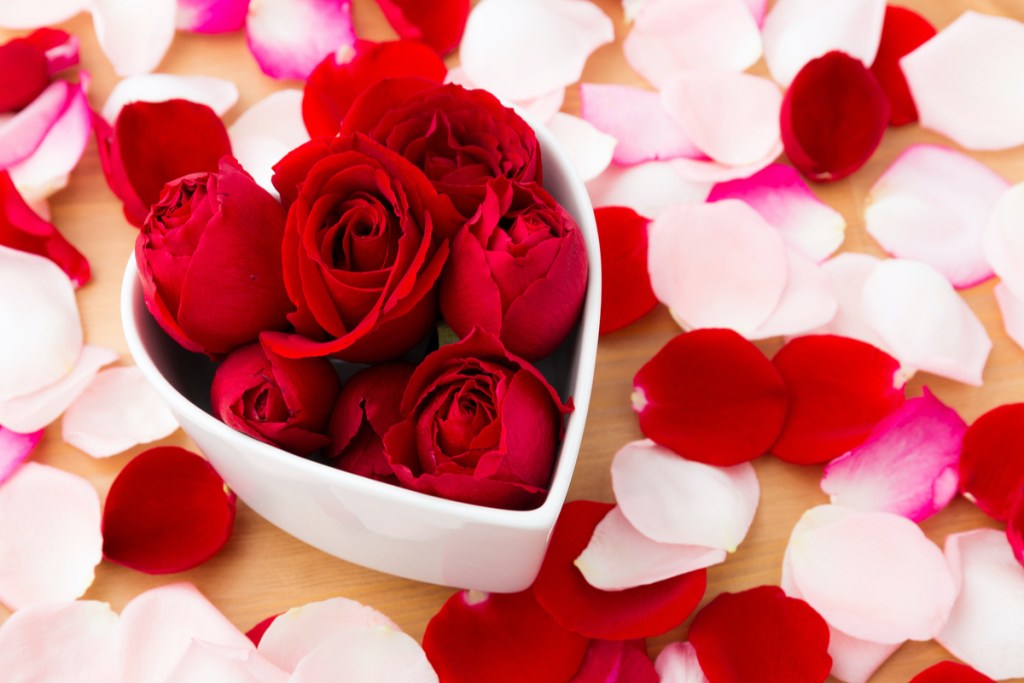 Decorating for Valentine's Day is not only fun but also easy and affordable. You can find so many great ideas to get started at your local dollar store or craft shop. With a little imagination, some DIY skills, and a few hours this weekend, these beautiful decoration ideas are sure to put you both in a loving mood.
Conversation heart vase: Pick up a clear glass cylinder vase at the dollar store. Place a regular drinking glass inside the vase and fill it with water. Pour candy conversation hearts into the cylinder vase, ensuring that the drinking glass is no longer visible. Arrange fresh flowers inside the water-filled glass and finish with a pretty pink or red ribbon bow—it's the perfect centerpiece.

Heart branch tree: Grab a few twigs from your yard and spray paint them white. Cut out tiny red and pink hearts from construction paper and hang them from the branches with string. Use any white pitcher, vase, or tall mug for housing the twigs.
Heart dish potpourri: Pick up a heart-shaped bowl at the dollar store and fill it with rose petals. It adds the perfect romantic—and fragrant—touch for your powder room.

No-stitch valentine pillows: Buy a pair of festive fabric valentine placemats. Using a hot glue gun, glue three sides together. Stuff with batting and seal the final side. Toss on your bed, sofa, or chairs for an instant touch of Valentine's Day style.

An assortment of candy-filled jars: Pick up various clear glass vases in various shapes and sizes. Head to the Valentine's Day candy aisle and stock up on conversation hearts, red heart-shaped gummies, pretty foil-wrapped chocolates, and more. Cluster the vases on a fireplace mantle, shelf, or table, and fill each with a different type of candy. Pretty and delicious, too!

Framed vintage Valentine's cards: Pick up a few embellished picture frames and temporarily use them to display vintage Valentine's Day cards. They'll add color and a touch of romance now and can be swapped out for family photos after Valentine's Day.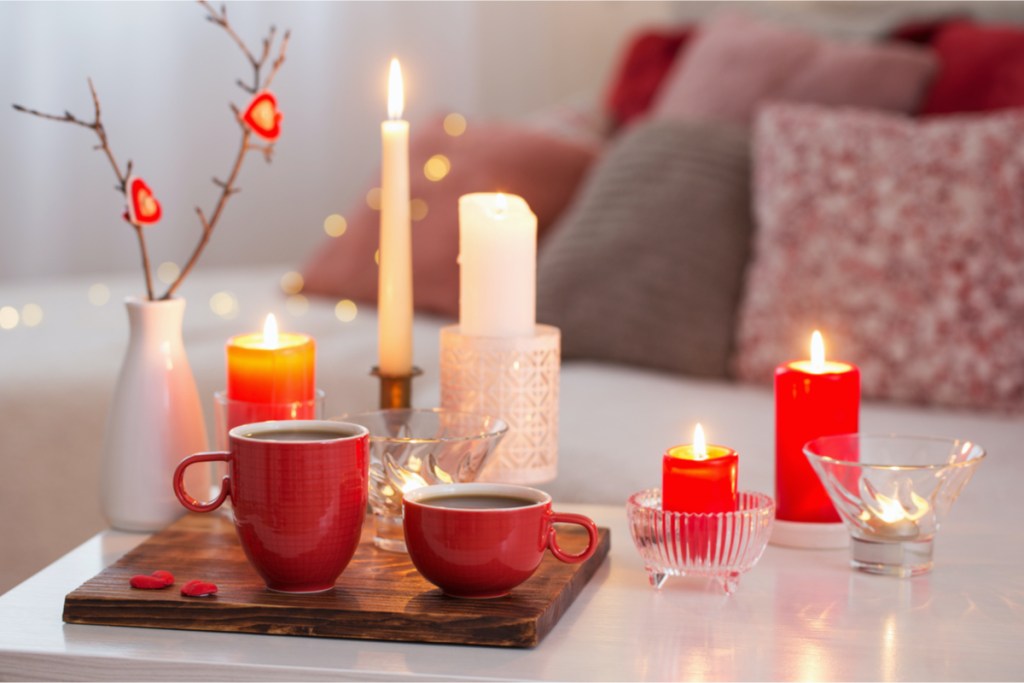 When it comes to decorating for holidays, we're all about repurposing! Many DIY Valentine's Day decorations can be crafted using things you already have around the house—no trip to the store need, and no additional money spent!
You packed away your Christmas things, but you probably have a treasure trove of Christmas decorations that can do double-duty for Valentine's Day.
DIY tip: It's actually a great idea to designate one Christmas storage box specifically for items that work for both holidays, that way, you'll be able to easily find them without having to rummage through all of your Christmas boxes.
Pull out all your red candle holders, candles, and tea lights, and create a romantic candlelit grouping on a shelf or table. The trick is to arrange candles together in various heights to maximize the impact. Note: be mindful of candle placement and never leave a lit candle unattended.
Shiny red glass Christmas balls (mixed with a few silver or white ones) can fill a hurricane vase or decorative bowl to create a beautiful Valentine's Day centerpiece.

Those tiny white Christmas tree lights can illuminate a mantlepiece filled with red mercury glass vases, candy dishes overflowing with conversation hearts, or tiny vases of red rosebuds and baby's breath.

Have a red velvet table runner you used for the December holidays? It's perfect for Valentine's Day decorating, too! Top it with white candle holders, bowls filled with white spray-painted pinecones, and a sprinkling of cutout pink and white hearts.

Tabletop Christmas trees can become a Valentine's Day focal point. Pair the delicate white lights with hand-tied bows, using white, red, or pink ribbons from your sewing kit, or cut out construction paper hearts and attach with bits of string.
Whether you're a DIY novice or a crafting pro, you can give your home a romantic refresh for Valentine's Day that's fun, easy, and affordable. With a little bit of effort and some quality time spent working together over the weekend, you'll turn your home from winter blue to Valentine's Day red.
Editors' Recommendations