You've put off this onerous chore long enough. That overstuffed, poorly organized, and messy attic is long overdue for an organization makeover. Now that the weather is cooling off, autumn is the perfect time to roll up your sleeves and tackle this exhausting task. While organizing the attic is certainly a demanding task, it just might be a little easier than you think. If you follow these tips and tricks, you can turn this dingy, underutilized room into an effective storage area.
Simple attic organization ideas
Start with a clean slate
As difficult as it may be, the best way to thoroughly clean your attic, or any other space for that matter, is to remove everything. Take every box, bag, and container out of the attic and put it all in a single spot for the time being. This allows you to see all of your items so you can better visualize how to reorganize and store them. Clearing out the space entirely will also make it easier to sweep the whole room of any dust, debris, and other muck.
While all of the attic's contents are in front of you, begin to categorize according to whatever categories work best for you. Consider putting holiday decorations in one spot, old baby clothes in another, seasonal clothing together, and so on. Then, methodically sort through what to keep, throw away, or donate. Repeat with the other categories.
Keep
Odds are, not everything in your attic deserves a spot in this storage space. Make the process a little easier on yourself by reducing the sheer amount of items that need to return to the attic and only keep what you need and use. Understandably, it can be hard to get rid of items, particularly sentimental keepsakes.
For these items, buy large plastic storage bins and designate a few for the most special items like family heirlooms, a few sets of baby clothes, or anything that's important to you. If you have multiples of sentimental items like drawings, trophies, and old school books, keep one or two that mean the most and part with the others.
Whatever you decide to keep, make sure all the boxes and bins are clearly labeled so you can find them quickly when the time comes.
Donate or sell
Make a little cash with your unneeded (but good quality) items and sell them at a garage sale, through Facebook Marketplace, or at a local consignment shop. Be sure to do a little research to make sure you're pricing each item competitively.
Otherwise, consider donating unwanted items to Goodwill, a community center, or a friend. If you give to a recognized 501c3 charity, you can even get a tax write-off for your donation.
Trash or recycle
Don't waste space holding onto broken or unusable things. If you haven't gotten around to fixing or repairing them yet, chances are you never will. Toss it or recycle it and move on.
Put everything back… neatly this time!
Once you've narrowed down your items to the things you really need and want, it's time to put everything back into the attic. Designate areas for each of your predetermined categories and replace them one section at a time. Stack storage containers neatly and don't forget to leave corridors between sections for easy navigation and access.
You can complete this over the course of a single weekend or slowly throughout a couple of weeks depending on your schedule and motivation.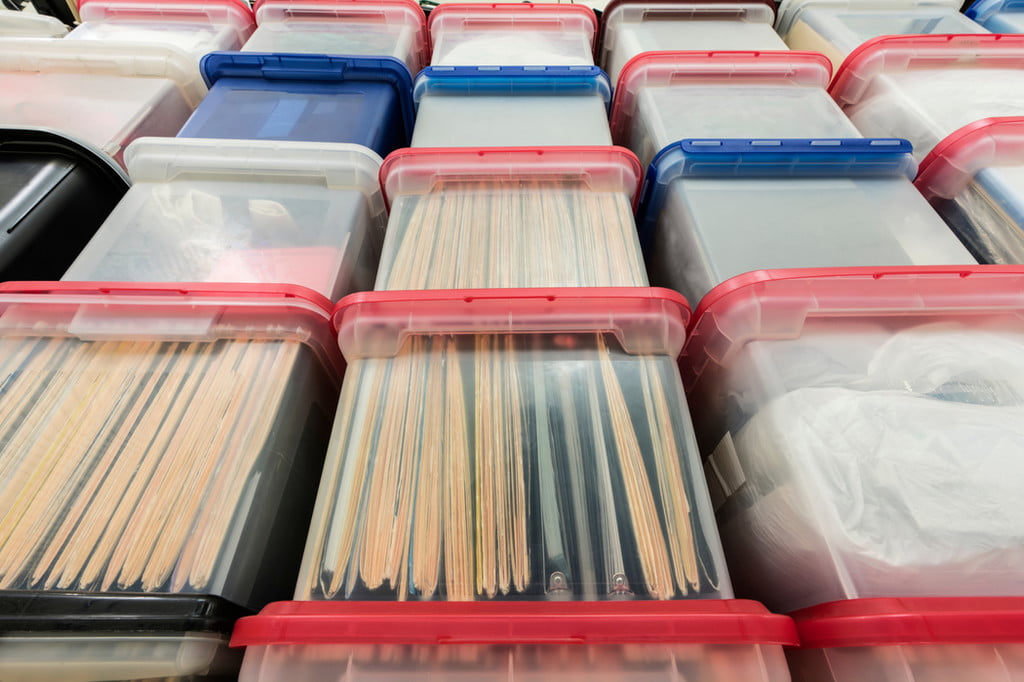 5 of our favorite attic storage ideas
Clear plastic bins are the best way to store your valuable items, as all the contents are easily identifiable. For a neater, more uniform attic, be consistent with the size of your bins. Bins that are the same size will stack more neatly and give your attic a cleaner appearance.
Screw-in hooks make a great device for storing hanging decorations and heavy winter coats. Screw them into wooden beams for a quick, budget-friendly storage solution.
If you're feeling really ambitious, install suspended shelving between the trusses of your attic. Just be mindful that in order to protect your trusses, this shelving should only store lightweight items.
Old, outdated dressers are a great place to store out-of-season clothing or small, fragile knick-knacks.
Add a container or box near the entrance of your attic to hold items you intend to donate or throw away. Now, going forward, you can get rid of items you don't need as you go instead of waiting until your next overhaul.
Having an organized attic will save you time, space, and aggravation. If you end up selling unwanted items, you could even make a little money, too. Having an easy-to-navigate storage space means you don't have to spend hours rifling through boxes to find those Christmas lights every year. Putting a little effort toward reorganizing now will save you a huge headache in the future.
Editors' Recommendations