Choosing the right flooring is a huge decision, especially if you're moving from one type, like carpet, to another kind, like stone. The right flooring for your living room is crucial since this space is often the meeting place for the whole house. Flooring sets the tone for the entire room and can dictate how the room is decorated and what the general aesthetics of the space will be.
There are pros and cons to all types of flooring, so your research will take more than Googling "best flooring for living room." You also need to consider things like cleaning, maintenance, and resale value. If you're considering wood floors for your living room, keep reading —we've got you covered.
Wood
If you're fortunate enough to live in an older home that has hardwood under the existing flooring, you've hit the jackpot. Refinishing existing hardwood can be quite a project, but it's significantly cheaper than buying new wood floors. Sanding, staining, and sealing old hardwood can freshen up a room and give it an updated feel. If you don't have hardwood under your existing flooring and need to start from scratch, consider reclaimed wood. Not only does it look cool, but it is also a sustainable way to source wood. Hardwood is easy to care for and maintain but can scratch easily depending on the finish and the types of traffic on the floors. The upkeep is well worth it though since this flooring adds to a home's resale value.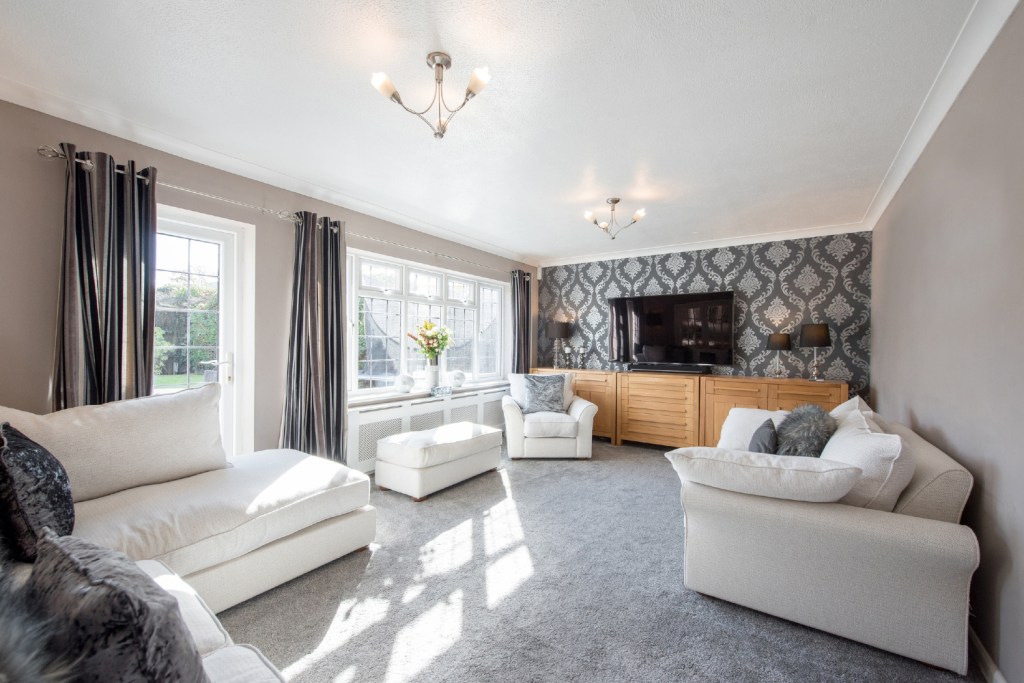 Carpet
Though carpet can be cozy in bedrooms, it's a fairly unpopular choice for living rooms for a couple of reasons. First, carpet is less expensive than hardwood, but it stains easily and soaks up those spills and odors, making it difficult to maintain in the long run. Second, living rooms are high-traffic areas so the carpet will wear and stain more. If you have pets and kids, carpet may not be the best investment and it won't add to your home value. If you're committed to carpeting the room, a good vacuum and carpet cleaner will extend its life.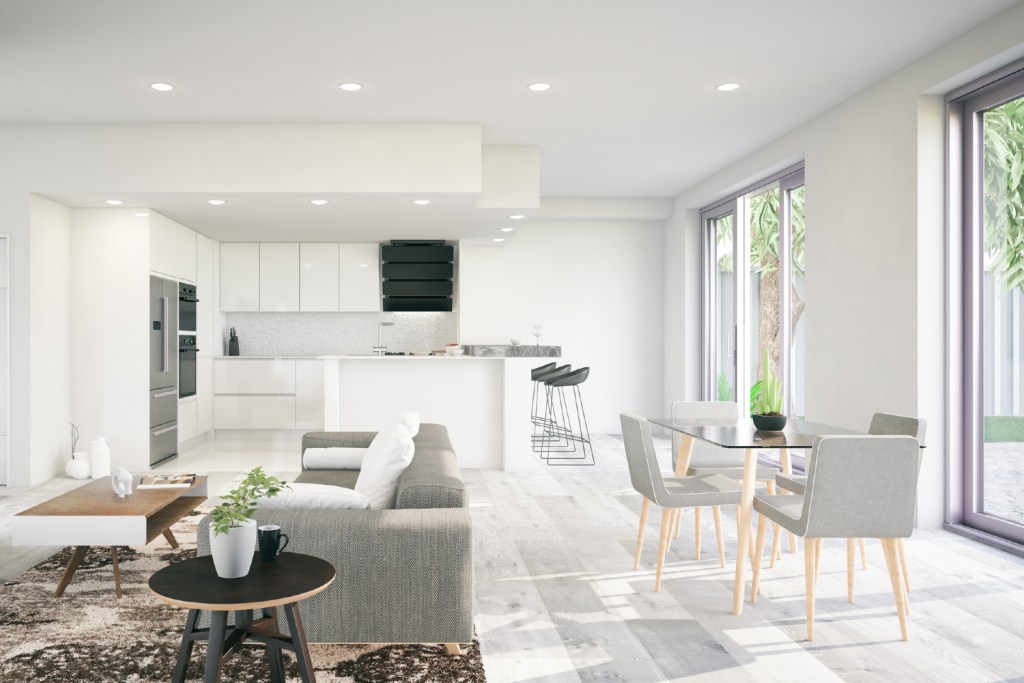 Stone
Stone flooring may not the first material you consider for the living room, but it can work in some settings. Stone gives rooms a solid and high-end feel that works with ultra-modern or elegant architectural styles. Stone can be locally sourced, so it's one of the most environmentally friendly options. Additionally, you can find one-of-a-kind options that make your space truly unique.
Unfortunately, both of these factors make stone flooring one of the most expensive options out there, and the investment likely won't translate to added home value. Because it's not a classic flooring type, this may turn off some buyers, especially considering the stone will be icy in cold climates. Stone floors can also be challenging to clean and maintain since stone is porous, making it prone to stains.
Concrete
Concrete floors used to be reserved for big box stores and warehouses, but recent trends in industrial-chic home design are making concrete a popular indoor floor choice. Concrete flooring can be polished, stained, scored, and painted. The concrete pouring process results in one-of-a-kind, beautiful, and surprisingly cost-effective floors. They're relatively easy to maintain, considering they can withstand almost anything, be it cleaning supplies, food, mud, grease, and any household messes.
On the other hand, concrete is so hard it will damage or break just about anything you drop on it, so it's not the safest choice for households with children. Concrete is also loud and reflects sounds so any room will concrete flooring will need some rugs and furniture to help absorb the sound and add some warmth. Concrete floors are not for everyone, but they will add to your home's overall value.
Whether you choose a new plush carpet or discover some existing hardwood in your living room, flooring is a big deal. Choosing the right flooring for one of the most-used rooms in the house is a huge decision and can affect your family's life and your home's value. If you want your investment to last, maintenance, cleaning, cost, and resale value should all play a part in your flooring plans.
Editors' Recommendations