People are working from home now more than ever, and there's no sign of this trend slowing down. Workers are in the driver's seat when it comes to how and where they work, and many have realized the benefits of working from home outweigh the disadvantages. Now that working from home has become a permanent, not temporary, situation, it's now time to curate your own office space and create a place that inspires productivity and creativity. As you're setting up this workspace, consider also adding a tiny backyard office.
Here, you can give yourself the fresh start you need every day by leaving the house, but you're still steps away from all the home comforts when you need them. Plus, your commute is way faster and you can zip "home" for lunch in a pinch. Here are some of the best, most creative tiny backyard office ideas we've seen yet.
Create a porch or patio area
Just because you have a dedicated shed or space in the backyard to work indoors, doesn't mean you have to stay indoors. Working outdoors can offer a productive change, so create a little seating area outside your workspace that you can move outdoors when you need a change of scenery. Bonus: This creates an additional outdoor entertaining space when you're not working (or just a great place to read a book on a lazy Sunday morning).
If you don't have a backyard home office, you can always use your home's front porch as well. Create an idyllic home office by first finding a table that's large enough to work on but compact enough to fit in this smaller space. We love this foldable wicker balcony table from Wayfair, which is such a space saver. To decrease any glare from the sun, you can always install sunshades like these from Blinds.com.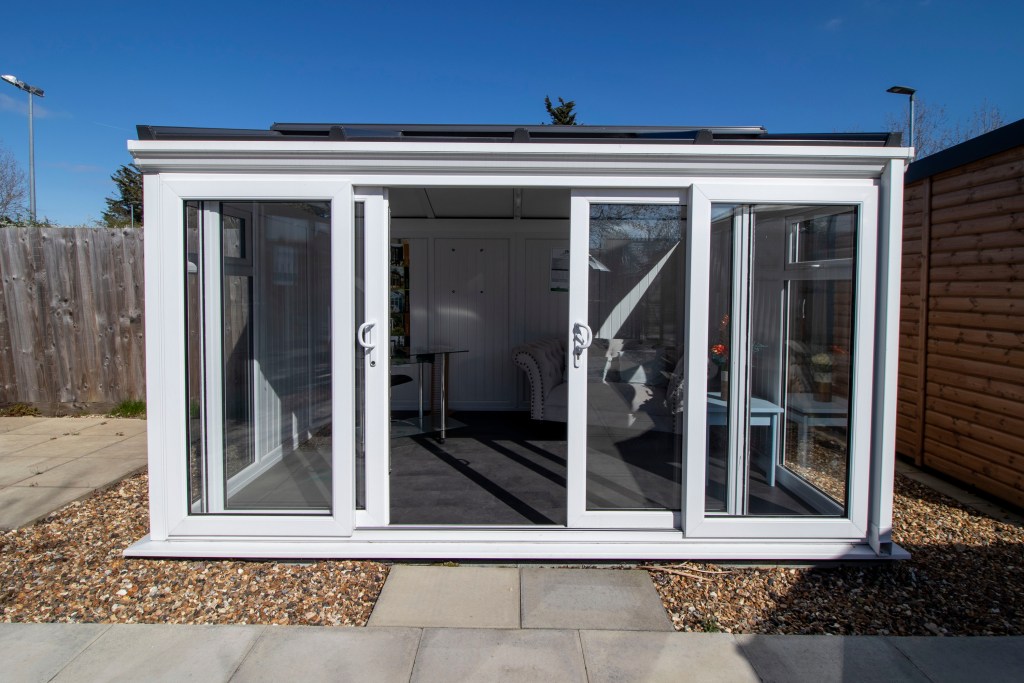 Make sure there's plenty of light
When choosing the structure for your backyard shed-turned-home office, you want to be sure there's plenty of light. The workday can be draining enough — you don't want to also feel like you're headed into a dungeon. This outdoor home office pod from Amazon ticks all the boxes when it comes to natural light. It's also soundproof, waterproof, and spacious enough for a desk, chair, and even a small lounger when you need a break. Here too is a great place for curtains or sunshades to avoid glares on your computer screen.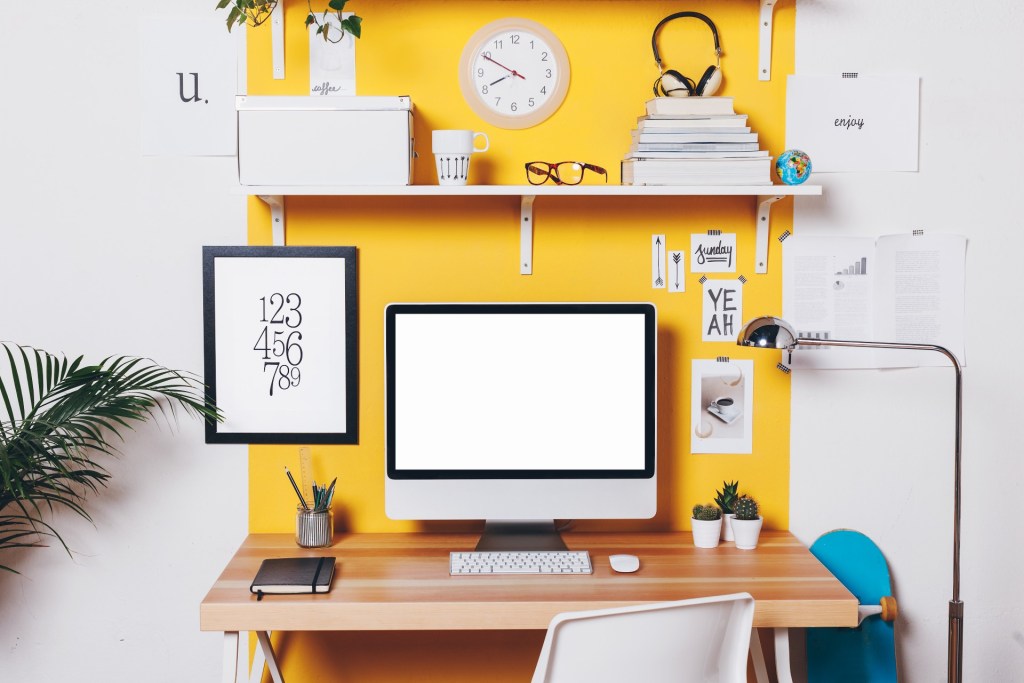 Decor matters
No matter where your office is located, finding decor that inspires you is a crucial part of curating a productive work environment. Invest in high-quality outdoor rugs, lighting, wall decor, and other items that make you happy and ready to take on the day, then fill the space with plants, candles, and other soothing items to promote relaxation. Make sure you have a supportive chair, especially if you'll be sitting in front of your laptop for hours on end. Keep brainfood nearby, so plug in a mini fridge near the desk and stock it full of water, iced coffee, and high protein foods to keep you energized throughout the day.
Organization is key
Any office space, be it outdoors or inside, should be organized and clutter-free, encouraging you to focus on the task at hand. You shouldn't be wasting time shuffling files and paperwork all day. Add shelving, cabinetry, and other organizational tools to this space to keep your desk, and your mind, clear. When the day is done, take an extra five minutes and put everything back in its proper space so you walk in the next day and can get right to work.
Set up camp
If you don't have a big budget but love the idea of working outdoors, why not bust out your tent and set up an office space there? With an especially roomy tent, you can fit outdoor rugs, a desk, and an electrical port for air/heat to design the perfect makeshift home office. Whether you take Zoom calls from this camp or just use it to clear your head for a few minutes, you can spend some time in the fresh air and be ready for business.
Creating an outdoor office space is the perfect way to work from home and also give yourself a change of scenery. The fresh air and warm sun can encourage creativity and focus, keeping you on task during the day so you can get to what really matters at the end of the day — spending time with family and friends, exercising, entertaining, and enjoying your life.
So, get creative. You don't have to spend a ton of money to create a room you'll enjoy working in every day. As long as it works for you, it's the perfect home office setup.
Editors' Recommendations