While you're scrambling to snag the best deals on presents for your family this Black Friday, why not get a gift for yourself while you're at it? This year, a coffee maker could be the best gift you can give yourself to boost your mood and overall happiness this winter. So, we've gathered some of the best Black Friday coffee makers online and in stores this year to help you find your next morning go-to.
What you should know before purchasing a coffee maker
Before you determine whether or not a coffee maker on Black Friday will be the best gift for you this year, we wanted to inform you about what you need to know regarding your morning cup of joe.
According to many news outlets, a shortage of coffee beans is expected to impact pricing on the market. ABC News collected data concluded that coffee prices around the world have jumped nearly 22 percent. Another source, Business Insider and their experts, claim this could be due to "record-breaking drought in Colombia, protests, plant funguses, and a huge backlog of coffee waiting to be shipped."
This price increase will affect many local businesses and corporations, meaning buying a drink from your local cafe could hurt your wallet. The good news is that while coffee bean prices will be higher worldwide, store-bought packages will still be more affordable than their commercial alternatives. Therefore, brewing coffee at home will be a more cost-effective option.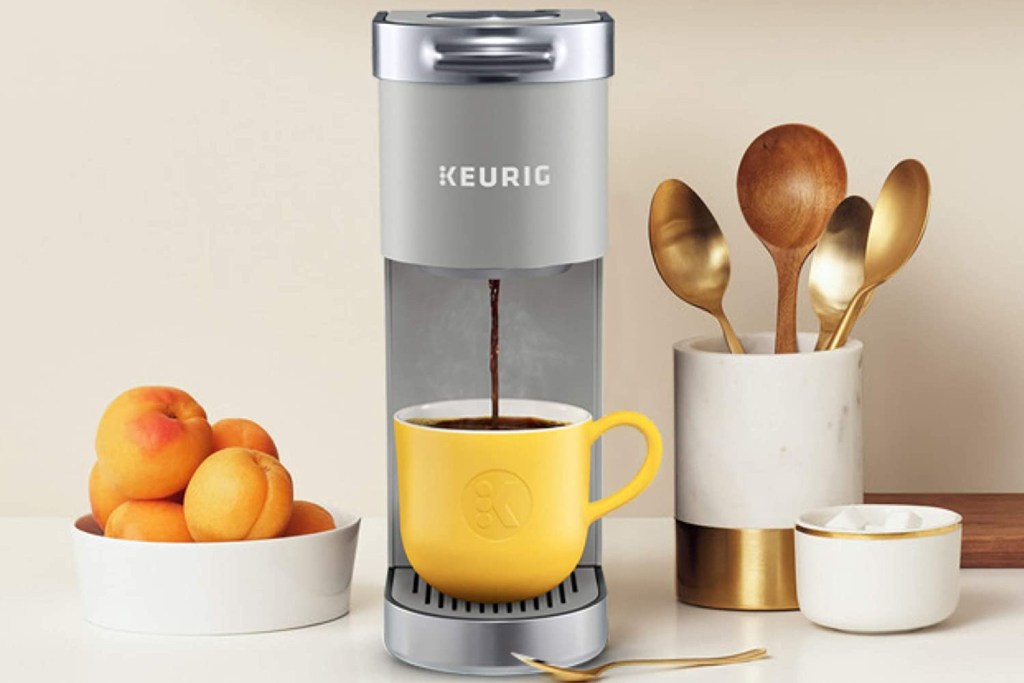 Keurig K-Mini Plus Coffee Maker
Best features:
Plenty of pod storage for additional k-cups
Compatible with the k-cup coffee filter
Perfect for a single serving of delicious coffee
Energy efficient with an auto-off function
If you've decided to get a personal coffee maker this Black Friday, you can't go wrong with the Keurig K-Mini Plus coffee maker! This Keurig coffee maker is ideal for someone who needs a single cup of coffee in the morning. The Keurig K-Mini Plus is compact, allowing you to save counter space while also accommodating up to nine k-cup pods in its storage capsule. Additionally, this coffee maker is highly energy efficient with an auto-off function. So, even if you're in a rush in the mornings, you can rest assured that your coffee maker won't remain on all day.

Mr. Coffee – Space-Saving Combo Coffee Maker
Best features:
Save counter space with a dual-purpose machine
Brew single serve of 10 cups of drip coffee
Able to keep coffee hot for hours
Includes a unique "Grab-a-Cup" feature
The Mr. Coffee Space-Saving Combo coffee maker is perfect for those looking for more versatility in their daily brews. With both a single-serve and drip coffee function, you can make one cup of coffee or up to ten, depending on your needs. Additionally, this coffee maker is built to keep your coffee hot for hours, meaning you can always come back for a second cup to boost your energy while you work from home. A unique aspect of this Mr. Coffee coffee maker is its Grab-a-Cup feature, which allows you to pause the drip coffee-making function to grab a quick drink before it's finished brewing.

Ninja CE251 Coffee Maker
Best features:
Customizable brew strengths
Programmable delay to brew coffee ahead of time
Includes a warming plate that stays hot for 4 hours
Permanent coffee filter for ease and reusability
For people looking for more customization, the Ninja CE251 coffee maker does not disappoint. With the ability to change brew strengths to suit your palette, you are assured to have a coffee that is neither too bitter nor too bland. Also, this Ninja coffee maker includes a programmable delay that allows you to set a designated time for your coffee to brew. This means you can wake up to a warm cup of coffee with minimal effort in the morning. The efficient warming plate and permanent coffee filter also enhance this coffee maker's ease of use.

Nespresso BNV450BLK VertuoPlus Deluxe Espresso Machine
Best features:
Can brew both coffee and espresso
Built-in milk frother is included
Ability to make both single-serve or multiple cups of coffee
Comes with an extra-large 60oz water tank
The Nespresso VertuoPlus Deluxe comes with one of the largest water tanks on our list. Capable of holding sixty ounces of water, you can rest assured that you'll always have enough coffee. This coffee maker can brew both espresso and coffee and provide single-serve or multiple cups, depending on your preference. Additionally, this Nespresso coffee maker comes with a built-in milk frother so you can achieve barista-style drinks like lattes and cappuccinos with the push of a button.

DeLonghi 15-bar Pump Stainless Steel Espresso Maker
Best features:
Can be used with both pods and ground espresso
Built-in frother with a separate thermostat
15-bar pump pressure and self-priming operation
Includes a removable drip tray
The DeLonghi 15-bar Pump espresso maker is ideal for coffee enthusiasts. If you've found a new love for espresso during lockdowns and you want a machine that is sure to meet your standards, this is a must-have. This espresso maker can be used with both pods and ground espresso. It also comes with a self-priming operation and a removable drip tray to enhance the ease of use. And whether you want cold or warm drinks, the DeLonghi espresso maker has a built-in frother with a separate thermostat so you can achieve the temperatures that you desire.
So, whether you prefer single-serve coffee, drip makers, or espresso machines, there are plenty of amazing options to choose from. So, treat yourself this Black Friday and get a coffee machine that meets your needs and exceeds expectations. You'll be beyond grateful as you save money and wake up to a delicious home-brew each and every morning.
Editors' Recommendations