Each year, new trends emerge in interior design. And when it comes to flooring, homeowners are shaking up the way they utilize one of the most vital aspects of the home. Whether you prefer minimalist-inspired modern styles or love raw and authentic wooden textures, 2022 is the year of variety for wooden floors. So, if you're looking to spruce up your outdated flooring or want to add more warmth and excitement to your home, then we have seven incredible new wood flooring trends that you need to know.
Bleached wood adds subtlety
One of the most beloved trends this year is the use of bleached wood in the home. Bleached wood creates a sense of subtlety by introducing natural wood tones without appearing too loud or bold in your home's design. This is achieved by lightly bleaching the wood to create a look that feels whiter and brighter than ordinary hardwood flooring.
For homeowners who prefer Scandinavian-styled homes, minimalist aesthetics, or modern touches, bleached wood flooring could be just what you need. To style this flooring, keep it in rooms that need a refined finish. Areas in the home with minimal natural lighting may also benefit from this lighter flooring option as it will help to open up the space.
Herringbone wood flooring is a classic design
Herringbone wood flooring is a classic design that surged in France hundreds of years ago. This style has stood the test of time, and in 2022, many homeowners are opting for this lovely flooring to enhance the look of their kitchens and bathrooms. Herringbone wood flooring can come in a range of colors though pale blonde and cherry tones tend to be the most popular.
If you love French-inspired home design or want to add more patterns to your home, this would be the perfect option. Additionally, chevron is another pattern often closely paired with herringbone. Whichever you choose, you'll be sure to have stunning wood floors that are unique and ultra-luxurious.
Smoked wood adds texture and depth to a space
Another gorgeous wood flooring trend emerging in 2022 is the use of smoked wood. Smoked wood is made through a chemical reaction of ammonia in the air that typically darkens the wood and brings out the natural grain. This isn't something you can DIY, unfortunately. However, many flooring providers have stocked up on this style thanks to its increase in popularity. Smoked wood flooring is rich and luxurious. Each board is different, so you end up with a beautiful conglomeration of smokey shades.
This flooring looks best in living rooms, dining rooms, and kitchens, where it can add more texture and depth to your space. Homeowners favoring rustic, boho chic, and industrial styles will find this flooring looks remarkable in their spaces.
Reclaimed barn wood opts for a more authentic look
If you're going for a more authentic look, you can't go wrong with reclaimed barn wood. Reclaimed wood is a well-known style for flooring, and it's no shock that it has stood the test of time. This stunning trend lends a more natural look to a space while also allowing homeowners to save money and protect the environment all at once.
As you might expect, reclaimed barn wood is the perfect addition to farm homes, vintage styles, and rustic spaces. Use it in living rooms and dining rooms to add more authenticity to a communal area. Additionally, this wood flooring looks gorgeous in bedrooms, topped with comfortable rugs that highlight the elegance of this natural flooring.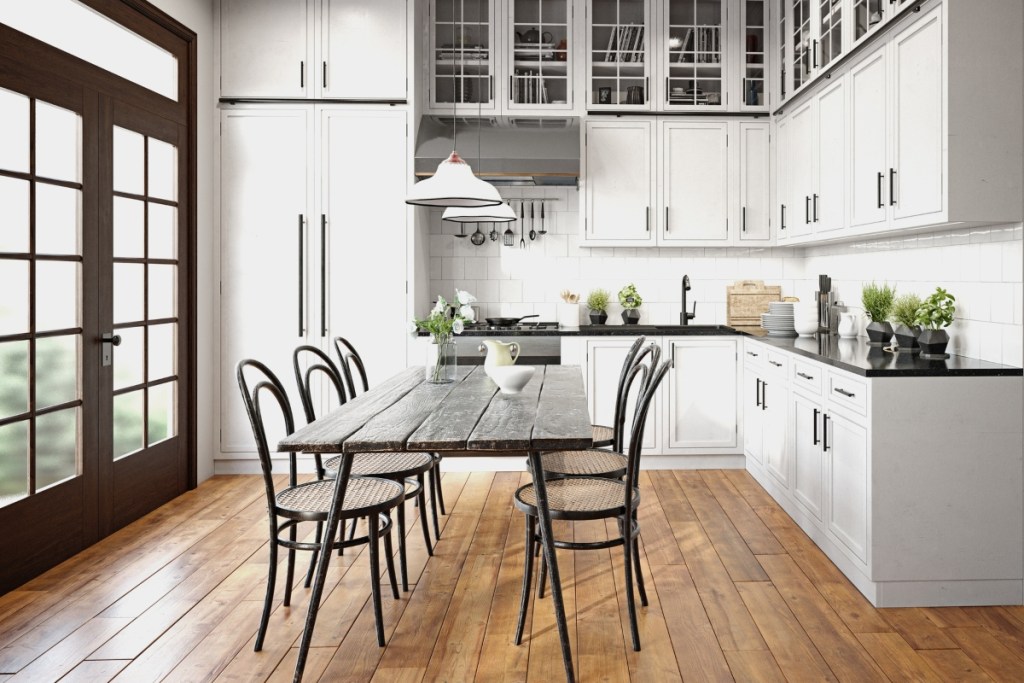 Weathered wood has taken center stage
Sometimes clean and crisp can look out of place in your home. When you've decorated your space with well-loved antiques, family heirlooms, or reclaimed furniture, brand new flooring can seem kitschy or clash with your design. Therefore, homeowners are turning to weathered wood flooring to achieve a more worn and well-used look. The flooring is artificially worn down to create an aged look that blends seamlessly with more rustic designs.
Cabin homeowners, rustic enthusiasts, and select industrial lovers will find this worn and weathered look can greatly benefit their overall design. When using this flooring in your home, we recommend pairing it with vintage-inspired furniture and antique woods.
Black hardwood flooring creates a sophisticated touch
Black hardwood flooring has emerged as one of the best wood flooring trends in 2022. As many homeowners shift to modern aesthetics or look to futuristic spaces, black hardwood flooring enters the scene to add a touch of sophistication to your design. This flooring is rich, dark, and luxurious in a home, seemingly curated to accompany the white walls and velvety green accents in many modern homes.
If you're looking to warm up your space or tone down lots of white or bright colors, this hardwood flooring could be the solution. With a streamlined and curated appeal, this style of flooring is perfect for modernists and minimalists alike.
Larger planks can create an expansive appeal
One of the most used wood flooring trends in 2022 is opting for larger planks. In the past, thin planks were a staple in traditional home design. However, with changes in interior design, slim and short planks tend to feel choppy or out of place. So, many homeowners are opting for larger plank sizes in every style to combat the clunky look of outdated flooring design. For those who want to create a sophisticated look in their home, no matter their design style, opting for larger planks on the flooring is a wonderful choice.
In 2022, new flooring trends have subverted previous years by inviting more warmth and dynamic patterns to our spaces, adding a more modern touch to every room in the house. While each style adds something unique to your home, there are plenty of amazing selections to suit your needs. So try out some of the best trends in flooring this year to find just the right pattern to transform your space.
Editors' Recommendations