There is just something about a clawfoot tub that makes it a focal point to any bathroom design. The question is, what if you love the look of this iconic fixture but also want a modern bathroom design? Have no fear; it is possible to marry the two. In fact, the juxtaposition of old and new is a great way to highlight both aspects of the overall aesthetic. This timeless tub can fit into any look and will give your bathroom a luxurious centerpiece.
What is a clawfoot, anyway?
Clawfoot tubs are standalone bathtubs with feet that look like a ball and claw. They are oval in shape and often have a rolled rim. The first ones were made in the mid-1800s of tin or copper and cast-iron, and porcelain-enameled versions came in the 1870s and were fixtures in Victoria-era homes, where they quickly became symbols of luxury and indulgence.
Modern clawfoot tubs come in a variety of styles that work in both rustic and modern designs. If your bathroom is small, you may think you don't have room to accommodate a clawfoot tub. However, they actually take up less space than a standard built-in one and come in different sizes to fit into many dimensions. It is possible to find a vintage tub and have it refinished, but almost any bathroom showroom has clawfoot tubs. If you want to use it as a shower, you can fit shower attachments and wraparound shower curtains to the tub itself.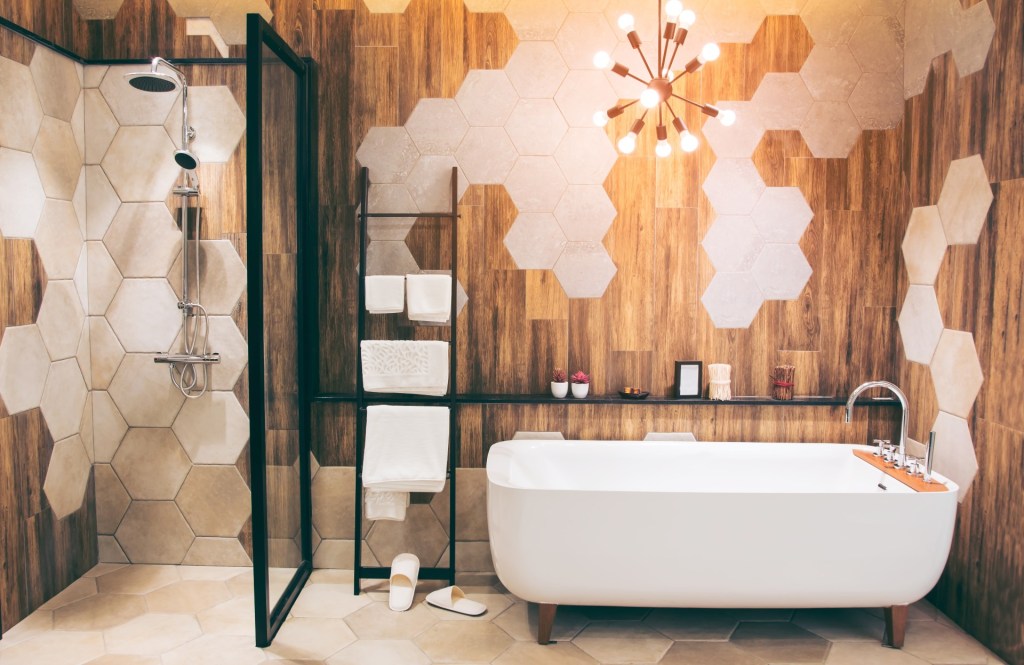 Making it work
Despite their old-school origins, clawfoot tubs and their inspired designs are a beautiful addition to your bathroom. Here are our suggestions for adding this amazing design.
Get creative with your space
One thing that differentiates the clawfoot from a standard tub is that you can place it anywhere in the space available in your bathroom. Against a wall, in a corner, freestanding as a centerpiece, or even on an angle. Clawfoot tub bathroom designs allow for you to be more creative with the layout. This can be particularly dramatic when the tub is placed on its own against a contrasting background to highlight its silhouette.
Mix it up
Don't be afraid to add a classic element to a modern design. Bringing in a surprising piece like a clawfoot tub into an otherwise contemporary setting adds personality. Think about a bathroom with bold black and white graphic tile, a mid-century-inspired vanity, and a crisp white clawfoot tub. Even though they are from different genres, the white in both the tile and the tub tie the elements together. Mixing the unexpected allows you to create a space that is anything but cookie-cutter.
Bring in the color
One way to give a clawfoot tub an updated look and personalize it to your space is with color. The fact that you can paint the exterior allows you to create visual interest by contrasting it with the space around it. A black clawfoot tub set against a crisp white wall creates a dramatic statement and pairs well with brass hardware.
A clawfoot tub painted a matte gray can read contemporary when outfitted with sleek metal hardware. Situated in a clean, crisp white backdrop with modern lighting, it perfectly balances old and new.
A colored tub can add a pop to the design and give you a one-of-a-kind look. Find a modern wallpaper and match the tub to it; for a lively design, use red, orange, or yellow. If you are looking to make a statement, try bold indigo or emerald green.
Clawfoot tubs may have been created a long time ago, but they can still be a beautiful addition to any bathroom. As you work through your next bathroom remodel, you'll have this article to look back on for plenty of inspiration and ideas.
Editors' Recommendations