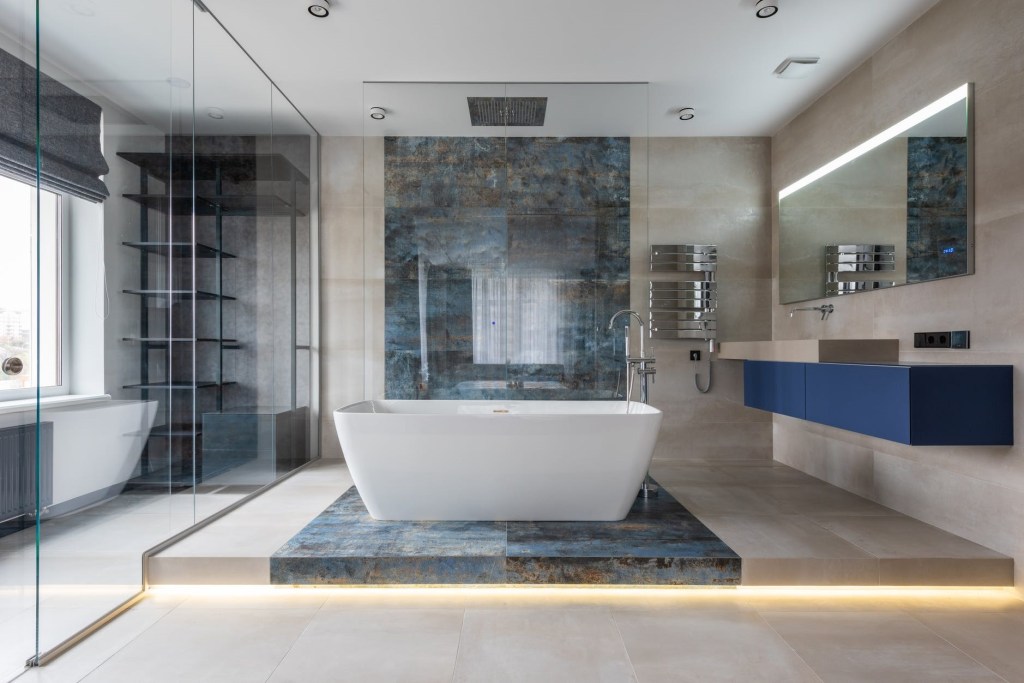 Home design trends come and go, but it's safe to say that marble isn't going anywhere. This material has adorned both grand and cozy homes for centuries because of its durability and beauty. This sturdy stone stands the test of time and continues to impress people even centuries after these homes were built.
Specifically, marble can give your bathroom a luxurious and timeless appearance. Long story short, if you invest in marble, you don't have to worry about it going out of style, looking dated, or turning off potential buyers.
When it comes to marble, the options are endless
Since marble is a natural stone, every slab is different. It often has a primary color, as well as veins in several shades that give each piece a unique appearance. If you decide to utilize marble in your bathroom, you'll have the option to choose from a variety of colors, including traditional hues of white and black, as well as trendier colors like pink and blue.
Prices also vary widely, so your budget shouldn't prevent you from creating the marble-filled bathroom of your dreams. A marble statement piece — like a floor or a tub — can make a big impression. For those with a more eclectic design style, mix and match tiles or smaller cuts of different shapes and sizes to create a mosaic or just break up the monochromatic look.
Marble is a very cold material, so regardless of what color and style you pick, make sure to warm it up with wood, brassy colors, and soft finishes.
Marble in the bathroom can help you sell your house
When buyers are looking for a new home, they tend to focus a significant amount of attention on the kitchen and bathrooms since those are spaces that get everyday use and are costly to renovate. A bathroom with marble features will certainly make an impression on prospective buyers, allowing them to imagine themselves in a luxurious, spa-inspired bathroom. These small details can help get a great price for your home, especially if comparable homes in your area don't have these upgrades.

Where to use marble in your bathroom
Marble is a versatile material that can complement your bathroom's existing style, whether you own a sprawling farmhouse or a contemporary apartment.
Floor
A marble floor can add a richness to your bathroom that no other material can provide. Since bathroom floors are exposed to moisture every time someone gets out of the bathtub or shower, take that into consideration and make sure there are slip-proof rugs or mats throughout the space.
If you have the budget, consider adding floor heaters to promote the evaporation of any lingering water. Not only will your floors look fantastic, but they'll feel luxurious, too.
Shower/tub
Though expensive, a bathtub cut from a single piece of marble is an unbeatable statement piece, adding a sense of luxury and opulence to your home. To achieve the marble look without breaking the bank, lay a series of marble tiles throughout the shower or across the wall behind the tub.

Counter/ sink
A marble countertop captures the attention of anyone who enters your bathroom and breathes new life into the space. Since the area around a sink is exposed to water and various hygiene products on a daily basis, be sure to seal it regularly to protect it from damage.
Backsplash
If a marble countertop or sink is outside of your budget, you can use marble for the backsplash instead. Marble wall tiles can dramatically enhance the appearance of your bathroom, and they're easy to clean so you can always have a bright, sparkling, bathroom.
Potential problems and how to deal with them
Marble is a porous stone that can stain if it's exposed to hard water and toiletries that you use to care for your teeth and hair. Fortunately, it's easy to prevent staining with routine maintenance and periodic sealing.
Homeowners may also be concerned about the slipperiness of this material when wet. If you choose to use marble on a bathroom floor or in a shower, invest in a slip-proof shower mat or ask your contractors to add some traction by laying more grout between the tiles.
While marble can be expensive, adding the material to your bathroom doesn't have to break the bank. You can find marble at a wide range of prices and incorporate it in your bathroom in both big and small ways. By choosing a marble focal point, you elevate the luxury of your bathroom, but mixing in warmer materials and colors keeps the room from feeling cold. If you have any questions or need advice, reach out to contractors in your area to learn more about your options and request estimates.
Editors' Recommendations