Layla Sleep is best known for its copper-infused memory foam mattresses but it also produces copper-woven memory foam pillows. The pillow is made of Kapok tree fibers, a cotton-like material, that is then mixed with shredded memory foam. The best memory foam pillows adjust to your body while still offering the necessary support and pressure relief. If you're wondering why copper is used, that's because the woven copper-infused layers absorb body heat and transfer it away from your resting head to keep you feeling cool while you sleep. They also act as an antimicrobial barrier.
Luxury pillows can come at a hefty price so knowing all the details can be beneficial before you get to check-out. And since we all toss and tumble in different sleeping positions, getting the right pillow is important to get the necessary rest. Read on to get the full scoop on sleeping with the Layla pillow.
First Impressions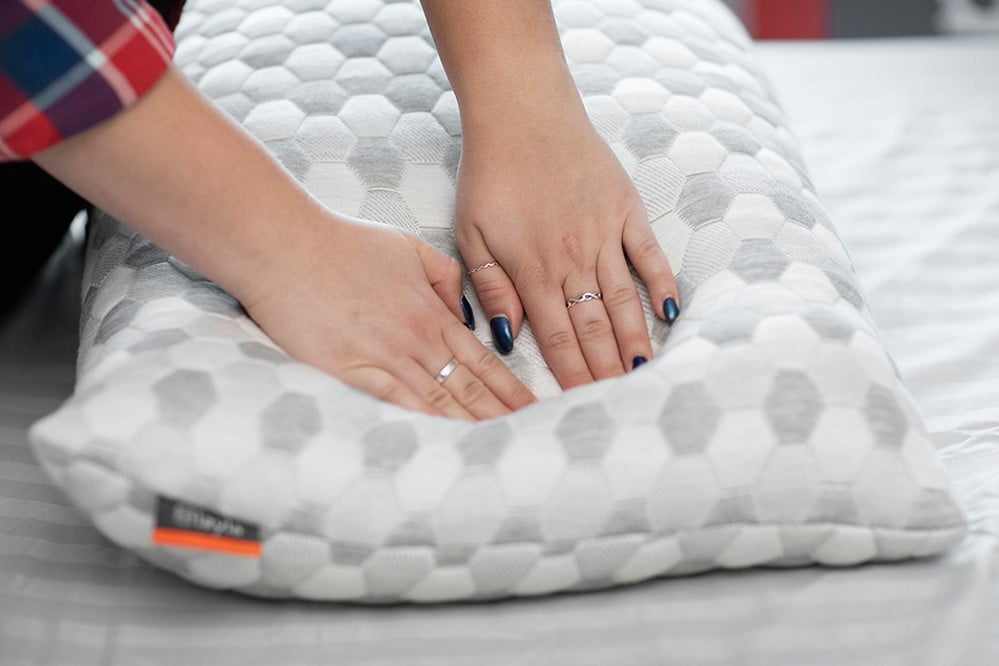 The pillow somehow manages to fit neatly inside Layla's signature orange box. At first, unboxing the pillow will give you an off-gassing odor but it'll quickly disappear once you let it air out for a few hours. The Layla pillow has a very firm feel and is soft to the touch. It has a cool gray checkered design, relieving you of even the need for a pillow cover. The Layla pillow comes in two sizes: A standard size of 18 inches by 24 inches, and a king size of 18 inches by 33 inches.
Comfort: After sleeping with the Layla pillow for over a month, it became clear to us that the Layla pillow is true to its promise of adjusting to your head and shoulders. It's gentle enough to be able to cradle your head but firm enough to keep you from sleeping flat on your bed.
Temperature: Sleeping on the Layla pillow proved to be a cool experience. With spring here and the temperature outside rising, the pillow never felt too hot. You definitely won't be waking up hot and sweaty at night.
Loft: Layla's pillow is firm enough that your head won't sink. However, it's far from squishy so it won't fold and that falls more on the non-adjustable side to some. Although the pillow we tested did not include added zipper feature. Layla did update the model to add the zipper feature, which allows users to remove foam from the pillow for a more customizable sleep experience.
Price: A queen-sized Layla pillow retails for $99 but is down to just $79 during its spring sale and the king size is down to $99, instead of the usual $120. The price is equal to that of the average shredded memory foam pillows in the market. Layla offers free shipping anywhere in the contiguous U.S. If you're not happy with your Layla pillow, rest assured that you have a 120-night sleep trial, which is longer than most retailers offer, and the company also offers a five-year warranty.
How well does it sleep?
| | |
| --- | --- |
| Good for | Bad for |
| Side sleepers | Back sleepers |
| Stomach sleepers | Combination sleepers |
| Those who sleep hot | |
We found the Layla pillow to be great for hot sleepers who sleep on their sides. While no one pillow is made for everyone after sleeping on the Layla pillow for over a month it seems that it's great especially for those with broad shoulders who need to relieve pressure on their neck and shoulder area. Also, if you like to sleep with a pillow that gives that extra support for your legs and knees it molds perfectly to give you that cushion.
Pros and Cons
After fully assessing this pillow, we find that the Layla pillow is a premium luxury pillow worth the price. It's hypoallergenic, offers firm support, and its copper-infused fiber combined with its shredded memory foam filling keeps it cool and durable. An update to the pillow includes a zipper to make it more adjustable but there's still no machine washable cover since removing the shredded memory foam would be too much of a mess. Otherwise, if you're someone who is looking for a new pillow to improve your sleep Layla is a great option.
| | |
| --- | --- |
| Pros | Cons |
| Sleeps cool | High price point |
| Retains shape | Initial off-gassing odor |
| Firm | No machine washable cover |
| Hypoallergenic | |
| Standard and King sizes available | |
| 120-night sleep trial | |
| Five-year limited warranty | |
| Free shipping and returns | |
Editors' Recommendations