Kitchen lighting is one of those things you may not always think about when planning a kitchen remodel but getting it right is key. Not only is it critical to have ample lighting in the kitchen, but it can dramatically transform the look of your kitchen from "meh" to "wow."
There are so many kitchen lighting ideas you can choose that will make a statement and add character to the space, but there are considerations before you decide. You need to know the approximate space you're looking at for kitchen island lighting, overhead lights, and lighting over your sink and eating area. You don't want to select a light that's too big or too small because it can throw off the look of the entire room. Here are a few ideas we love that are as unique and individual as you.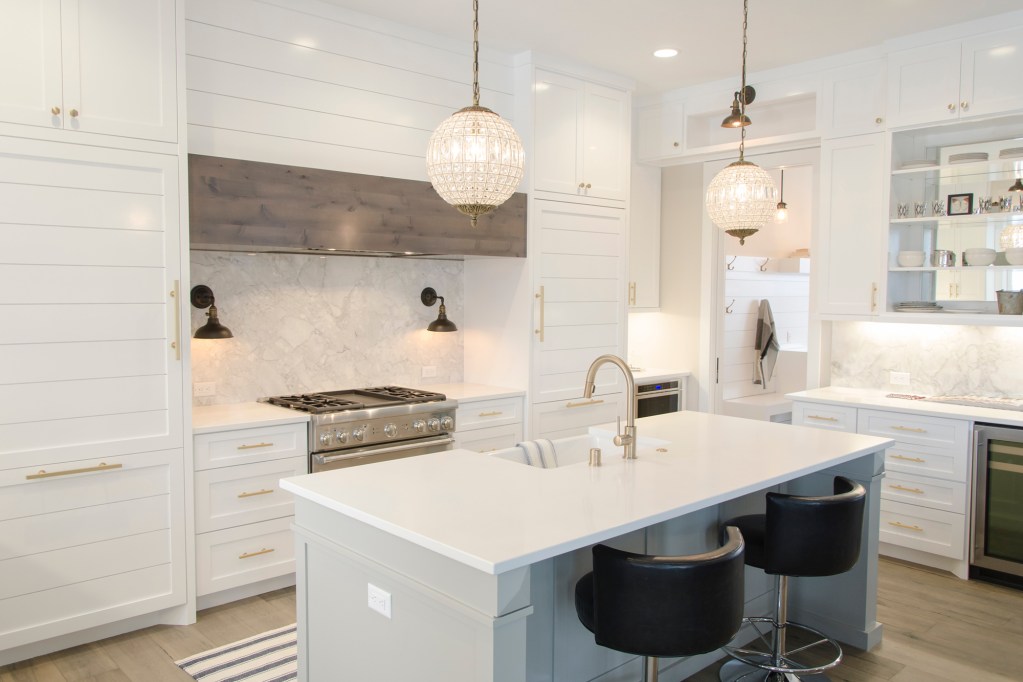 What kind of light fixture is best for the kitchen?
First, you need to ask yourself what you do and don't like about kitchen lights. If you're not a fan of big, hanging lights like pendants and chandeliers, you may opt for recessed lighting (we love the Philips Hue smart lighting), which can provide enough light when you're cooking but can be dimmer for more ambient light at night. If you don't love recessed lights, you can opt for more designer-looking flush-mount lights, which offer the same benefits as recessed lights but add a bit more character. Whatever you choose, it needs to be bright enough for all of the dicing, slicing, and chopping you do on a regular basis.
Next, look at where you need lighting and what space constraints there may be. If you have a large center island, you may want to consider multiple pendant lights to ensure there is plenty of light all the way around it. If it's a smaller island or small kitchen with no island, choose one central light like a chandelier in the center of the room like this gorgeous scalloped Serena & Lily option. Then, you can put task lighting in other areas, like over the sink, and under-counter cabinet lights for the rest of the countertop.
Tips for choosing the right kitchen lighting
Choose lighting that goes with the overall aesthetic of your home but that stands out from the boring, traditional kitchen lights you see in every home. Spend time looking online and in stores to get a sense of what style you are drawn to and select lighting based on those choices.
Measure the space the light will go over to ensure it's not too small or large. When hanging, pendant lights should fall around 12 inches to 20 inches below an eight-foot ceiling. Add three inches for each inch of additional ceiling height. For sink lights, they should hang 30 inches to 40 inches above your countertop (not the bottom of the sink).
Kitchen lighting ideas you'll love
Go eclectic
Unique colors, mixing and matching metals and styles, and dramatic fixtures are all the rage these days. The kitchen is the room everyone gathers in, and it should be a fun and inviting place to be.
Try industrial
If you have a farmhouse kitchen with industrial touches, go bold with industrial lighting like this black pendant available at Lumens. If you are interested in adding color to the room, check out this blue hammertone LED chandelier by RBW. We also love mixing textures, so if you have glass lights over the sink, consider something different over the island, like this wicker dome pendant.
Alabaster is on trend
Finally, a big trend we believe will carry into next year is Alabaster lighting, which provides a lot of warm light and can be designed in many shapes and sizes, and mixed with various metals like copper, iron, and brass.
The good news is that anything goes when it comes to kitchen lighting. Gone are the days of shopping for lighting in a big box store where there are only five or six choices that you end up seeing in every kitchen you visit. Lighting has become an essential part of the kitchen's overall design and aesthetic, so keep an open mind when looking at options. Bold colors, more abstract shapes, and using mixed materials will keep your room looking fresh and in the moment from a design perspective.
If you are looking for something even more individual, look for lighting in antique and vintage stores that can be rewired to meet today's coding standards. These can add a rustic look to any style kitchen, and you know you'll never see another copy anywhere else.
Editors' Recommendations