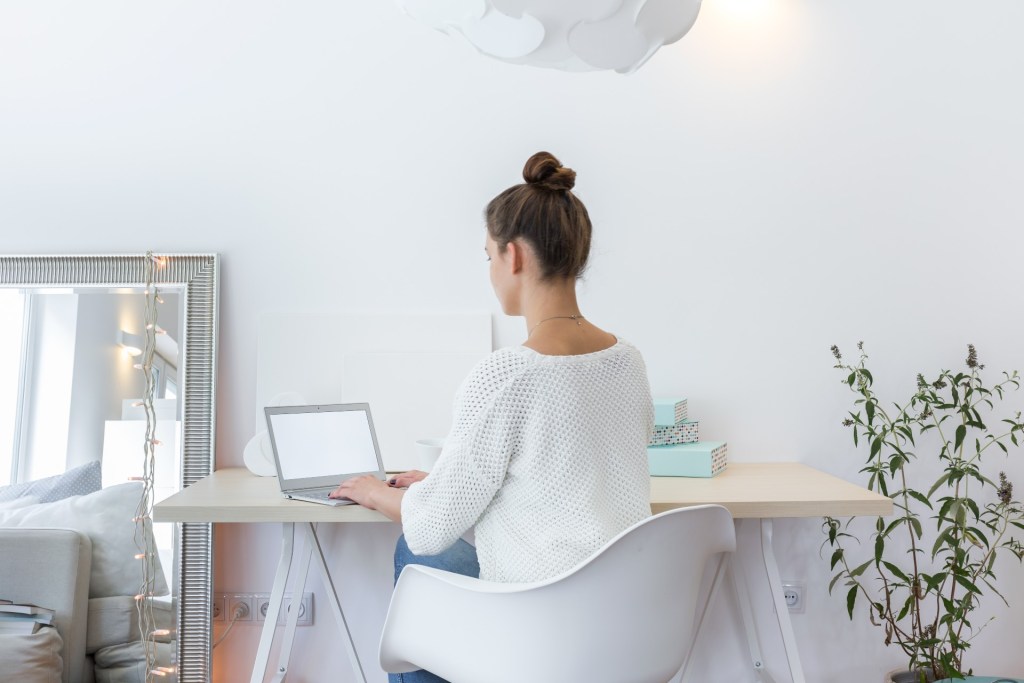 With more and more people working from home these days, many find they need to carve out areas of their home to create an office. Designing a space that is both chic and efficient can be a challenge. Looking for some ideas to get you started? Sometimes inspiration is just a click away. Read on for our top 12 favorite office nook ideas on Instagram.
Convert a closet
Have a closet that doesn't get much use? Why not turn it into your own private office? In this clever overhaul, the back wall is outfitted with a vertical shiplap and painted a deep shade. Two warm wooden floating shelves hold decorative accents and books. A sturdy piece of butcher block provides the ideal desk surface, and a minimalist chair completes the look.
View this post on Instagram
Use wallpaper to define
Proof positive that you can transform any random nook into a stunning workspace. In this space, a panel of adorable black and white wallpaper frames the sleek white desk, and a series of pictures in various sizes give the wall some personality. Gold is the perfect accent color and is picked up in the chair, wall-mounted storage, and in a few accessories.
View this post on Instagram
Create a cozy spot
Use every corner of your office. In this one, a cozy reading nook was created with the addition of a simple white chair. It stands out when positioned against the striking paneled wall. Add a lamp and a side table, and you have the perfect spot to take a break.
View this post on Instagram
Transform a furniture piece
Office by day, unassuming dresser by night. Cool all the time! This sleek, modern dresser does double duty and can turn any room into a workspace. The perfect solution when you just don't have another room available.
View this post on Instagram
Go boho
Do you work best in a space with a relaxed vibe? Check out this boho-inspired office. We love the overall way it all comes together, from the plush rug to the unusual rattan chair and the workhorse-inspired desk. Finish it off with plants, an orb light, and a woven wall hanging, and you have a space anyone would love to spend the day in.
View this post on Instagram
Stick with neutrals
Want to know how to make even the smallest spaces feel light and airy? It is easy–go neutral. A simple white desk paired with light wood accents in this design gives the design a fresh, breezy vibe. Greenery adds a touch of color, and the wicker chair is the perfect finishing touch.
View this post on Instagram
Energize your design
The design of this office nook is sure to bring energy into any workday. Just above the modern desk, the graphic wall art stands out in vibrant shades of color that pair nicely with the pop of color on the chair. A cabinet is used to define the nook and is topped with plants, which add life to the space.
View this post on Instagram
Scale it right
One of the rules when decorating a small space? Use furniture with slim lines. This concept is executed perfectly in this office nook. A room divider serves as the backdrop, and a sleek black table with a marble top acts as the desk. A beautiful chair with curved lines and neutral art and accessories keeps the feeling open and light.
View this post on Instagram
Make a space within a space
How can you define a nook in the middle of another room? In this clever design, a simple painted arch lets you know where the workspace is. Chic floating shelves with graphic artwork and small accessories are hung just above the desk, and a sleek lamp and chair with touches of gold and black bring it all together.
View this post on Instagram
Use a landing space
Many times landing spaces at the bottom or top of stairs are underutilized. Here, a desk perfectly fits the dimensions, and its crisp white palette gives the workspace an open, airy feel. Touches of brass are balanced throughout on the floating shelves, desktop, and stool.
View this post on Instagram
Custom conversion
Who would ever know this office nook was created out of a closet? The back wall is clad in shiplap, while stunning herringbone wallpaper gives dimension to the side walls. Two rustic floating shelves sit just above the white desktop. The overall effect is a design that feels homey and modern.
View this post on Instagram
Give it its own identity
With so many offices in bedrooms, how do you give the workspace its own flair? Here, the desk's wall is clad in vertical shiplap and painted a striking black, which clearly identifies it as the office. A mid-century modern desk and chair add a stylish touch. The addition of plants and a few well-placed accents soften the overall feel.
View this post on Instagram
Now that you have seen how easy it is to create an office out of even the most unexpected spaces, the only question left to ask is–which one is right for you?
Editors' Recommendations