If you want to add privacy to your backyard, keep people out of your yard, or recently got a dog and want to keep them from running off, you may be considering installing a fence. If you think you're ready to give this project a shot yourself, you could potentially save thousands in labor costs. While we consider the task for those with intermediate skills, there are plenty of YouTube videos you can watch to get up to speed quickly. Depending on how big of a space you plan to fence, it can be done over a weekend (just make sure you watch the weather and pick a dry one).
We've collected everything you'll need before you begin the project, along with a how-to guide to get you started. You'll want to price out options for types of woods to use, and make sure you have help if you need it, because some of the materials can weigh upwards of 50 pounds. With that said, here's how to build a wood fence.
How do you make a wooden fence step by step?
Step 1: Before you start, make sure you don't need a permit to build your fence, and check the title to know exactly where your property line is so you don't anger any neighbors in the process.
Step 2: Stake out your fence by putting wood stakes and twine along your fence line, which your actual fence will follow.
Step 3: Dig your fence post holes. Using your post-hold digger, dig down about half the length of the post.
Step 4: Measure every eight feet and dig the rest of the post holes.
Step 5: Pour gravel into each post hole until it reaches four to four-and-a-half inches, then position the post in the middle of the hole on top of the gravel and fill in with dry concrete mix.
Step 6: Once all holes are filled, add water on top to the proper consistency, and allow the concrete to cure (about 30 minutes for quick-setting cement). Once the concrete is set, fill the remaining area with dirt.
Step 7: Once the posts are set, you can begin attaching rails (or fence panels if you choose) to the posts using a drill or nail gun (the number will vary depending on how high your fence will be).
Step 8: It's time for the pickets to be attached to the rails (if you aren't using fence panels).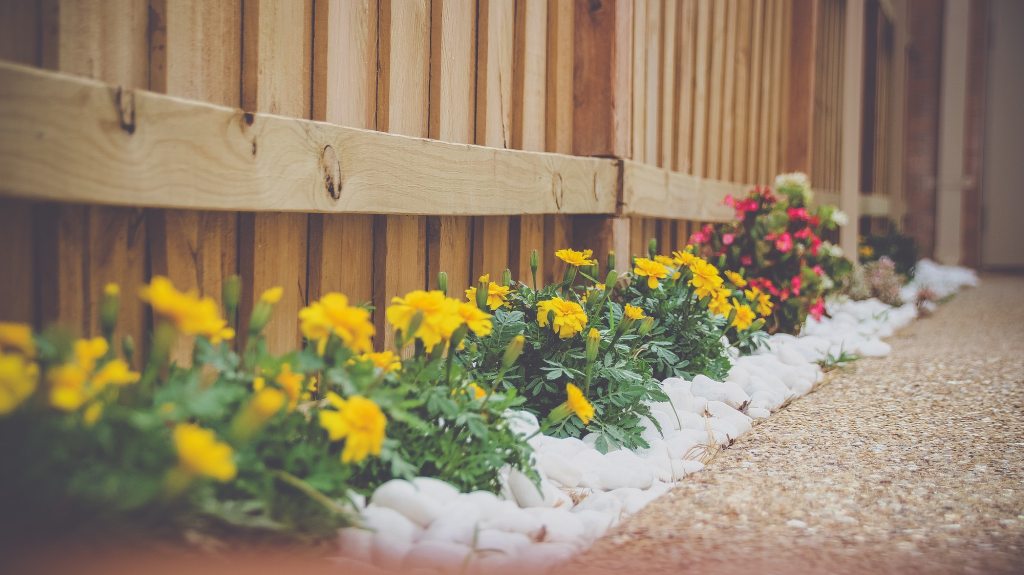 How much does it cost to build a wood fence yourself?
The short answer is much less than you would if you hired a professional. Lumber averages anywhere from $7 to $15 per foot, but it jumps to $10 to $30 per foot just for labor alone. There is a lot of upfront work, but once you get started, a fence is relatively easy to install. The cost then really depends on the size of your backyard or area you want fenced in. You'll also want to consider how much it will cost to pull a permit (if needed) and either rent or buy tools to get the job done. Because of pandemic supply issues, the cost of lumber has risen over the past year, so call a local lumberyard or hardware store to compare prices before you buy.
Wood fences will need to be stained every few years to keep them looking in their best shape and to keep them from weathering. But once installed, they require very little maintenance. Fences are wonderful for privacy, especially if you have close neighbors or just want the peace of mind of knowing when you're in your yard, everyone can't see you. It's also ideal to have a fence with pets and small kids, especially if you live near a busy road.
Installing a fence will also increase the value of your home if you are looking to sell, as many homeowners with pets know the costs included if they need to install one after they move in. Just make sure you do homework upfront with the city in terms of permits and digging on your property to ensure you know exactly where to dig and where your property ends and your neighbors' starts.
Editors' Recommendations