The home office has quickly become one of the most used spaces in our homes. During the COVID-19 pandemic, many people migrated from traditional office spaces to a work-from-home lifestyle. So, what once may have worked in your home office may not work with your newfound routines. Here, we'll cover some of the most affordable ways to upgrade your home office so you can refine your focus and motivation within the space.
Why you need an office upgrade
It's likely that your home office hasn't seen a decent upgrade in a while. While many people revamped their office areas during the stay-at-home mandates, there likely hasn't been another update since. Whether you are working from home or you've just gone back to the communal workspace, upgrading your home office can give you a refreshing start to your day.
One of the main issues we see in neglected offices is that they have become crowded, cluttered, and behind on design trends. It's no fun to hunch over your keyboard in a space that feels drab and unorganized. So, we've curated a few ideas to help you touch up your space without breaking the bank.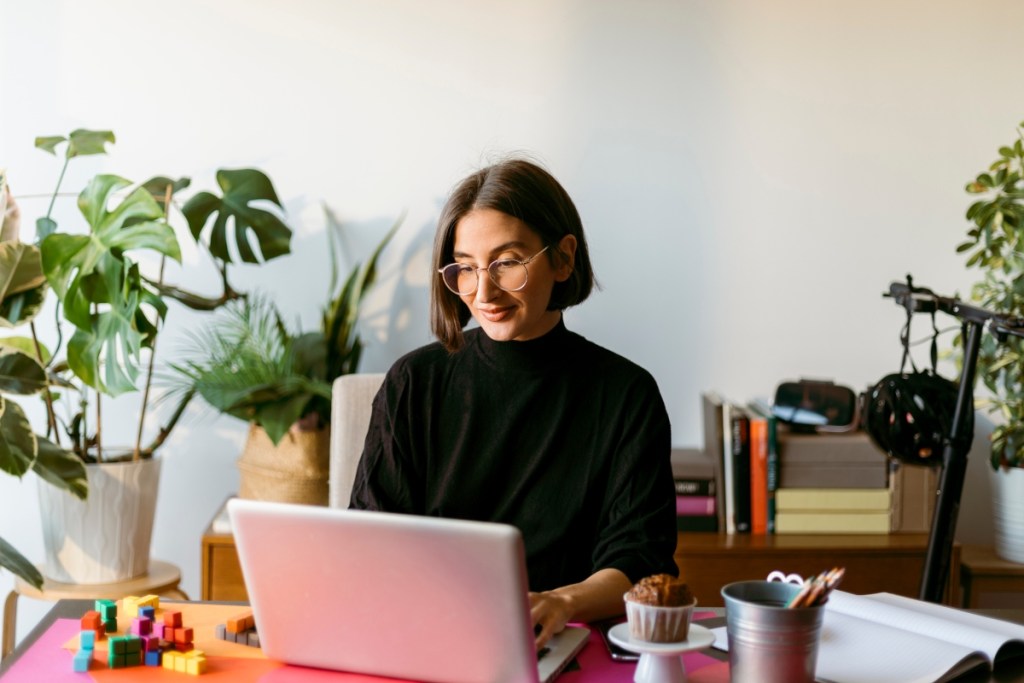 Try out a biophilic design
Biophilic design is one of the latest trends in home decor. This design style encourages the use of natural elements in your space to create a soothing and rejuvenating experience. Below are some of the ways you can take advantage of biophilic design in your home office.
Add plants
Plants naturally bring joy and good vibes to all who witness them. Not only are they aesthetically pleasing but they are one of the most functional pieces of decor you could have in your home office. Plants purify the air of toxins, release oxygen, and radiate a calming essence that makes many of us feel connected to Mother Nature. Try adding some plants throughout your space. If you struggle to keep them alive, try purchasing hardy succulents like aloe, nerve plant, or snake plant. The best part of using plants in your design is that they are often inexpensive, ranging from a dollar to twenty dollars depending on size and rarity.
Use natural lighting
If you have a window in your home office, now is the time to draw the blinds or curtains and let all that wonderful natural light in. Try to allow as much natural sunlight into your space as possible to prevent the room from feeling claustrophobic. Don't put any large pieces of furniture in front of the windows or keep the area too cluttered to pull back the curtains. Additionally, if the weather permits, try opening the windows more frequently to let in some fresh air.
Invest in some quality organizational tools
Organization is key to designing a stunning office space. Unfortunately, the presence of clutter, stacks of paper, or other unorganized messes can leave us feeling overwhelmed and unmotivated.
Utilize vertical shelving
Vertical shelving is perfect for the home office because these spaces tend to be small and cramped. By organizing your materials vertically, you eliminate the possibility of clutter piling up on the floor or in the corners of the room. We recommend open shelving with a few boxes, baskets, or jars to create an aesthetically organized space. You can purchase precut shelves and brackets for about $30. Then, head to your local thrift store for some cute boxes and baskets that are super affordable.
Use a pegboard
Pegboards are another fantastic way to tap into extra storage space. A 48-inch by 24-inch pegboard at your local hardware store should be only about $15! This super affordable option means you can create your own customizable pegboard wall to include hooks, jars, or shelves to suit your needs. This is a great way to tackle excessive paperwork or small items like pens, binder clips, and other small office materials.
Vary the textures in your space
If you want your office design to feel refreshing and comfortable, we recommend focusing on the textures you use in the space. A variety of textures will not only make the room feel cozier but amplify your interior design.
Get a plush rug
Plush rugs are a great addition to office spaces. They absorb sound, meaning there will no longer be any strange echo during zoom meetings, and they offer an element of coziness to an area. Try to center your rug in the room, away from rolling office chairs. While you may not feel the rug under your feet while you work, it can be a comfy treat for breaks or when maneuvering around your space.
Purchase a footstool or ottoman
Footstools and ottomans add seating to your home office. Furthermore, depending on what you purchase, you might be able to add a bit of texture to your design. For example, Target sells small upholstered footrests and ottomans for as low as $50 each. These fantastic little stands add a space for you to kick up your feet after a long day and also invite more fabric into your room. Larger leather ottomans or chunky knit poufs are other options you can add to your home office, and most cost below $100!
Upgrading your office space doesn't have to be stressful. There's no need to spend hundreds of dollars to refresh and refine your space. Focus on adding comfort through soft fabrics and materials while also investing in organizational solutions. And don't forget to introduce a few plants to your home! There's no reason your home office can't feel like a retreat.
Editors' Recommendations