Curating the perfect home office requires thinking about part form and part function. You want it to be a space that breeds productivity, but you also want it to feel good in it. Sound too good to be true? The trick is to marry the two by bringing in elements that will foster both. Here, we guide you through the essential elements for a home office you may never want to leave.
Color
Color is a powerful tool in creating the right atmosphere in any space. Fnding the right one requires thinking about what inspires you. Some hues like cool grays, soft blues, and misty greens elicit calm while others such as red, tangerine, and yellow infuse a room with energy. A warm white shade will ensure limited distraction and give the room an open, airy quality.
Layout
Before adding in furniture, it is important to plan the most efficient layout design. The key thing to consider here is how you will work best. Should the desk be facing a window to take in views of the outdoors? Do you need to position the desk facing another chair to meet with clients? Do you need your desk facing towards a door to keep an eye on kids in the next room? Mapping out a layout will ensure the room flows optimally.
One of the most common and challenging layouts to master is a small office setup. When you need to make a home office in a small space, every inch matters. With limited floor space, incorporating clever storage that takes advantage of vertical space is key. Organizers that can be hung on the walls are also good examples.
Chair and desk
Since you are sitting in your chair for most of the time you're at work, a good one is a crucial part of having a pleasant office environment. When selecting, you will want to ensure it closely follows the lines of your spine and offers good support. Ideally, there should be no gaps between your spine and the back of the chair. Once you have the proper chair, adjust it so your feet are flat on the floor and your arms can comfortably rest on the top of the desk.
There are a few points to consider when it comes to choosing a desk. First, you will want to think about what specific functions it needs to fill for you. Do you need a lot of tabletop space for multiple monitors? Does your job require many materials that will need storage? Will a simple writing desk be sufficient? Once you determine your requirements, it will narrow down the best options for you. In addition, a desk is a great way to bring your personal style into the space.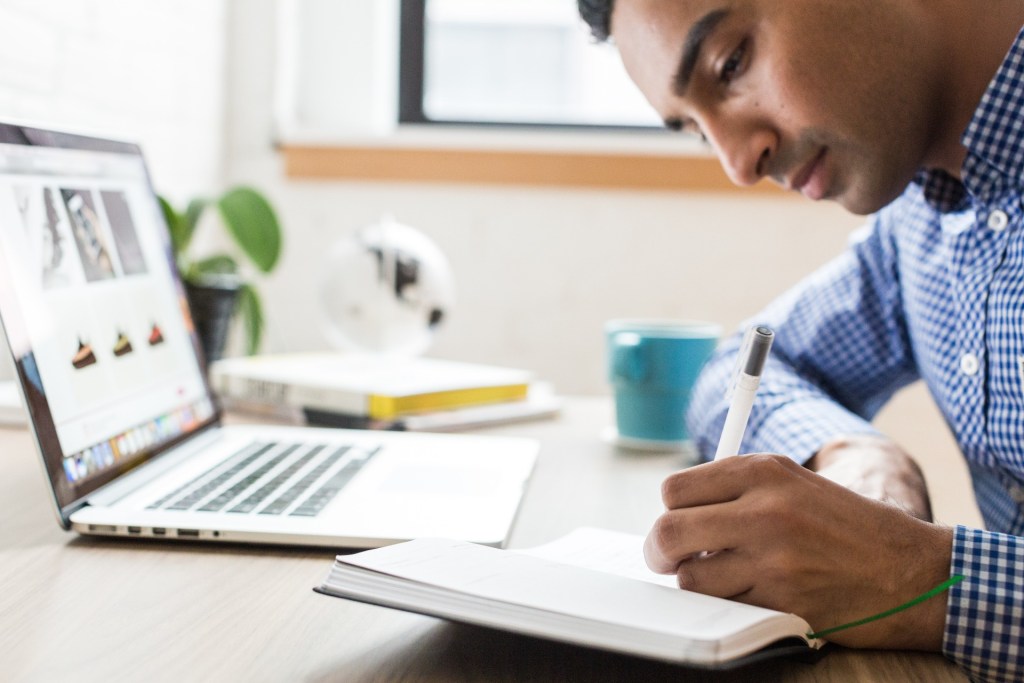 Good lighting
The more natural light you can get into your office, the better. Even glancing outside periodically is a good way to give your eyes a break from the screen and reduce eye strain. In addition, you will want to make sure your office has a direct or main light and a task light for any job specific duties you need to perform. Ambient light, in the form of tabletop and floor lights, can also help reduce glare on monitors and give the office a warmer glow.
Storage
Keeping shelves and your desk space clutter-free is shown to reduce stress. Having the right storage is vital to keeping your office a well-organized space. Think about what will best meet your needs. Open or floating shelves are good for books, baskets, and printers. If your job requires paperwork, a filing cabinet might be a better option. A desk organizer will keep tabletops clear and ensure there is a place for everything.
Finishing touches
This is your space, so add personal elements that mean something to you – photos, artwork, or even candles. Botanicals bring nature inside and clean the air. Studies show having plants in our environment cleans the air and gives the space a sense of peace. Noise-cancelling headphones when focus is needed or a speaker to play your favorite tunes when you need to let off some steam are also great additions.
Designing a home office is about creating an environment that feels less like work and more like a place where you can make your dreams a reality. By intentionally selecting the right elements, it can become a space of abundant inspiration.
Editors' Recommendations