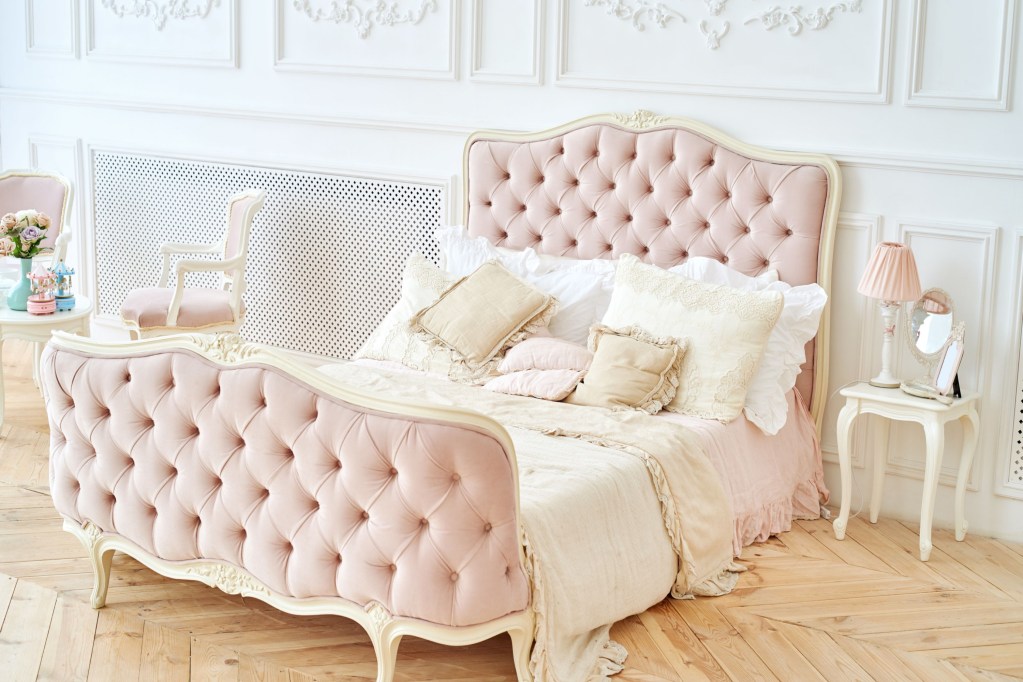 An exciting part about having a child is decorating — and redecorating — their bedrooms, from the nursery when they're born to elementary age all the way through their teen years. Girls' rooms are especially fun to design, and there are so many awesome girl bedroom ideas out there … sometimes too many. If you're overwhelmed by all the possibilities, we've got you covered. We scoured Instagram for the best girl room ideas we could find. Here are six of them.
Pop of color in the bed frame
We absolutely love the bright pop of turquoise in this simple girl's room. Right off the bat, it proves that you don't have to do anything over the top to make your little girl's bedroom really darn cool. All you need is a bed frame and some wall paint in your kid's favorite color.
Pink on pink on pink
Speaking of color, check out this pink-washed girl's room. This monotone theme gives such chill, girly vibes. It will require getting pink everything and making sure you have mostly muted shades so they match. Of course, pink is the go-to for a girl's room, but you can do this with any color she loves!
Cozy reading nook/play corner
We found so many of these adorable reading nooks/play corners all over Instagram. You basically get a kids' tent, stick it in their room, and decorate it with stuffed animals, string lights, and pillows. It becomes their own little place to escape for reading or playtime.
Woodsy neutrals
Neutral-colored girl rooms are also trending right now. We admire the commitment to the brown neutrals in this particular bedroom. Incorporating neutrals gives your child's bedroom a woodsy, enchanting vibe. If your kid loves fairy tales, consider going with neutral colors and filling the room with magical, mystical wall art and toys.
Bed canopy
Another big trend in girls' rooms is the bed canopy. This sheer, curtain-like drape hangs from the ceiling and drops down all the way to the floor. It creates a little cocoon of coziness in your child's bed, hopefully making them feel safer at night. Bed canopies pair nicely with bright string lights.
Statement wallpaper
Our final girl room idea for you: statement wallpaper. This could either go on all four walls or just one accent wall. Either way, it will set the tone of the room and is one easy way to bring the bedroom design to the next level.
How joyous it is to design a room for your little girl from day one through all the years. But the options for this fun project can seem endless. We hope our list of girl room ideas makes it easier for you to choose.
Editors' Recommendations