The perfect way to enjoy a brisk or warm evening is sitting around a firepit in the backyard. There is something so cozy and magical enjoying time with family and friends around a fire. Sitting around toasting marshmallows and making s'mores just seems to melt all the stress away. You can also enjoy friends and family hanging out while you barbecue up a ton of food for them. A firepit is such a charming addition to an outdoor space, especially if you can also grill on it. The smell of the fire and flickering flames just create an enchanting ambience.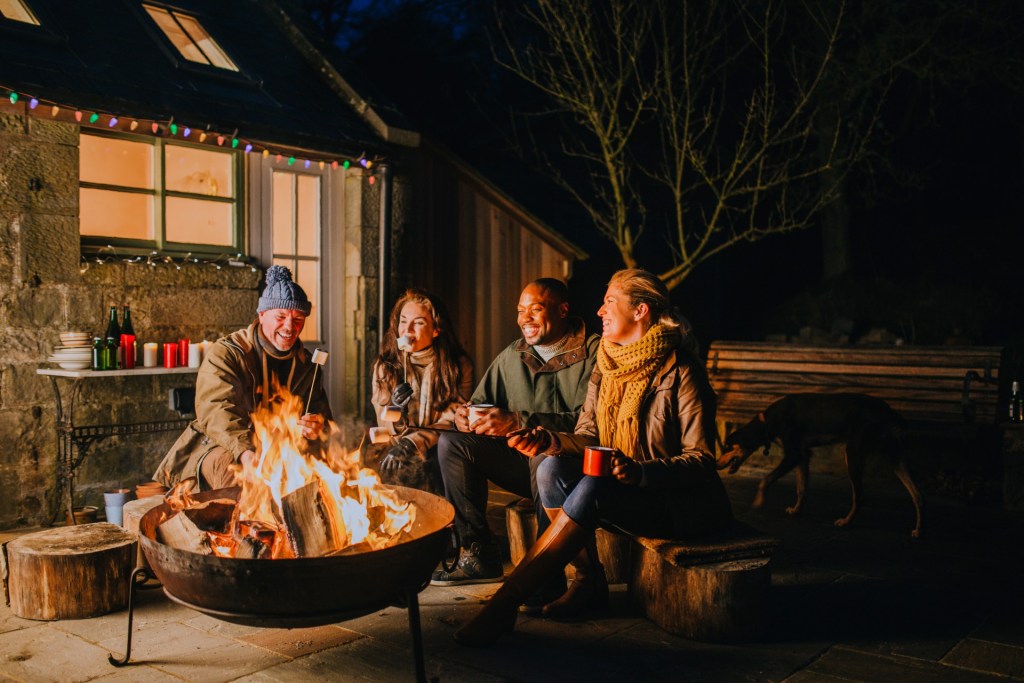 When you're on the market for a firepit, there are several factors to consider. A sturdy and safe construction is important. It should be movable but heavy enough that it won't tip over when the weather brings heavy winds.
A firepit should be the right size for a backyard gathering and it needs to have air flow to keep the fire going while creating even heat distribution. There should be also safety features to prevent embers from flying into the air, and the base should protect the surface underneath from being damaged.
So, what firepit will supply the magic to help you create the perfect evening with a flickering fire and friends?
Styles of firepits
"Styles of fire pits available include basic metal fire bowls to elaborate, multi-level and multifunctional units that are combination fire pits and beverage coolers. Other possibilities include square models that resemble low tables, with room upon which to set a drink or plate," states The Spruce.
Cast iron is a good choice because it doesn't rot, however, it is very heavy.
HGTV suggests for those looking to build a simple one, add a drain in the middle so rain water won't collect inside. Do remember that if you are making one, research your local city laws before assuming.
Our firepit pick
If you're looking for a firepit that's large and stylish for your backyard as well as long-lasting and durable, we like the Hampton Bay Piedmont 30" Steel Fire Pit . It has a sharp look and would complement your backyard furniture as well as checking those boxes.
The firepit features a sturdy steel construction coated with high-temperature paint, so it's durable and will retain its sleek look after repeated uses. Other features include a 360-degree view of the fire, rotating cooking grid (perfect for barbecues), an included poker, and a cooking grate that allows you to grill your favorite foods.
In addition, the firepit's mesh screen keeps the embers and sparks contained, so you or your guests won't have to worry about them floating into the air. It includes a heat deflector on the base to protect the surface under the firepit, so your patio will be protected.
The firepit's generous size is great for grilling hot dogs and hamburgers, as well as making s'mores. If you're planning a barbecue for a lot of guests, this would make an excellent choice, as well. The depth of the bowl is the perfect size for a cozy fire, too. After you're finished using it, the safety ring that surrounds it doubles as a handle, which is a big plus.
A firepit will bring warmth and charm to your outdoor space. It will provide a focal point to your design as well as a gathering point for family and friends. The costs vary greatly, and you should look over the reviews. They also come in various stages of assembly, which should be another consideration for you.. Our pick, the Hampton Bay Piedmont Fire Pit, requires minimum assembly that will save you from the hassle of constructing it. Just set up, use, and enjoy.
This firepit will be great for entertaining and would be a nice asset to your outdoor space.
Editors' Recommendations