Stomach sleepers take a lot of flack for their favorite sleeping position, but the truth is that it's hard to change the way you sleep. No matter how many times you may try to get comfortable enough to fall asleep on your back, you still find yourself on your stomach when you wake up. With that in mind, selecting the right stomach sleeper pillow is essential.
When choosing this type of pillow, stomach sleepers should remember that the thinnest and softest option is best, since larger options may force the head into an awkward angle, causing stress on the neck or shoulders. Stomach sleepers are said to need the least amount of pillow support of all sleeping positions, so thin and soft is ideal.
Let's explore what makes these pillows the best stomach sleeper options available. And if you switch positions throughout the night, you can also check out our picks for pillows for back sleepers and side sleepers. Make sure to take a look at the best latex pillows if you want to know more.
The best pillows for stomach sleepers
Most innovative design: Purple Pillow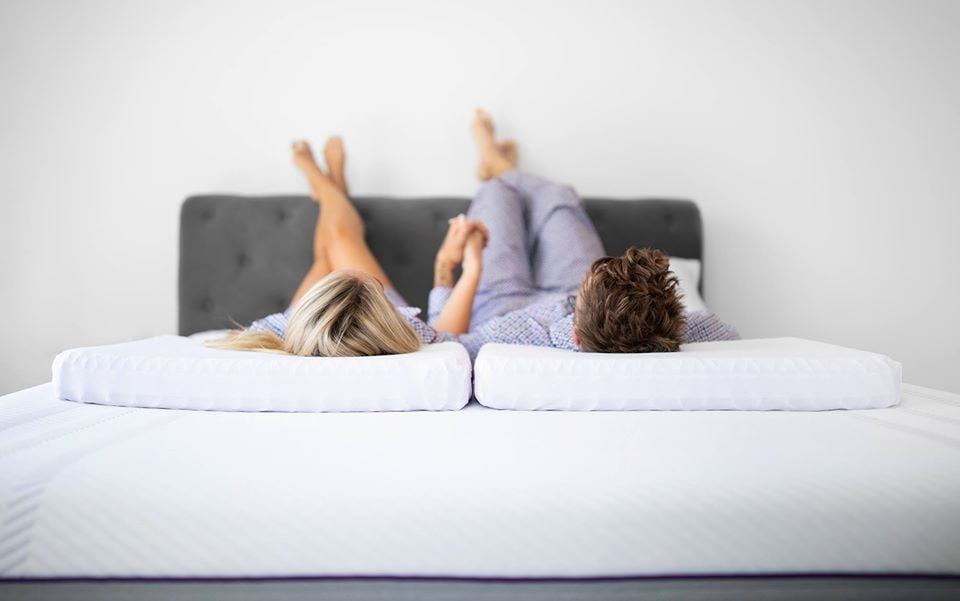 Another excellent option for both stomach and back sleepers, the Purple Pillow is designed to keep users cool throughout the night without any extra fill to bunch things up. Comprising a proprietary grid with fortified edges to cradle your head in proper spinal alignment, the Purple Pillow is made of sturdy hyper-elastic polymer while still soft enough to support even the most finicky of stomach sleepers. These pillows come with a removable, machine washable cover, a 100-night sleep trial, free shipping, and a one-year warranty.
Filling: Proprietary Purple Grid technology, open-air channels, and temperature-neutral gel (also comes with new adjustable height inserts for customization).
Firmness: Firm.
Who's it best for? The cooling properties help out the hot sleeper, while the firmness and ergonomic design are great for those who need extra support.
Shop at Purple
Best for all sleep positions and hot sleepers: Tuft and Needle Original Foam Pillow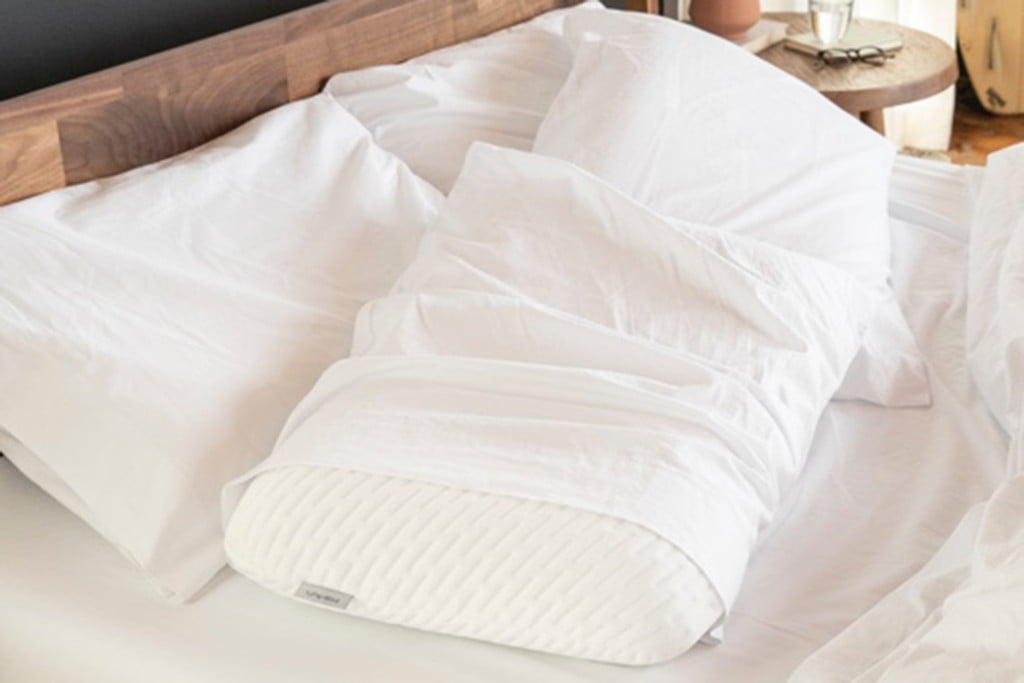 At a slim five inches thick, the Tuft and Needle Original Foam Pillow is great for stomach sleepers — but is known to be ideal for all sleeping positions including back and side as well. Constructed with the perfect blend of foam, cooling gel, and graphite, this pillow ensures you'll sleep cool all night while staying gently supported. The proprietary foam won't flatten out while you sleep, so there's no need to wake up and "fluff" these pillows. These are offered with Tuft and Needle's 100-night sleep trial so you can make sure you like it; you'll have the option to return it for a full refund if you don't.
Filling: Graphite and gel-infused memory foam.
Firmness: It's a great balance of soft and firm; medium firmness.
Who's it best for? Hot sleepers as well as back, side, or stomach sleepers can benefit from this pillow.
Shop at Tuft and Needle
Best adjustable and reversible: Leesa Hybrid Pillow
The Leesa Hybrid Pillow's slim construction and removable pillow insert make it a popular choice among stomach sleepers, as well as many who prefer other sleeping positions. It comes with optimal neck support, a super soft cover, and chilling fibers to help the hot sleepers stay comfortable all night. Choose between a standard or queen size when you purchase your Leesa Hybrid Pillow, and you can count on a three-year warranty.
Filling: Polyester microfiber and ventilated gel.
Firmness: Adjustable.
Who's it best for? Hot sleepers, stomach sleepers, and those who need extra neck support.
Best pillow-in-pillow design: Nectar Memory Foam Pillow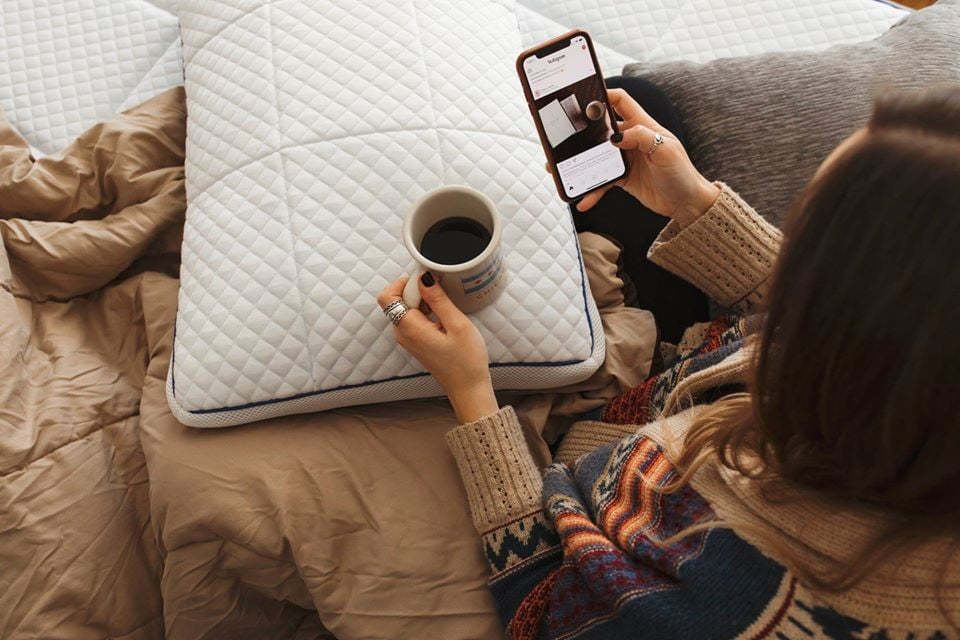 The Nectar Sleep Memory Foam Pillow's adjustability is primarily what makes it ideal for stomach sleepers. Since the stomach sleeper doesn't require as much support as other sleep positions, the inner fill can be removed until the softness and support are just right. The next best part is it comes with a 50-night sleep trial so you can try it out risk-free before officially purchasing. Don't like it after all? Get your full refund back. Just keep your receipts! These pillows are easy to spot clean with gentle soap and water, so you'll never need to machine wash.
Filling: Two types of foam, including Visco elastic memory foam.
Firmness: The two types of foam included make the pillow equally supportive and soft. It's also adjustable, so you can make it as firm as you like.
Who's it best for? Hot sleepers and stomach sleepers primarily, but with the adjustability, it can work for pretty much all sleeping positions.
Shop at Nectar
Best down alternative: Brooklinen Plush Down Alternative Pillow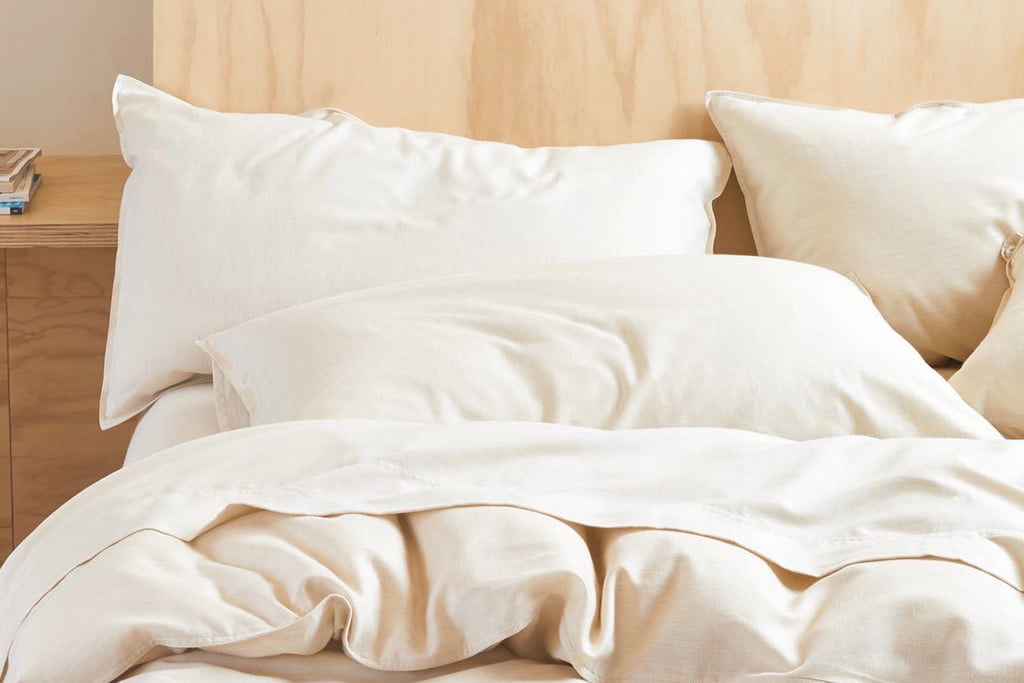 For stomach sleepers, the Brooklinen Down Alternative Plush Pillow provides all the light support you need while keeping your neck and spine adequately aligned. It's sumptuous to the touch, offered in two sizes (standard and king) and three densities (plush, mid-plush, and firm), as well as hypoallergenic, vegan, and made in the U.S.
The shaved microfibers specifically made for this product were created to mimic the exact feel of down and are available in three different constructions. The Plush Pillow is the softest and fluffiest, and is recommended for stomach sleepers.
Filling: 100% Polyfill shaved microfiber alternative down.
Firmness: Choose from plush, mid-plush, and firm.
Who's it best for? Stomach sleepers, but you can adjust the density to match all sleep positions. It's also great for those in need of neck support.
Most plush/ best choice of density: Parachute Down Alternative Pillow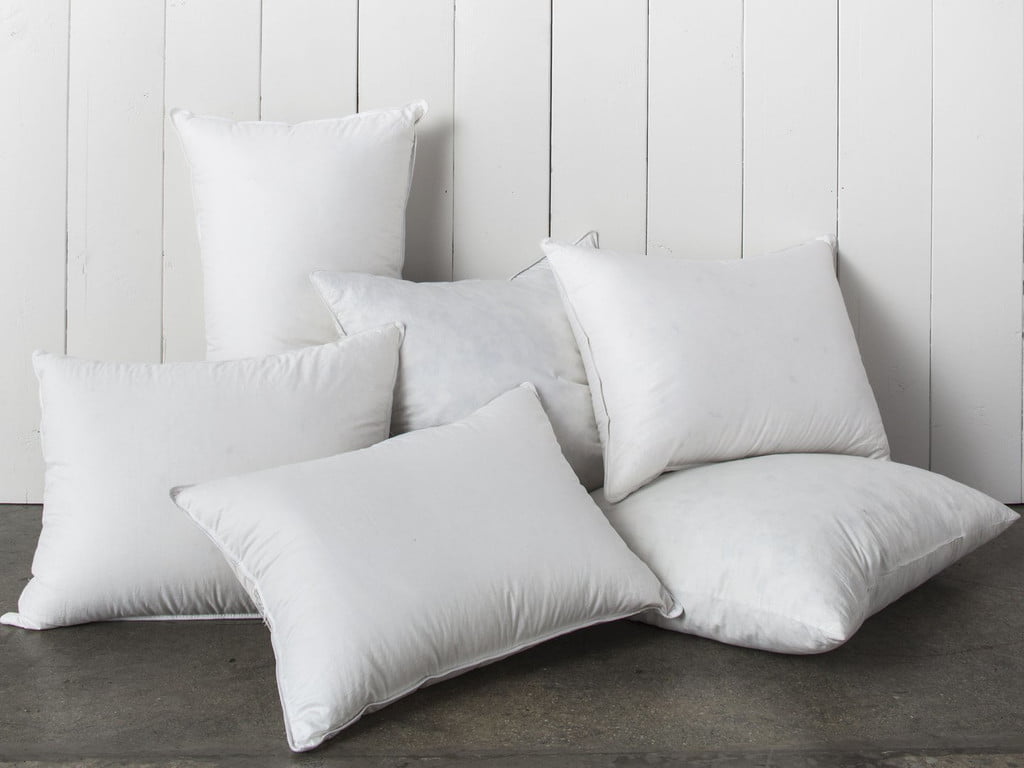 According to Parachute, stomach sleepers often opt for no pillow at all since their necks rest in a neutral position naturally. Since pillows are designed to align your head and neck with your spine while sleeping, stomach sleepers usually sleep best on thinner, softer pillows. This makes the Parachute Down Alternative Pillow their most ideal choice for stomach sleepers. With its softest density selected (there are three options available), along with its 100% sateen cotton shell and hypoallergenic fill, this slim pillow will suit the stomach sleeper well.
Filling: 100% hypoallergenic microfiber.
Firmness: Choose from three densities (soft, medium, and firm).
Who's it best for? If you're a stomach sleeper, choose the softest density. Otherwise, choose based on your sleep position for best results.
Most versatile: Coop Home Goods Eden Pillow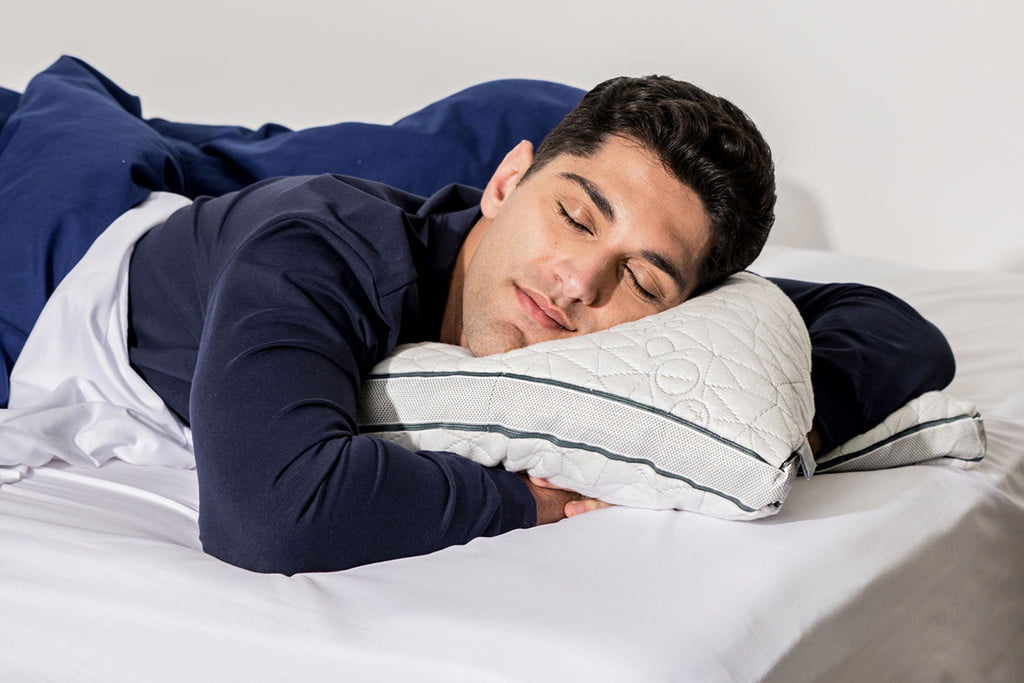 The Coop Home Goods Eden Pillow is known for its versatility to suit both stomach and back sleepers as well as those who tend to sleep hot. These pillows are uniquely supportive and adjustable, arriving with an extra half-pound bag of fill included in the package for customers to add as they wish. Made in the U.S., Coop Home Goods pillows are proudly cruelty-free, as well as hypoallergenic.
Filling: Viscoelastic polyurethane and polyester.
Firmness: Soft, but you can add more fill to adjust.
Who's it best for? Hot sleepers, stomach and back sleepers, and those who prefer a soft pillow.
Shop at Coop Home Goods
Best fair trade: Boll and Branch Down Alternative Pillow
For those who prefer to sleep on their stomachs, Boll and Branch has created the perfect balance of softness and support in their Down Alternative Pillow. Affordable, allergy-friendly, lightweight, and customizable (you can choose between soft and medium/firm density, as well as standard or king sizes), these pillows are made using sustainable materials, responsible manufacturing, and fair trade. Their proprietary PrimaLoft fill mimics down perfectly, and their 100% organic cotton shell ensures your face meets the cushiest surface possible as you head off to slumberland.
Filling: Proprietary PrimaLoft fill (designed to mimic natural down).
Firmness: Choose between soft and medium/firm.
Who's it best for? For those with allergies or anyone who enjoys a soft, medium, or firm density.
Best checkout deal: Casper Original Foam
Built with every sleep position preference in mind, the Casper Original Pillow is as versatile as it is breathable. Stomach sleepers should find this pillow highly satisfactory, with the inner core being supportive and the outer shell adding just a pinch of coziness for the perfect night's sleep. Users can look forward to sleeping cooler with this pillow too, as its percale weave allows for increased airflow. What's the best checkout deal? Enter the code DIGITALTRENDS for a discount on your total bill at checkout.
Filling: Polyester microfiber.
Firmness: The inner pillow is supportive, while the outer is soft.
Who's it best for? Side sleepers, back, or stomach sleepers.
Best Talalay latex option: Brooklyn Bedding Talalay Pillow, Low Loft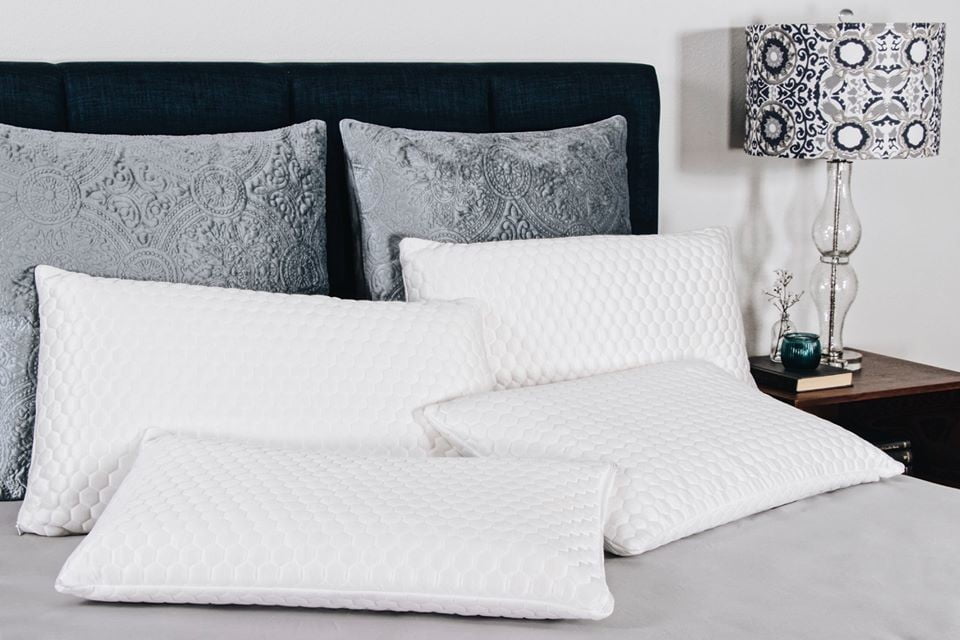 Since starting off with humble beginnings in 1995, Brooklyn Bedding now successfully manufactures its own as well as numerous other private-label mattresses and other bedding in the U.S. Creating each product they provide with careful customization and craftsmanship, this company suggests their Talalay Pillow with low loft for stomach sleepers. This pillow should help keep the spine aligned properly, preventing and/or alleviating neck and shoulder pain, while the low loft latex lets warm sleepers sleep cooler as well.
Filling: Talalay latex, natural.
Firmness: Adjust the loft to soft, medium, or firm, and personalize your pillow to your tastes and sleep position preference.
Who's it best for? Hot sleepers and stomach sleepers.
Editors' Recommendations