Congratulations, side sleepers! It turns out that the way you're sleeping isn't just helping to keep your spine in alignment and alleviating pressure on your back and airway, it's actually scientifically proven to be the healthiest sleeping style. You probably won't snore like a back sleeper, and you won't be likely to twist your spine and neck like stomach sleepers tend to. But don't celebrate too quickly – without the proper pillow, you're just leaving yourself open to the same injuries and problems that back and stomach sleepers do.
To get the optimal side sleeping technique down, opt for a premium pillow with a high loft, like memory foam. But if you're not a memory foam fan, or if you're looking for a pillow constructed of natural materials, you should look no further than latex pillows. Latex pillows offer both firmness and buoyancy while elevating your head. As a side sleeper, your shoulders lift your head and neck far from the mattress, especially if you're broad-shouldered, so you should fill that gap with a high lofted pillow. Stomach sleepers and back sleepers, don't hit that back button yet. The right latex pillow can actually be a decent choice for you, too. After all, aren't we all just looking for tools to help us sleep better?
At a glance:
Best budget pillow: Simmons Beautyrest Latex Foam Pillow
This peculiar-looking pillow is crafted of 100% Talalay latex and is stellar for side sleepers who need high loft but who still prefer to sink into their pillow a little bit. Latex is typically very firm, so this is a good choice if you have dreams of sleeping on a cloud but get waking headaches from pillows made from softer materials like down.
Features: Comes with a 250 threadcount sateen zipper cover
Size and Price: Queen — $55
Best adjustable pillow: PureTree Organic Natural Shredded Latex Foam Pillow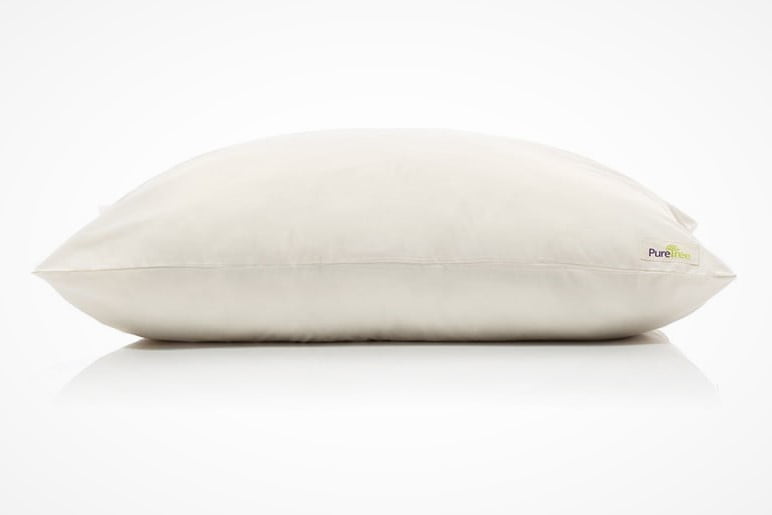 Stomach and back sleepers, stop scrolling. If you love the springiness and support that latex offers, plus the fact that latex is a natural material, check out this shredded latex pillow by PureTree. While some sleepers might prefer molded latex because shredded latex might feel lumpy, this pillow offers something no 100% molded latex pillow can: it's adjustable. The shell was designed to unzip, so if you're a stomach sleeper in need of an ultra-flat pillow, or if you're a hybrid sleeper who has no preference over back, side, or stomach, you can remove or add more shredded latex to this pillow at will.
Features: Loft – 2.5 inches. Ideal for sleepers who like to move to their back or stomach
Size and Price: Queen – $60
Best pillow for hybrid sleepers: Pacific Coast Restful Nights Latex Foam Pillow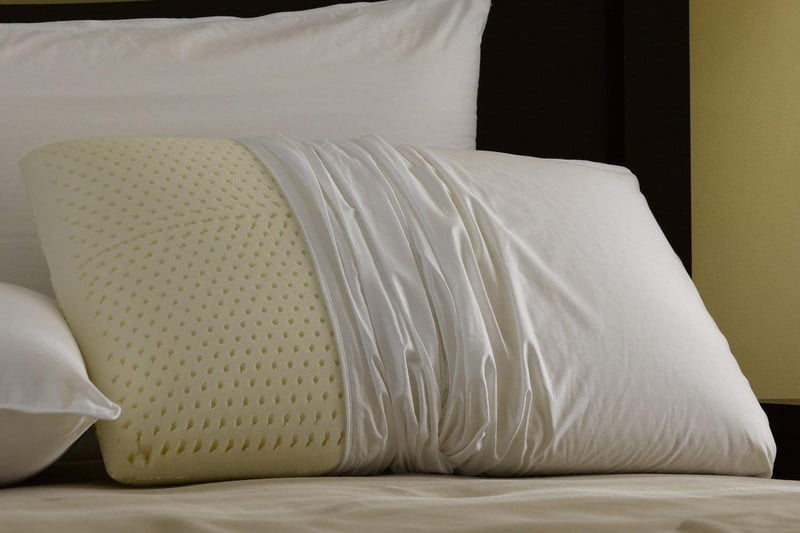 Another great choice for stomach and back sleepers, Pacific Coast has created a molded latex pillow that suits everyone. Stomach sleepers who want a latex choice but don't like shredded latex, here's your best bet. Because it's hole-punched, stomach sleepers need not worry about getting too hot at night, either; even if you're lying face down on this molded latex pillow, you'll feel air circulation and comfort.
Ideal for sleepers who have no back, side, or stomach preference, but like the feel of molded latex
Size and Price: King – $78
Best contoured pillow: Purple Harmony Pillow
If you're not into memory foam but still enjoy the contoured feeling of your head sinking into cushy comfort, try the Purple Harmony Pillow. This pillow's inner core of hypoallergenic Talalay latex combined with the innovative proprietary Purple Grid Hex technology gives the perfect amount of support to the sleepy head. What's more? Its 'Cool to the Core' thorough airflow design and moisture-wicking cover provide hot sleepers with cooling relief all night as well. Try it risk-free for 100 nights.
Features: Machine washable. Available in 2 heights, each designed for different sleep positions
Size and Price: Queen – $160
Best luxury pillow: Custom Comfort Mattress Molded Latex Pillow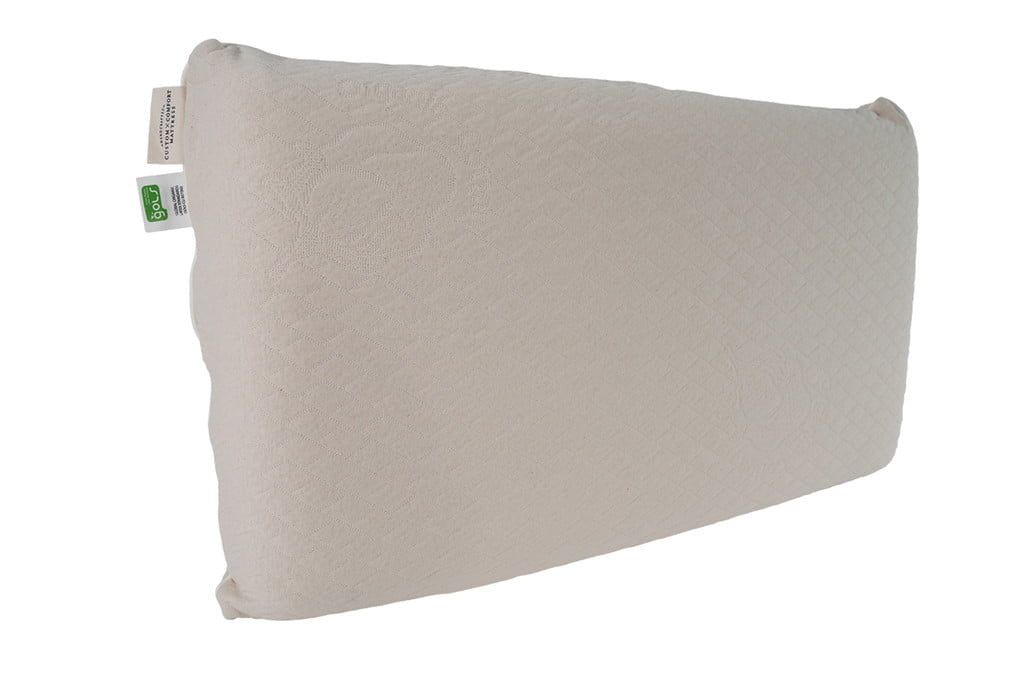 Custom Comfort Mattress has created a natural organic molded latex pillow. Back sleepers, cozy in — your partner won't have to worry about you snoring because you're sleeping on a pillow that's too flat. This perforated, molded latex pillow is perfect for the sensitive sleeper. If shredded latex feels too lumpy or you just like the feel of an even, well-formed pillow, molded latex is the way to go. However, you don't have to sacrifice the coolness that shredded latex offers, as Custom Comfort Mattress uses holes punched throughout the pillow to keep you from overheating at night.
Features: Ideal for back sleepers or those who sleep hot
Size and Price: King – $78
Best organic latex pillow: Avocado Molded Organic Latex Pillow
If you need a little extra neck support and prefer a high-quality organic brand, look no further than Avocado Green's new Molded Organic Latex Pillow. Built around a charcoal-infused latex center, this pillow provides a firm contouring base while fighting excess moisture and odor with only natural, vegan, and certified organic components. It comes with a removable cover made of certified organic cotton as well.
Features: Great for back and side sleepers
Size and Price: Available in standard, queen, and king sizes – $100
Best hotel quality: The Saatva Pillow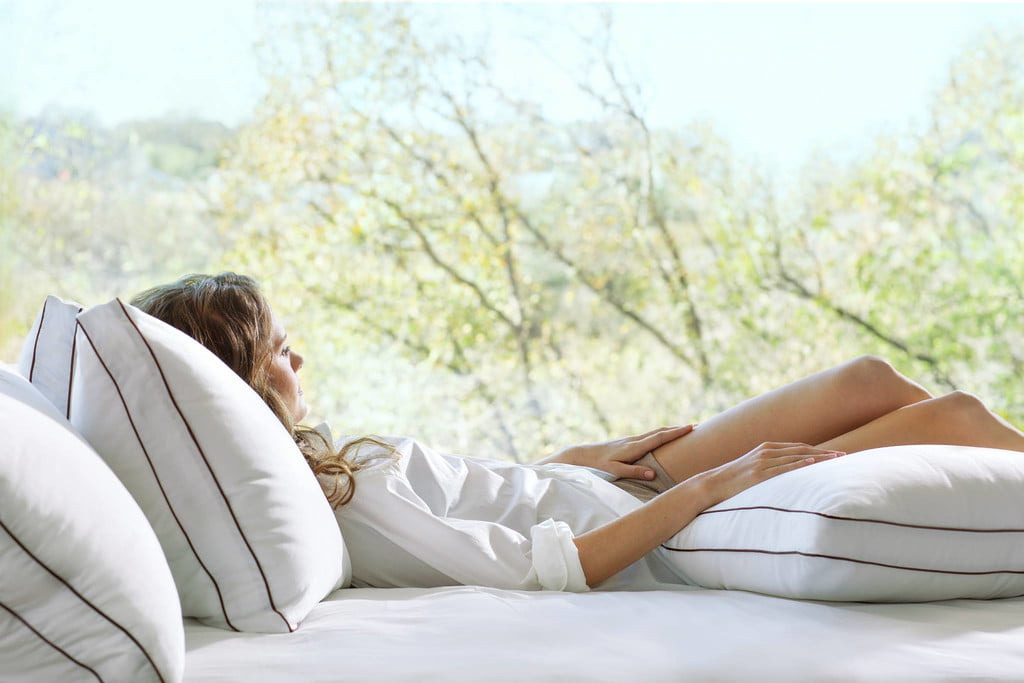 For a little hotel quality indulgence without the hefty price tag, check out the Saatva Pillow. Comprising environmentally friendly and supportive natural Talalay, this pillow integrates a shredded natural latex with 100% cotton and a removable inner pillow. The latex core helps the pillow adjust to any sleeping style. The Saatva Pillow is hypoallergenic and recommended by top chiropractors and orthopedists.
Features: Mildew proof. Dust mite resistant
Size and Price: Queen -$145
Best zoned support: MALOUF Z 100% Natural Talalay Latex Zoned Pillow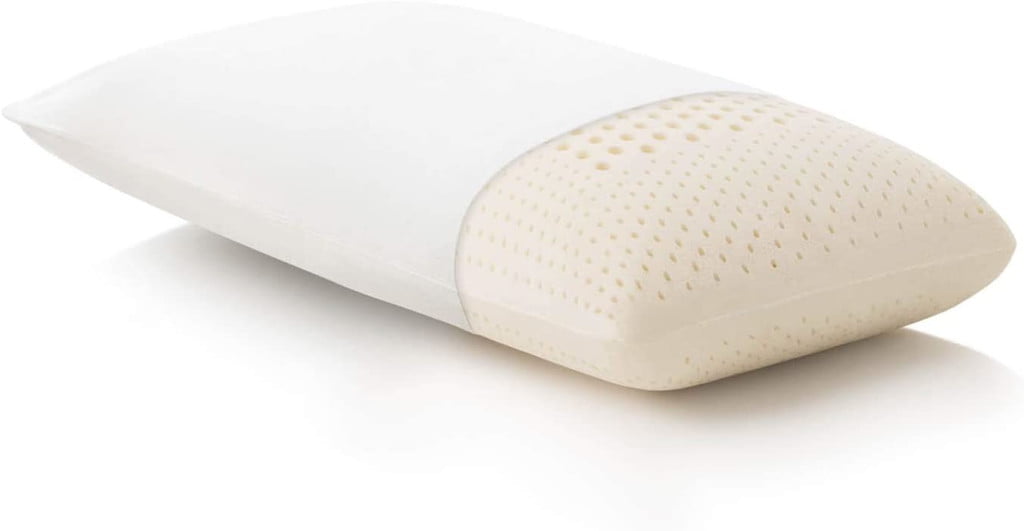 The zoned support, superior technology, and 100% cotton cover woven into the MALOUF Z 100% Natural Talalay Latex Zoned Pillow provide ideal pressure relief combined with a naturally breathable surface. Excellent for side sleepers or those who prefer a nice, full pillow with a loft of 4.5 – 5.75-inches. Available in High or Low Loft Firm and High or Low Loft Plush, as well as Queen or King sizes, this pillow is made only with sustainable latex trees.
Features: Naturally mildew proof and dust mite resistant
Size and Price: Queen – $100
Pros and cons of latex pillows
Latex pillows definitely aren't for everyone. For the most part, they're too high and firm for stomach sleepers, who typically want the cloud-like yet flat experience of down pillows. On the other hand, back sleepers need just enough support to prevent snoring but the softness so they're not in a head-forward posture all night. Of course, there are exceptions like with any pillow material, but heavy, broad-shouldered, and firmness-loving side sleepers can expect to feel comfortable sleeping on a latex pillow. Here are some of the things you should consider before buying one.
Pros of latex pillows
Because of the great support they offer, latex pillows can reduce neck and back pain and stiffness. Goodbye, morning headaches.
Latex is made with all-natural rubber – usually. Talalay latex is what you should look out for if high quality and natural latex is important to you.
Because latex gives you the experience of sleeping "on" your pillow, rather than "in" it like down pillows, it sleeps cooler than down.
Latex is naturally mildew-proof and dust-mite resistant.
It's naturally supportive and retains its shape well, so your head won't form a valley in your pillow.
Cons of latex pillows
Latex is super firm. This is a pro for side sleepers, but stomach sleepers probably want something softer that they can sink in to. However, stomach sleepers can still find a swath of great pillows designed just for them.
Your latex pillow will probably smell a little (or a lot, depending on how it was made) fresh out of the box. The smell isn't harmful, but it will probably be annoying to sleep on. Let it air out a few days before you take it to bed.
Latex is an interesting and versatile material, but if you're not used to it, you may need an adjustment period. Give it time if you hate it at first; once you adjust, you may just find yourself waking up pain-free for the first time.
It's common to be allergic to latex. If you notice a rash or your skin is irritated after testing out your new pillow, ditch the latex.
Are you overhauling your bedroom and looking to upgrade your sleep? Check out mattresses recommended by health experts, the best cooling pillows for the summer, and much more at our website.
Editors' Recommendations