Sinks are one of the biggest conversation topics when it comes to remodeling kitchens. What used to be a fairly standard, boring kitchen item is now one of the best ways to bring character and function into the space. There are so many sink material options to choose from that you need to understand what will work best for how you will use it.
There are pros and cons of popular sink materials such as stainless steel, cast iron, stone, copper, and enamel (to name a few), and you'll need to consider these in the context of the overall design of your kitchen. We've done the work for you to break down the benefits and drawbacks of each material, as well as other considerations for deciding the best kitchen sink material for you.
Stainless steel sinks
The most classic, longest-used sink material, stainless steel is timeless and popular for many reasons. Here are a few pros of buying a stainless steel sink:
Highly affordable
Easy to clean
Customizable so it can be over- or undermounted on the kitchen counter
Durable and long-lasting
Heat-resistant
Stainless steel can be hard to beat, but it does scratch easily and is prone to water spots. That said, if you're looking for an affordable option that's easy to clean, stainless steel is for you!
Cast iron sinks
If you're looking for luxury, cast iron sinks should be a consideration for your kitchen. They are gorgeous, and we love them in farmhouse kitchens because they really add to the overall design. Here are some other reasons we love cast iron:
Rust-resistant and easy to clean (with porcelain finish)
Durable
Comes in tons of colors
Highly sanitary
Makes a bold statement
Like we mentioned above, luxury comes at a cost. Cast iron sinks are more expensive than other options, and they can be difficult to install because of their weight. The porcelain enamel also can be prone to chipping, so you need to be careful when washing dishes.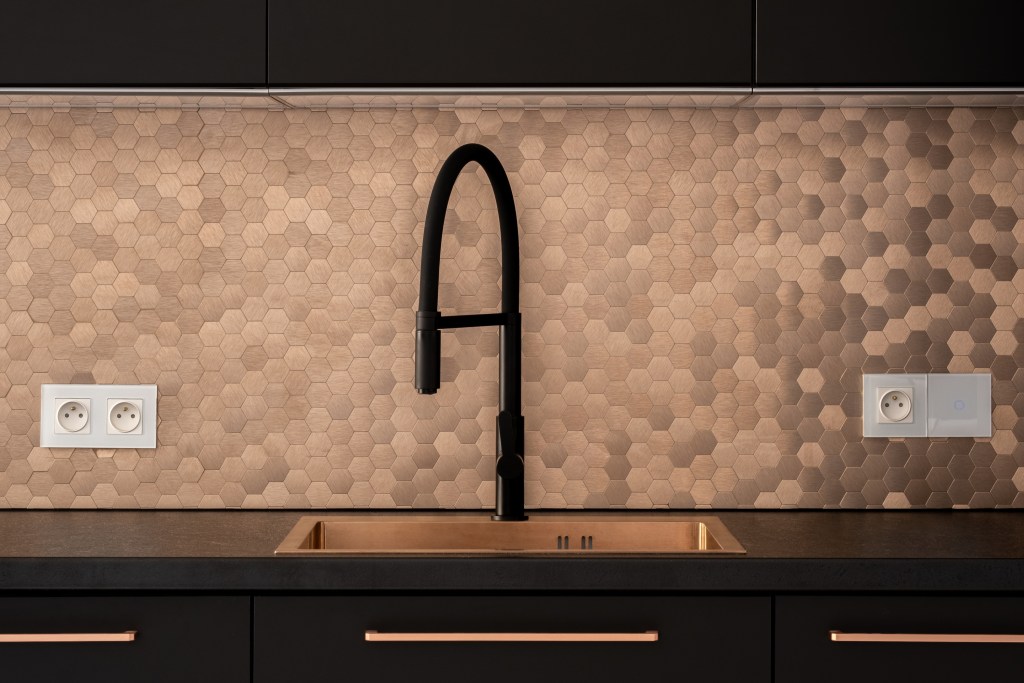 Copper kitchen sinks
Copper is a fan favorite of ours because it delivers such character and warmth to a kitchen. Copper sinks work in many home styles, but we love them in a farmhouse or vintage-style home. Here are some of the many reasons to choose copper:
Affordable and easy to install
Durable
Color will change over time as it ages (we love this, but something to keep in mind)
Makes a statement
Copper sinks are easy to clean, but you need to do so regularly so they don't tarnish. They can also dent easily, so make sure whoever is installing this knows how to do so properly. You'll also want to be careful setting dishes in it once it's installed.
Natural stone sinks
Stone sinks are carved out of natural stone like granite or marble, so they are all unique and incomparable to other types of sinks. This is one of the most expensive types of sinks you can buy, but it may be worth it for how it will look in the heart of your home. Here's why we love them:
Extremely versatile and can be used as an over- or undermount, apron-style, or farmhouse sink
Durable and long-lasting
Naturally nonporous, so it won't stain
One of a kind
As we mentioned above, it's not only expensive to buy but also expensive to install a stone sink because it is so heavy. You'll also need to reseal it yearly to make sure your investment stays protected. That said, if you have the budget, a natural stone sink is hard to top.
All the sinks above will look gorgeous in any kitchen, and with the mix-and-match mentality of today's designers, you can add a farmhouse sink to a more traditional kitchen to breathe new life into your room. Understanding how you will use the sink (and who will use it) can help you decide what will work for your lifestyle. For instance, if you have young kids who may drop things frequently, you may want to avoid sinks that scratch or dent easily. If you have a big budget and want to go all out, you may be able to splurge on one of the luxury sinks above.
As with anything, your decision will come down to personal preference. Do some shopping online or in person to get a sense of what really speaks to you before you decide. With so many choices, styles, and colors, you're bound to find one that will work for you.
Editors' Recommendations