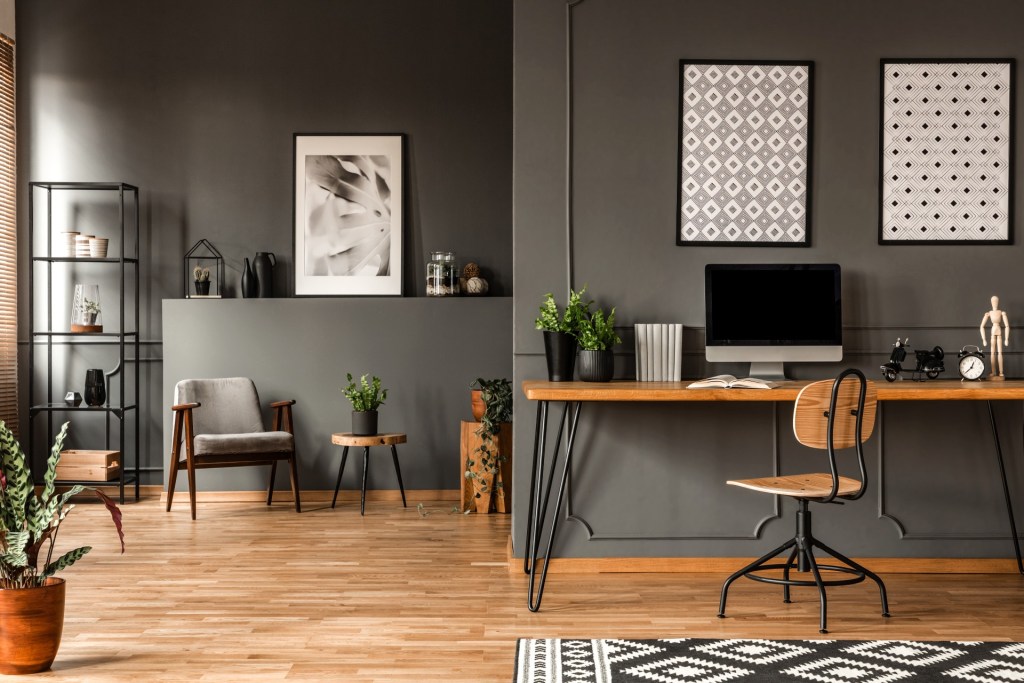 The home office may have been a forgotten space tucked away in a small spare room with a hodgepodge of pieces selected with little thought or style in years past. Today that has all changed, and our offices are as important to our lives as our living rooms. One of the biggest components of a home office is the desk. Since it is likely the largest piece of furniture in the space, you want it to be functional and add to the overall aesthetic.
There are a few questions you need to ask before you make a desk selection. What are your expectations for the desk? Meaning, does it need to have a lot of storage or huge working space? Do you need drawers, or would you prefer a more minimal look? There are several different kinds of desks, and you will want to get the one that fits in best with your style and work needs. Below, we offer our picks for each category.
Writing desk
These are generally very minimal, with a large, flat surface perfect for working on a laptop. Typically, this desk does not offer a lot of storage, but it gives your workplace an airy, uncluttered feel. The Sloan desk from World Market features a warm wood finish with sleek, U-shaped antique gold metal legs.
Campaign Desk
Although the Campaign Desk looks similar to a writing desk, what differentiates it is its crossed legs. Its name comes from its origins of being used in the officers' rear areas of a military campaign. Today, they come in many finishes and looks. This Spotlight Desk by Crate and Barrel offers a sleek tabletop with a wide smart storage drawer. Its X-shaped legs give a nod to the past, but its updated style will be at home in any modern office.
Executive desk
Generally, these desks come in more traditional styles. They have large footprints, so they work best in designated home offices. The plus of an executive desk is that it has a lot of storage with multiple drawers for hiding away paperwork and other supplies. The Pottery Barn Livingston Executive Desk has classic details like crown molding and fluted posts. What we like best about it is that, unlike some less expensive versions, it is finished all around, so it will look good no matter which direction it is placed. It is also available in four finishes.
Modular Desk
If you have a larger home office and want some flexibility in having specific work zones, this is a great option. It often includes one main surface and another side surface, so each can be used for a different task. Style meets function in the Industrial Modular Desk from West Elm. It is made from richly-grained mango wood, which sits on blackened metal legs. It includes a large file box with deep drawers and shelves. It also has smart design features like cord cutouts for easy cable management.
Secretary Desk
If space is limited, this may be the desk for you. Since they are petite in size, secretary desks work well when your office space is part of another room. They usually have several smaller drawers that are ideal for holding mail and supplies. The Fairbanks Secretary Desk and Hutch from Joss & Main has a versatile silhouette that fits in with any design aesthetic.
If space is even tighter, the Downing Corner Desk, also from Joss & Main, turns an often-unused part of the room into a compact home office. It even has a good-sized drawer and lower-level shelves for storage.
Standing desk
The standing desk trend has gotten more and more popular in the past few years, and there are many reasons why. Sitting hunched over a desk for entire days at a time isn't good for your health or your well-being. You burn more calories standing, and there is even evidence that working at one can lower obesity rates and reduce back pain. These desks are adjustable, so no matter your height, you will be able to work comfortably. The Uplift Bamboo Standing Desk is made from sustainable products and offers an attractive, sturdy workspace.
Editors' Recommendations