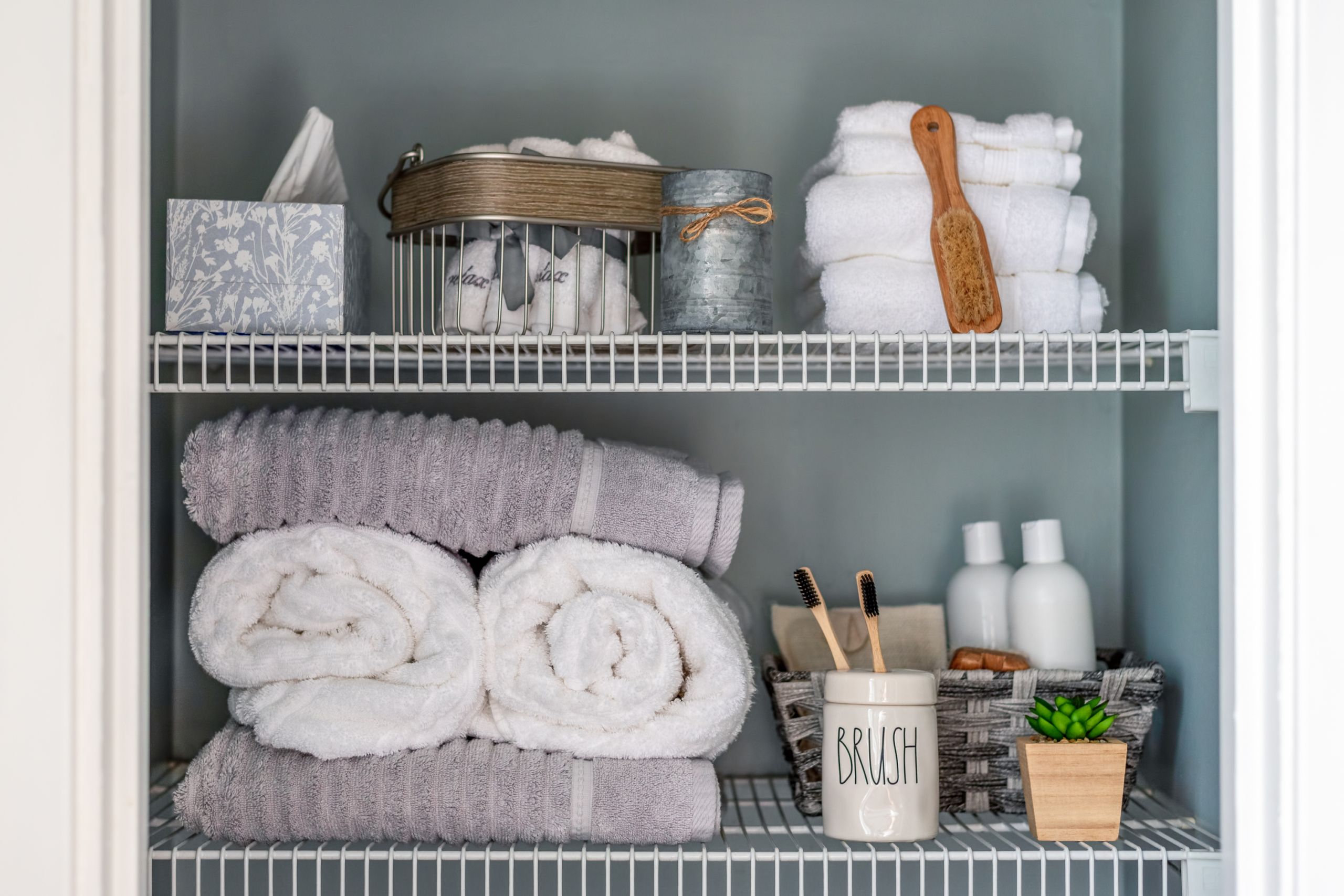 The bathroom may possibly be the most widely used room in the house, and it's often among the smallest. Keeping it organized will ensure everything has a place. There are many underutilized places for storage, and with some clever organization, you can take your bathroom from disorderly to streamlined in no time. Here, we explore the keys to DIY bathroom-organization bliss.
Take stock
Before you begin outfitting your bathroom, the first step is to take stock of what you have. That means emptying drawers, showers, and cabinets of everything and sorting through all the contents. This is the time to be realistic. Are you really going to use that shampoo you bought two years ago? In the medicine cabinet, go through medications and other products and throw away any that are expired. Consider whether storing an entire box of something is necessary — perhaps you could keep it elsewhere and have a portion in the bathroom itself. You may want to upgrade towels. Old, ratty towel ones can often be donated to animal shelters. Remember, it is all about pairing down and only keeping what you truly need and use.
How to organize bathroom cabinets
In this case, compartmentalizing is a good thing because the dirty truth is many bathrooms look relatively neat at first glance, but open any drawer and chaos ensues. It is time to bring order to the inside as well as the outside. Drawer dividers like this one from Poeland are available in many finishes — wood, plastic, or metal — and not only make hidden spaces look custom, they also help categorize what is inside.
Larger items should be kept in larger cabinets. To maximize the square footage, add a two-tier lazy Susan and keep bigger items on it. The mDesign Storage Turntable works well, and its clear design lets you see what is on it. Bathrooms are one of the most frequently cleaned spaces in your home. Keeping cleaning supplies in one easy-to-pull-out bin means you will always know exactly where they are.
Think vertical
One of the golden rules of storage is to go up. By putting items in containers that can be stored upright, you will be able to fit more of them. Not only is it more efficient to keep items such as toothbrushes and makeup brushes upright, it is also more sanitary. Instead of keeping bulky cotton swab and cotton ball containers in cabinets or drawers, transfer enough for a week or two into a clear canister or basket to maximize space. This also goes for toilet paper, which can be kept on a vertical storage tower or circular basket, and tucked into a corner.
One of the most underutilized spaces in the bathroom is the wall above the toilet. Install a cabinet for additional storage or add shelves. This Pottery Barn one brings a stylish look and can be accented with baskets or decorative containers. Wall-mounted caddies like these from ivkey can be adhered to walls, mirrors, or tile, offering great storage for toothbrushes, small bottles, and any odds and ends.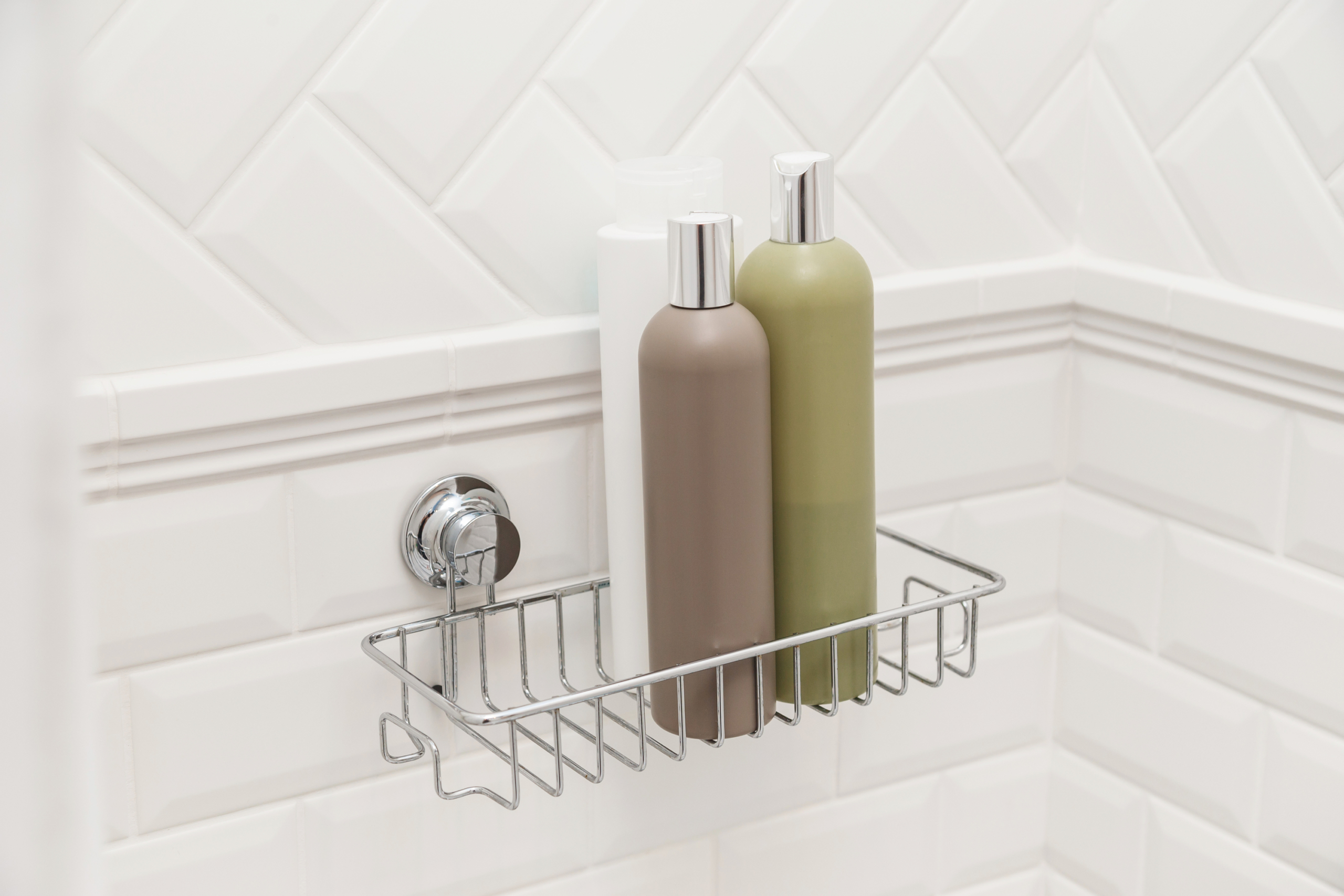 Streamline the tub
Obviously, you need shampoos, conditioners, and soaps in a shower or bath, but now that you've hopefully pared down what you have, it is time to keep it streamlined. A caddy that wraps around the showerhead keeps bottles in one convenient location. An alternative is wire baskets that come in all shapes and sizes for a customized option that can be suctioned to tile. If you have little ones, they are perfect for keeping bath toys in check.
Form and function
Decorative baskets and planters not only store larger items such as hand towels and hairdryers, they can also add to your overall design style. A rustic basket adds an organic element and is a great vessel for rolled towels. Think outside the box — a decorative planter on a shelf doesn't necessarily have to hold a plant. It may be the perfect catchall for hair styling products and brushes.
Taming towels
Towels are a necessity in the bathroom, and there are more interesting ways to store them than on a towel bar. A ladder such as this bamboo spa ladder not only adds a chic design statement to your space, it offers storage for multiple towels instead of just one or two. A hotel-style vertical towel rack also gives extra storage for different sizes and doesn't take up any floor space.
Editors' Recommendations