Keep in mind the risk factors and how they are addressed through the ladder's design and construction. According to reports, ladders are a part of 43% of fatal falls in the last decade. Don't be a part of the statistic: Figure out what ladder is right for you and stay safe while performing tasks on a ladder.
The quality of the ladder comes down to more than just its height: Can you reach what you need? Are you able to secure it properly for use? Can it hold the weight of the person and tools they are carrying? Is it easy to ascend and descend? These are questions you want to ask yourself while searching through your options. We have taken these into consideration while compiling these choices for you.
Little Giant Ladder Systems Flip-N-Lite Stepladder
Best overall
This industrial-rated construction ladder is made to be lightweight and highly maneuverable while still maintaining a reliable structure. The 14.25" x 12" standing platform at the top of the ladder offers a stable support for the user to stand on while working. This ladder can handle up to 300 pounds on each step and has met all OSHA and ANSI safety standards for quality and safety.
This ladder was made to be safe without being expensive. It will be light on your wallet and in your hands as you carry it around for use and storage. The easy assembly and takedown also prevent any unnecessary pain and injury when moving the ladder around.
Best Choice Products Folding Step Stool Ladder
Best step stool ladder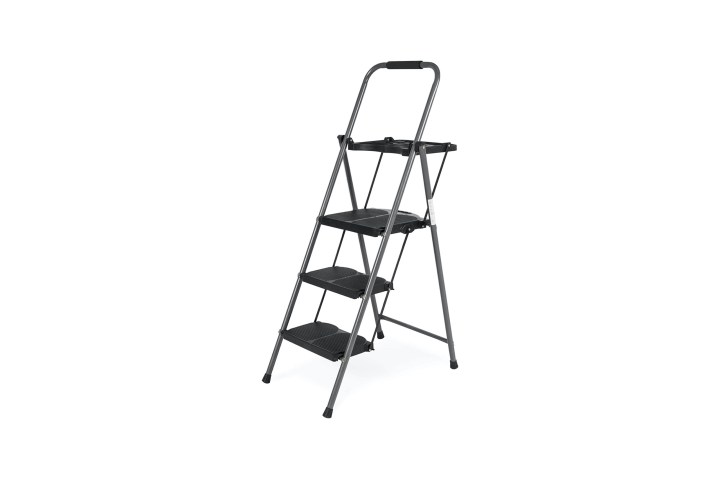 Not every job requires 6-foot heights, but you still need a formidable step ladder for tasks around the house. The Best Choice Products Folding Step Stool Ladder brings you that stability and durability. The anti-skid rubber feet provide a stable footing during use, and the high-grade steel frame makes it built to withstand long-term use. This stepladder can be used indoors for decorating or painting, and it can be used outdoors when hanging lights or fixing awnings.
The top tray includes a convenient holder where users can store tools, paint trays, and other hardware for projects. The whole stepladder folds up neatly for easy carry in and out of storage in a garage or closet.
Xtend & Climb 750P Telescoping Ladder
Best compact ladder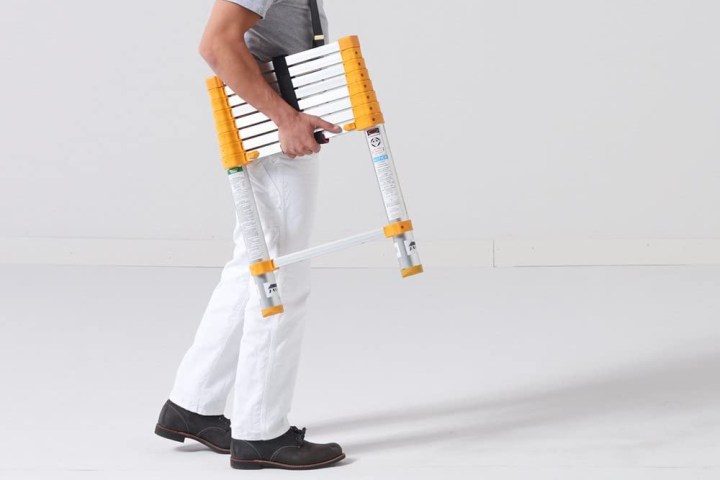 The Xtend & Climb 750P Telescoping Ladder is ideal for those who need to store their belongings in tighter areas like condominiums or apartments. It also becomes a portable ladder that can be used when traveling elsewhere to complete other DIY projects. The ladder is made from airplane-grade aluminum alloy to stay sturdy through travel and during prolonged use on its rungs. The double-molded feet create a steady placement for users so they don't have to worry about accidental injury.
The ladder also comes with ergonomic design details like an angled-thumb release to ensure proper hand position and an integrated carrying handle for easy transport.
Kick your project up a notch by checking these choices out for your use. Nobody will be able to get on your level with these heightened quality products. Make sure that you have a stable frame and proper adjustments for height and footing to get the most out of your ladder. Getting the perfect ladder isn't out of reach when you know what you're looking for.
Editors' Recommendations