The essential concept of sustainability focuses on the three main areas impacted by an item's production: Environmental, economic, and social. In other words, the impact of a product or component of a product on these three areas is considered in order to determine its sustainability.
When sustainability is kept in mind, businesses are encouraged to plan around not only what benefits them in the short-term, but also the needs of future generations. In regard to fabrics, there is a broad range to choose from, with sadly only a few brands striving for sustainability. However, there is a rising number of companies interested in creating sustainable products, alongside a growing number of customers demanding it with their dollars. When we shop for fabrics for our bedding, clothing, etc., we should also try to seek out the most sustainable fabrics available.
Overall, the most sustainable fabrics are those that comprise the following qualities:
Long-lasting and durable; useful for years to come.
Manufactured sustainably using low-impact processes and sustainably-sourced and/or recycled materials.
Manufactured ethically by people who are treated fairly and paid well.
Manufactured with or distributed via circular processes such as recycling, reusing, sharing, and swapping.
Let's take a look at some of the top sustainable fabrics based on what we know above.
Linen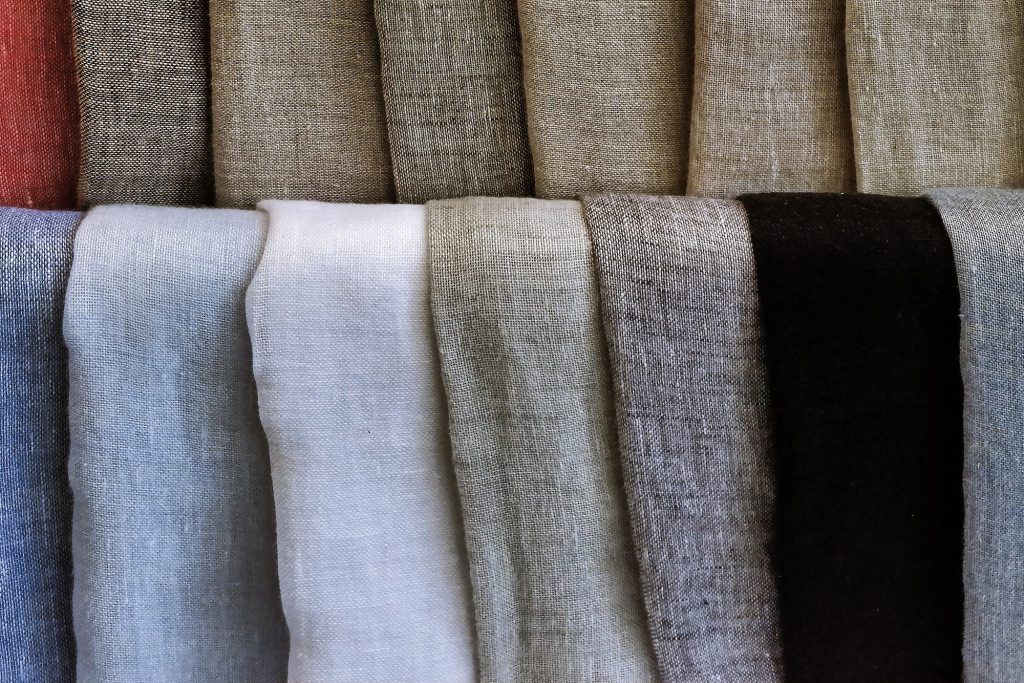 A natural fiber derived from the flax plant, linen has been a popular fabric for centuries. The process from growing the plant to weaving its fibers into fabric can take months, but unlike cotton, it requires very little water. It also requires minimal or no pesticides, produces few carbon emissions, is high-yielding, and is thoroughly biodegradable as long as it isn't dyed.
Durable and affordable, linen can be made into almost any type of clothing or bedding, and can even grow in low-quality soil. What's more? It's naturally moth-resistant, moisture-absorbing, and versatile — every part of the flax plant is used, so there is minimal waste involved.
Organic hemp
Right next to linen in sustainability is the ultra-durable and world-renowned hemp. Harvested from marijuana's favorite cousin, the hemp plant is quick-growing, requires no pesticides and hardly any water to grow, and has countless uses from milk to cosmetics to construction material to fabric.
Known to get softer with each wash, hemp fabric has long been used throughout the world. What's more? Through a process called phytoremediation, this amazing plant actually fertilizes the soil it grows in.
Peace silk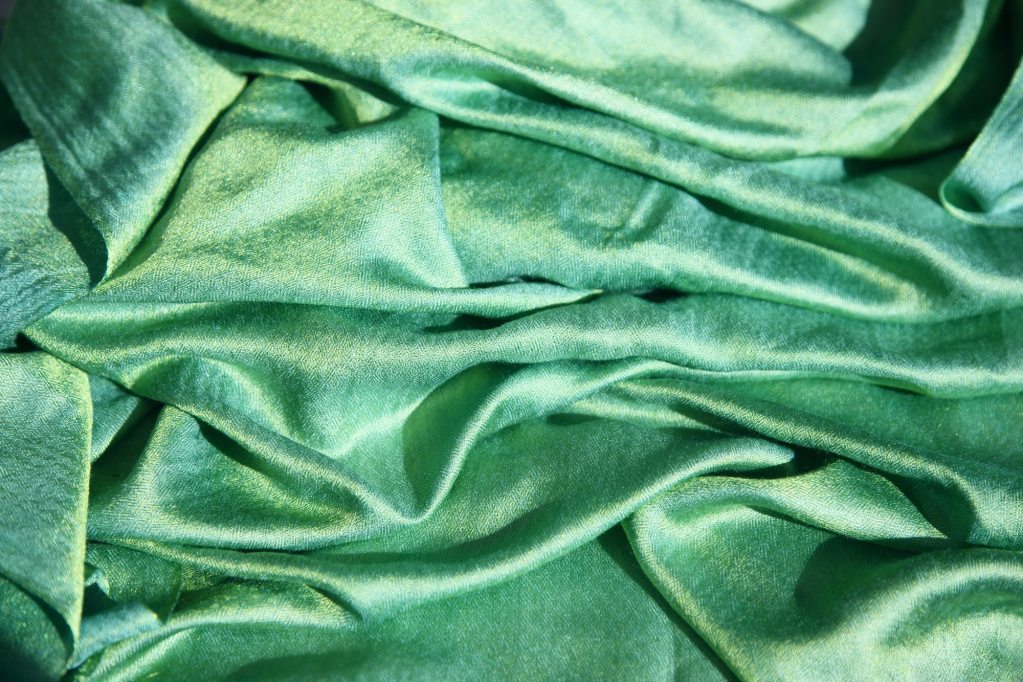 Some folks may not realize that traditional silk is made from the cocoons of silkworms during a process in which the worms typically die. Unlike traditional silk, peace silk requires no insects to die in its production. Also known as ahimsa silk (ahimsa is a Buddhist concept of respect for all living things), this fabric allows the silkworms participating in its creation to live and become moths — whereas traditional silk requires them to die during the boiling process of silk-making.
Additionally, peace silk bypasses the concerns about slave labor that traditional silk-making carries by verifying its production with the World Fair Trade Organization Guarantee program. So, although the fabric may not have the same super-smooth feel of traditional silk, it still feels great, and you can feel great about wearing it!
Organic cotton
One of the most sustainable fabrics in current production is organic cotton. Made without the harmful pesticides, herbicides, and chemicals used in the production of regular cotton, organic cotton is best when recycled, which utilizes post-industrial and post-consumer waste as well. If you're selecting organic cotton, look for the GOTS-certified label to be sure you've got the most sustainable variety you can find before purchasing.
However, it should be noted that while organic cotton uses 62% less energy and 88% less water than conventional cotton, it still requires a tremendous amount of water to produce and has been considered rare among fair trade networks.
Tencel
Made by dissolved wood pulp, Tencel is produced by the Austrian company called Lenzing AG. Creating both Lyocell and Modal fibers, Tencel controls the chemicals used during production by utilizing a closed-loop system that recycles the solvent, making the waste less dangerous.
Often combined with other fabrics (as shown above) and popular in activewear, Tencel has been described as 50% more absorbent than cotton with fully compostable and biodegradable fibers made via an eco-friendly production process. It's also said to require less water and energy to produce than cotton.
Qmonos
This innovative Japanese fabric is made from synthetic spider silk using microbes and spider silk genes to produce. Qmonos is not only completely biodegradable, but lightweight, flexible, and five times stronger than steel.
Best of all, no spiders or any other creatures are harmed to produce this material. This makes it more sustainable and ethical than silk or nylon — so you can feel good about using it on your clothing, bedding, or wherever it turns out to be.
Wrapping up
These are only a few of the numerous fabrics entering the sustainable space, so keep an eye out for many others as they become more established, such as:
Econyl
Pinatex
Recycled polyester
Scafe
Camel wool
Qmilk
Alpaca wool
Merino wool
Cupro
Yak Wool
Apple eco-leather
Brewed protein
Ecovero
Organic bamboo
Woocoa
Scoby leather
Sheep wool
Cashmere wool
Vegetable-tanned leather
Most of these, like some of the fabrics we highlighted above, have both advantages and disadvantages to their use. While some may be nearly 100% sustainable in their production process, they may have a terrible record when it comes to fair trade. Others may have the opposite situation. As of right now, there is no perfect fabric — but we are getting closer.
Pay attention to which fabrics are growing in their sustainability, and confirm they have the proper labels by comparing to a guide like this before purchasing. If you find you need more inspiration, don't hesitate to check back with us for updates on these and new articles on what's happening in sustainability.
Want more? Check out the benefits of cooling bedsheets – and maybe consider getting them to let you enjoy a sweat-free and restful night.
Editors' Recommendations