We've all been there. We've completely ignored those sanity-saving moving tips given by our family, friends, people who've become used to it, the internet. We've procrastinated on decluttering or packing before a big move thinking we could do it all the day before. And time and again, we realize waiting until the last minute is rarely a good idea.
Be prepared this time around and discover the 29 best moving and packing tips below.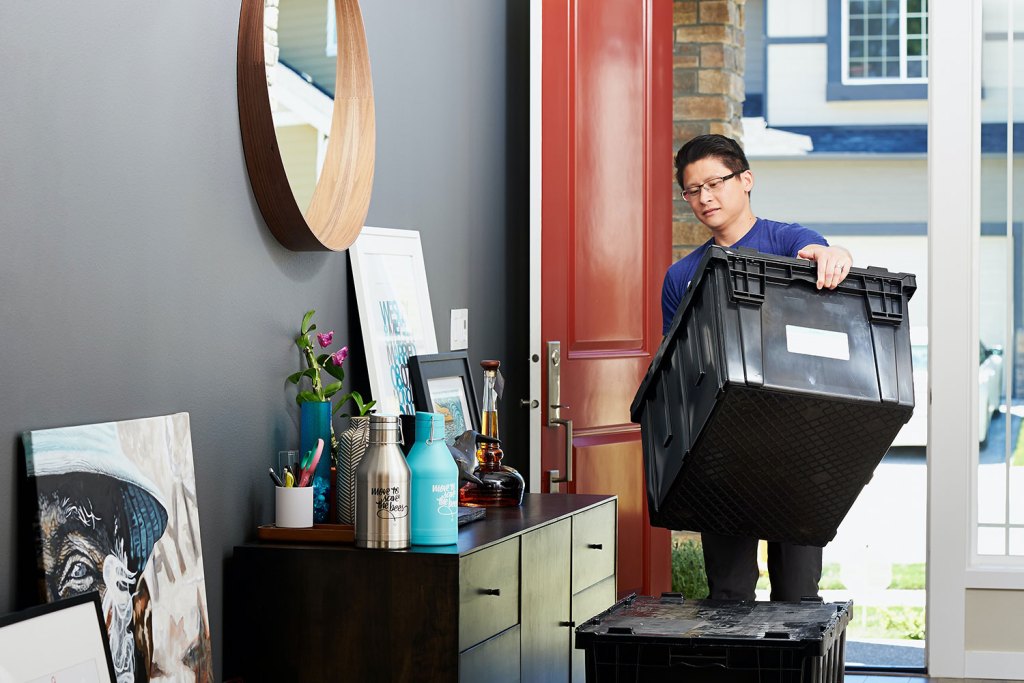 Getting ready to move
Donate extra belongings. Get rid of as many unnecessary articles of clothing, knickknacks, and even furniture as you can before your move. This way, you pack less and you can help out others in need.
Set up utilities and cable at your new home. Call your internet and cable provider, and gas, water, and electric companies at least one month in advance. You want to make sure your necessities are set up before you arrive.
Keep important documents in a folder. Put away passports, medical records, rent/ownership contracts, and other crucial documents in a folder like this fireproof document bag. It comes with additional pouches for valuables and can even hold most laptops. If you make an inventory of your household items, print a physical copy and place it in here. Keep this bag with you.
Schedule movers and trucks in advance. If you can't recruit friends or family, or if you're moving across the country, it's best to contact moving companies at least a month in advance. This lets you choose a time that works for you and an opportunity to shop around for the most cost-friendly option, as recommended by Life Storage.
Change your address on important accounts. Update your address for magazine subscriptions, credit card billing services, and government accounts. Additionally, change the address on your government ID as soon as possible.
Empty out your fridge. Eat whatever leftover foods you have to avoid wasting groceries. Also, try to eat only what's in your pantry so you don't have to pack extra food.
Prepare packing supplies. Local grocery and liquor stores have countless unused cardboard boxes. Call to see if you can take some off their hands. Otherwise, invest in heavy-duty boxes like this variety U-Haul pack of 25. Moreover, consider wardrobe moving boxes that come with a bar to hang clothes during the move. Most importantly: Don't forget tape!
Make a packing schedule. Dedicate a day to different parts of your home or different items to pack at least a week before you move. This makes packing feel less overwhelming, and you can carefully tuck items away one by one. A sample schedule is Monday for knickknacks, Tuesday for clothing, Wednesday for kitchenware, Thursday for decorative items, Friday for documents and office supplies, Saturday for the garage, and Sunday for essentials like food, electronics, and toiletries. Leave furniture for moving day.
Make box labels. Color-coordinate boxes to make packing and unpacking quicker.
Clean your new home's bathroom, kitchen, and floors. If possible, head to your new place and sanitize surfaces. When you move in, you can focus on unpacking.
Measure your furniture. Make sure big items fit in your new home. Otherwise, donate them and search for new furniture to be delivered to your new place.
Packing for your move
Pack an overnight bag. In addition to your documents bag, keep toiletries, electronics, and snacks in this bag for your drive or flight. You can also use it for your first day/night in your new home.
Make an essentials box. Label a box to open first after moving. This contains items like ready-to-eat foods, hand and dish soaps, utensils, etc. Let your movers know to pack this box last.
Keep fragile and valuable items together. Use as much paper, bubble wrap, or packing peanuts to protect breakables. You can place towels and clothing in between them. Secure the box with tape and/or film.
Vacuum-seal clothing and fabrics. Vacuum bags save space so you don't have to pack as many boxes.
Cover furniture. Plastic film prevents scrapes and dents on your furniture. You can also use it on boxes to avoid spills.
Pack heavy items in smaller boxes. For lighter items, pack more in bigger boxes.
Leave smaller items in drawers. If you don't have to disassemble furniture, consider leaving lighter items in their containers to save time. Secure drawers with plastic film.
Gather keys, garage openers, fobs, etc. Most landlords charge you if you lose a key or key fob. Remember to leave all copies for the next tenant.
Clean as much as possible. To get your deposit back, clear everything out and clean where possible. Landlords will usually have professional cleaners come in after you leave, but it's common courtesy to do a general cleaning.
Take a video and photographs of your place once everything is out. Just like how you did a walkthrough with your landlord before moving in, you'll need proof that the place was undamaged when you moved out. This prevents unnecessary issues in case anything happens after you leave.
Identify hazardous items movers don't accept. Items like aerosol cans, cleaning solutions, and propane tanks should be disposed of properly or donated before your move.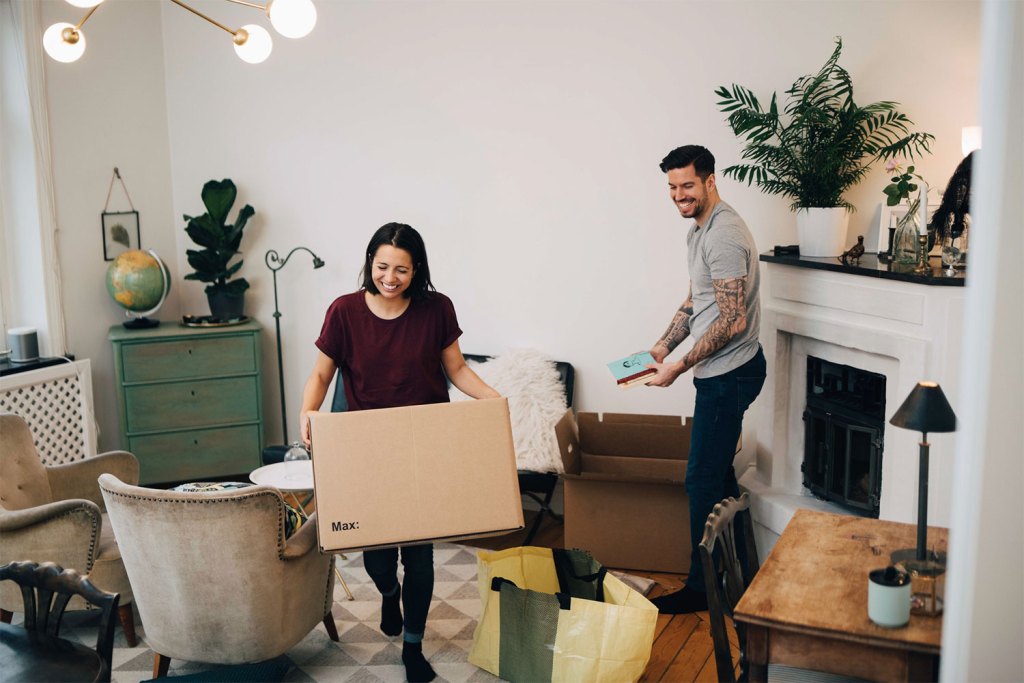 Unpacking after moving
Take photos and videos of the place before moving in. Even if you walked through the place with your new landlord, it's important to keep tangible proof of what the place looked like in case there are existing damages.
Unload your essentials box and overnight bag. It's practical to start with the bedroom and bathroom, which you'll be using right away.
Make sure utilities are working. Contact the appropriate companies immediately if your gas, water, or electricity is not working.
Let movers know what boxes go in which room. Get help where you can and tell movers exactly where you want a set of items to go.
Set up lights ASAP. Unless your place is equipped with ceiling lights already, unpack lamps or lightbulbs as soon as possible.
Set up bigger electronics and appliances. If you brought a TV, setting it up might be lower on your priority list. Once you get the chance, connect cables and wires properly.
Unpack one room at a time. Moving.com suggests to not stress yourself out. Focus on the necessary items first, then dedicate ten to fifteen minutes of your time to get to another box. Check off your inventory if you've made one just in case anything got lost in the move.
Our moving help list is thorough, but you know yourself best. Whatever helps you stay organized and motivated during a move, stick to it and use our tips as a cheat sheet when you need it. Good luck!
Editors' Recommendations