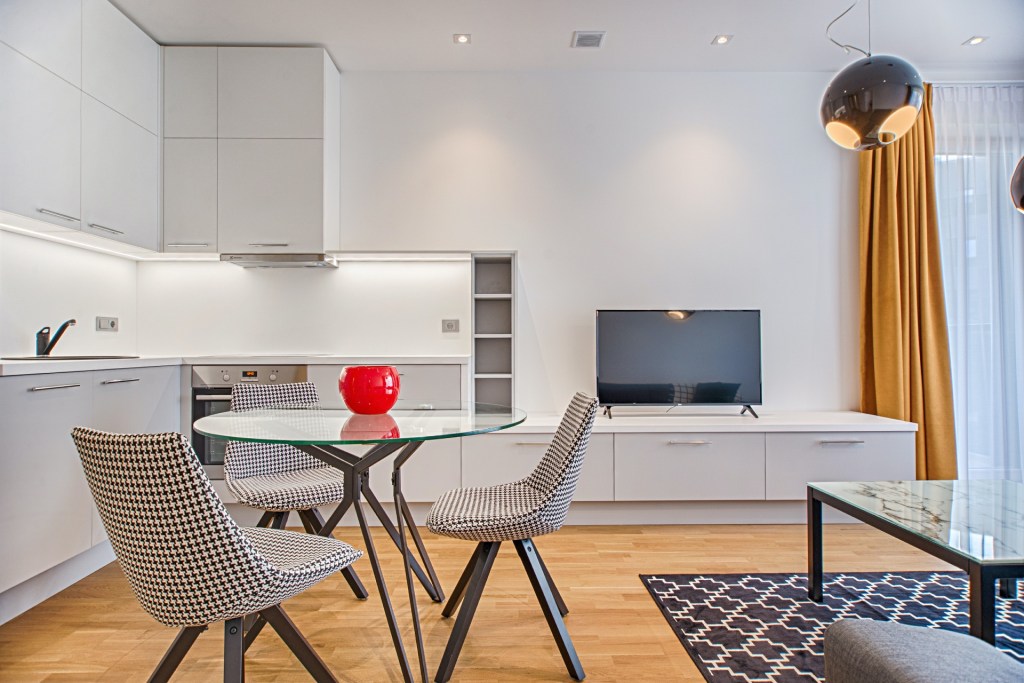 Modern and retro decor styles can work together if you don't try to overdo the retro element. Mixing modern and retro means using the retro style as an accent or complement to modern decor. If you pay attention to scale and balance and don't make any big changes in furniture size, the two styles will play nice together. Pro tip: Don't overcrowd your room with too many pieces.
Establishing our terms
First, let's be clear about what each style is. Modern decor involves natural materials in earthy colors without a lot of fussy details. It has a simple color palette, and there is a fair amount of metal, glass, and steel involved either as part of the furniture or as accents. Furniture is typically low because the emphasis is on horizontal lines. There's no tufting, no extra buttons, no curved sides, and no additional adornments on modern furniture. The extreme end of modern is monochromatic, where everything is in one color but involves various hues and shades of that color.
Retro embraces your fun side. It emulates decor styles from the 50s, 60s, and 70s. It is whimsical; there are lots of elements of pop culture and graphic design. Pieces from the 50s are sleek and slender, and Formica-topped tables and chrome bar stools were popular.
The two styles have overlap depending on what era of retro you are looking at. A sleek sofa, a Formica-topped table, or a chrome bar stool would be modern and harkens back to the 50s. Some of the colors from the 70s – notably oranges, and browns – can also fit into the modern category.
The 60s gave us sleek and low furniture, furniture molded into one piece, and blow-up chairs. While the molded chairs would fit into the modern category, the blow-up chairs—not so much. And some of the most popular design elements from the 1980s are now included by designers as retro. Anything that includes teal and mauve furnishings, florals, and mirrors are considered retro by today's standards.
Incorporating the styles
Sometimes, companies will hand over a nice retro touch. Appliances are being produced in retro colors like mint or aqua. There are retro kitchen appliances, like blenders or stand mixtures, that are useful and add a pop of color to the kitchen.
Color is the easiest way to meld the two styles. Retro colors and graphics add a pop of color that can wake up modern decor and make that style your own. Modern decor is pretty much a giant neutral canvas, so you can add items without worrying about colors fighting with each other or overdoing it.
Specific examples
In the kitchen, you can use black and white tiles in a checkered pattern. That's very retro and would pair quite nicely with white cabinetry, even if you have different colored upper and lower cabinets. Black and white checkered tile in the bathroom, but smaller or even penny-sized, is considered retro. You can add your retro counter appliances in the kitchen and the bathroom, and you can use teal, mint, or aqua towels to go with your checkered tile.
Try an accent wall with a retro color in the other rooms. Aqua is peaceful and not overpowering in the dining room, or a bright, sunny yellow could wake things up.
How about an electric blue sofa against a palette of neutrals? Get throw pillows with hints of the same blue or a different hue of blue and incorporate that same hue in your area rug. You can get lamps with green or blue bases and replicate the colors in the throw pillows. An area rug with a geometric print that pays homage to the 60s would be an excellent complement to that electric blue couch.
Wallpaper (peel 'n stick if you are feeling less than adventurous) can add a retro vibe to a room and artwork, in general, is a great way to retro-up a room. Those white or beige walls are a perfect blank canvas.
Both the modern and retro styles can work in your home as long as you edit yourself. It really comes down to the design elements you want to include in your home and what decor or furniture pieces are easy to find. With so many colors and design pieces currently in vogue, have fun with it and make your space as lively and vibrant as you are.
Editors' Recommendations