You've probably got a long list of home improvement projects waiting to be done. Don't worry, we've all got that list. One great place to start updating your home is with a gorgeous accent wall. We've all got that one wall in our home that we're not sure how to decorate. Maybe it's at an odd angle, it's an awkward size, or it's just boring and you want to revive it. A pallet wall is a rustic, charming addition to any room, and it's a stylish update for a home with a farmhouse-chic vibe. We're going to walk you through how to make a pallet wall that accents the room beautifully.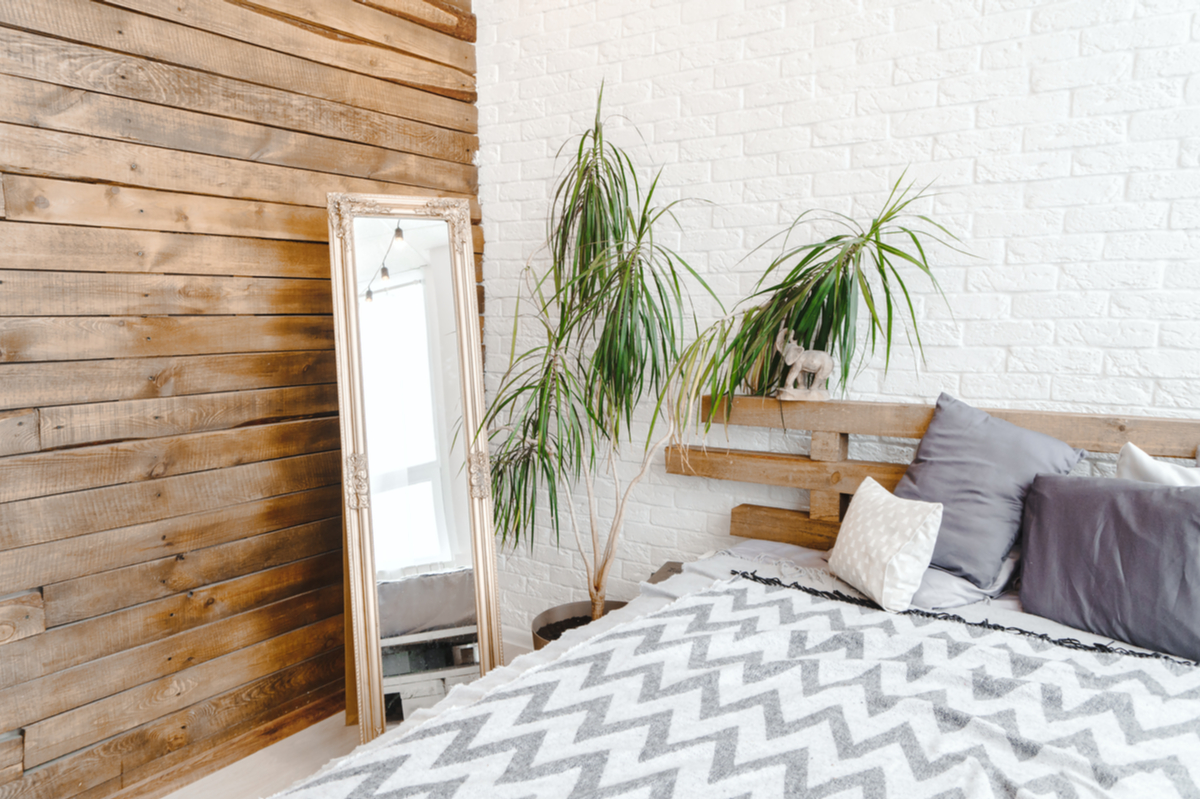 How do you build a pallet wall?
Before diving into this project, you'll need to gather all of your materials and tools. Here's what you'll need to build a pallet wall:
Pallets
Pry bar
Hammer or pliers
Measuring tape
Circular saw
Sandpaper or electric sander
Wood stain
Paintbrush
Plywood
Stud finder
Wood screws
Electric drill and bits
Prep the wall space for a pallet wall
If you have floorboards or crown molding surrounding the wall, you'll have to remove it for this project and re-install it after the pallet wall is completed. Note that the standard pallet board is 5/16 of an inch thick. If you're installing pallets flush against a perpendicular wall, you may have to cut off a small portion of the floorboards or moldings on the perpendicular wall to accommodate the pallet thickness.
Prep the pallets for installation
If you got actual wood pallets that you're upcycling, they'll need a lot of prep before they're installed. You want to be sure they'll look evenly placed and perfectly colored on your wall.
Dismantle the pallets using a pry bar so that each strip of wood is free-standing.
Decide which pallets can be used and which are too damaged or discolored for your project.
Use a hammer or pliers to remove any nails from the boards you'll be using.
Measure the wall space and then assemble the boards on the ground or another flat surface.
Measure the assembled boards and cut off any excess wood using a circular saw.
Sand down each board so that there are no rough sections that could give you splinters.
Stain each piece of wood with your desired wood-staining product.
Allow the wood to dry completely.
How do you attach a wooden pallet to the wall?
These next steps are crucial ones. In order to install the wood pallets on the wall properly, you'll have to first put up a layer of plywood that's secured to the wall's studs. Then, you can install the pallets onto the plywood. This way, the wood pallets will be evenly placed and won't damage the wall behind them.
Measure the strips of plywood to ensure you have enough to cover the entire wall space. Cut off any excess plywood.
Stain the plywood the same color as the pallet pieces so that you can't see different wood colors through any gaps in the pallets.
Allow the plywood to dry completely.
Use a stud finder to identify where the studs are in the wall.
Use a drill and wood screws to install the stained plywood securely to the studs.
Using the drill and wood screws again, mount the individual pallet pieces on the plywood, starting at the center of the wall and working your way out.
Once all pallet pieces are installed, wipe down your new pallet wall with a dry cloth to rid it of dust and debris.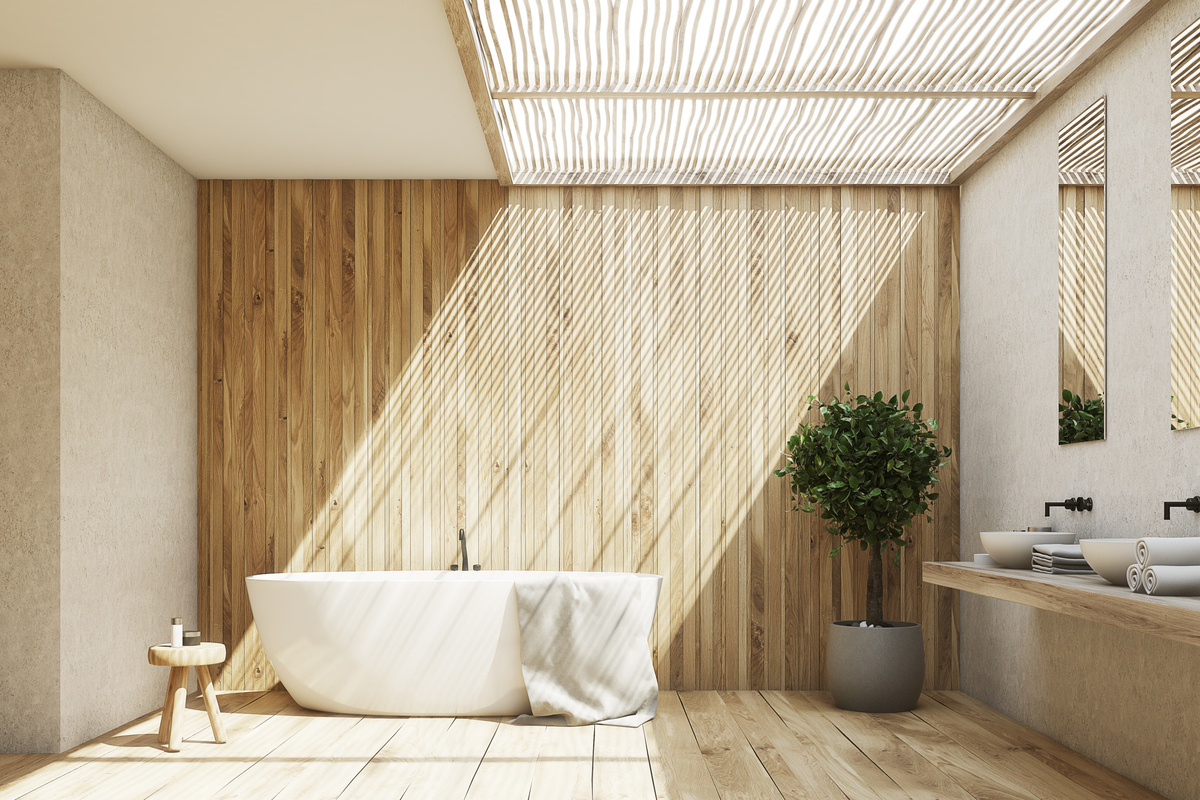 How do you make a living wall out of pallets?
If you need a place to display all those lovely succulents or herb plants, a living wall is a stunning option. Pallets, in their original form, are fairly close to what you need for a living wall, and you can get them into shape for your plant storage with just a few steps. Here's how:
What you'll need
Pallet in good condition
Pry bar
Hammer or pliers
Staple gun
Landscape fabric
Wood stain
Paintbrush
How to turn a pallet into a living wall
Examine the pallet and be sure your plants will have enough room to grow between the existing slits. If you need more room, remove every other board from the pallet using a pry bar.
Use a hammer or pliers to remove any excess nails that aren't holding the remaining boards in place.
Stain the pallet with a wood stain of your choice and allow it to dry completely. If you're using the living wall for edible plants, make sure both the pallet and the stain are safe to use around food.
Lay the pallet on its front and drape landscape fabric across the back.
Measure and cut fabric so that you have enough for about double the length of the pallet.
Use a staple gun to secure the fabric to the back of the a pallet at the top.
Fold and bunch the fabric so that it creates pockets for the plants to rest in.
Staple the fabric to each plank in tight lines, with enough staples to keep soil from spilling through.
Turn the pallet upright and fill the pockets with soil and plants
Pallets are visually appealing and versatile. They're a great addition to walls or gardens, and they're easy to work with. Whether you're looking to create a portable living wall or an entire interior wall with pallets, this guide will help turn your room into a chic, farmhouse-styled space.
Editors' Recommendations