Preparing for a bedroom remodel can be a draining process. Whether you're still in the planning stage or are preparing to break ground, there's a lot to consider at every step of the process. Deciding on your budget, ordering custom shelving, adjusting your timeline, and compiling backup plans can make the experience frustrating and stressful.
To keep spirits high (and unforeseen costs low), we created the ultimate guide to navigating your bedroom remodel. Whether you need help understanding costs, picking out the right products, or flexing your DIY muscles, keep reading for everything you need to know about jumping into this renovation project.
How much does a bedroom remodel cost?
For most bedroom remodels, the average cost can range from $1,500 to upwards of $5,000. This largely depends on the type of projects you plan to tackle. For example, a small remodel with a fresh coat of paint and a few new pieces of decor will land you on the lower end of the spectrum. However, removing walls, adding custom-built shelving for your closet, or updating flooring can significantly raise the cost of your remodel.
Before diving into your renovation, create a list of all changes you plan to make and record your prices accordingly. For example, set aside roughly $100 for paint. Once you add up all your costs, add an additional 20 percent to account for any unforeseen costs or damages. Your budget should guide your remodel, so make sure there's enough flexibility to account for any changes as you go.
The most significant challenges for a bedroom remodel
Most bedroom remodels tend to be reasonably straightforward, but challenges can arise. Plan ahead for these circumstances so you aren't caught off guard.
Slow shipping
Bedroom remodels primarily consist of redecorating, adding a new bed or bed frame, or applying a fresh coat of paint. If you choose to buy these items online, prepare for delayed shipping, especially around any holiday weekends or popular moving weekends. Large items like mattresses, dressers, and shelving, require extra attention during the shipping process, so delays are almost inevitable.
To keep the project low-stress, order all of your materials ahead of time. Take delays into account when finalizing your schedule, and don't hire builders or electricians until you have everything you need.
Electrical work
Whether you're changing a light fixture, rewiring new lighting in your home, or replacing outdated outlets, it's best to call a professional to ensure the room is safe. Order any fixtures or electrical components you need before calling the electrician. By making these preparations ahead of time, you can prevent delays or extra fees.
Custom-built shelving
Custom-built shelving is a popular choice for many homeowners during bedroom remodels. With this option, you can ensure the design suits your style and needs, as well as the specifics of the space. Unfortunately, custom-built shelving takes longer to craft and ship, so it's best to purchase well before the remodel. These pieces also tend to be more expensive than mass-produced shelving, so don't take any unnecessary risks with the installation. Pay for a professional to set up the units if you don't feel confident in your DIY skills.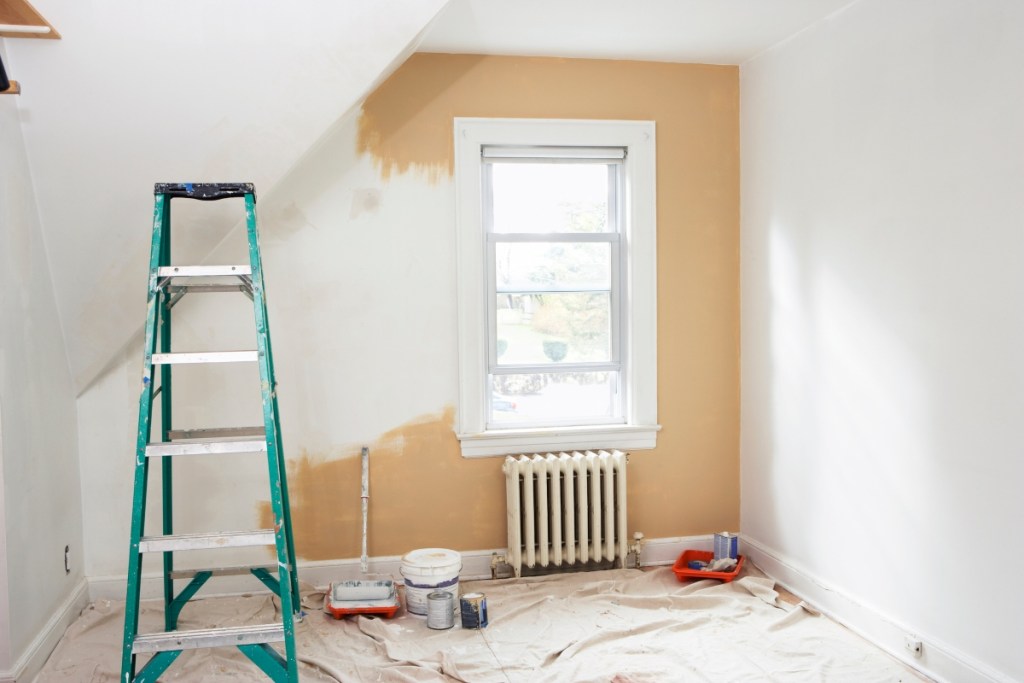 How to save money on a bedroom remodel
Renovations can be expensive, but, with a few tips and tricks, you can save some money and make sure you finish the project on time and on budget.
Save on paint
Painting a bedroom isn't the same as painting a living room, bathroom, or kitchen. You don't necessarily need waterproof paint or a durable option made for high traffic. To save money, opt for latex-based paint with a matte or enamel finish. Also, if you have a smaller room, you may not need as much paint. Instead of picking up a few cans of paint and guessing, work with a professional to determine exactly how many coats or gallons you will need for a project.
DIY what you can
A DIY project is your wallet's best friend. Instead of paying labor costs, take on the simpler projects yourself. If you're good with a saw and drill, try making your own shelves or purchase premade shelves from the hardware store and hang them however you like. Instead of purchasing new furniture, consider restaining an old dresser or reupholstering your favorite chair to give the space a fresh look. Small changes like these can save you lots of money in the long run.
Bedroom remodels can be a hassle, but you can relieve plenty of stress and disappointment by planning ahead. Most importantly, don't hesitate to ask for help. Ensuring you do the job right the first time will save you a ton of money and stress down the road.
Editors' Recommendations